House of Cards season 5: First look of Frank-Claire equation; showrunner talks Trump comparisons
Season 5 of Netflix show House of Cards begins streaming on 30 May, and ahead of the release, stills from the TV show and episode details have been revealed.
In these stills are featured Frank Underwood and his wife Claire, whose equation seems cordial, unlike the troubled nature it had assumed last season. Also featured are Doug Stamper, who is Frank's assistant, Leann Harvey, who is Claire's advisor, and the Underwoods' political rivals during election season, Will and Hannah Conway.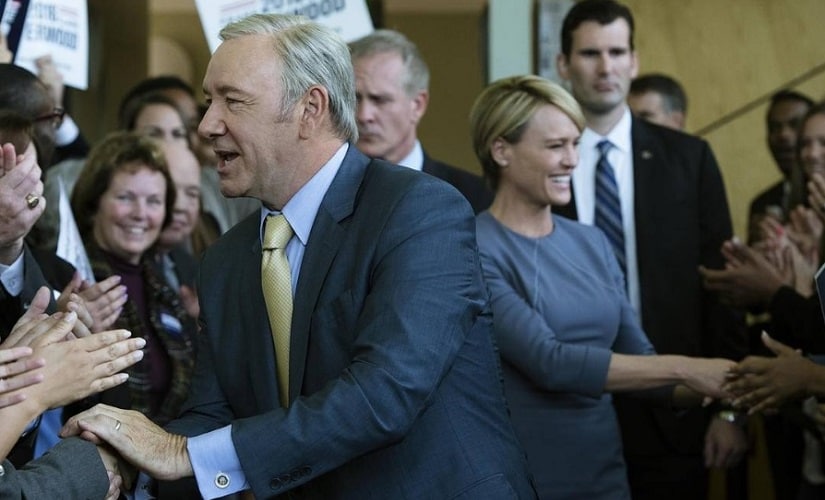 Although this season of House of Cards was shot many months before the result of the presidential election, people have been pointing out similarities between the politics in America and in the show. In response to this, executive producer Melissa James Gibson said, "Sure, the resonance sometimes feels eerie. But Trump is an outsider who's trying to blow up the system, and Francis is the opposite."
She called the couple survivors and said that power is the couple's religion. Tom Yates, with whom Claire had an affair, will be back in this season. When asked if this season will see the result of the election where Frank runs for president with Claire as his VP, executive producer Frank Pugliese said, "Possibly".
House of Cards stars Kevin Spacey, Robin Wright, Michael Kelly, Neve Campbell, Joel Kinnaman, Patricia Clarkson and Campbell Scott. After Beau Willimon stepped down last season, Melissa James Gibson and Frank Pugliese took on as show runners.
Updated Date: Apr 26, 2017 18:13 PM