Following Kendell Jenner's Pepsi Ad, a list of past controversial campaigns: Throwback Thursday
Kendell Jenner's advertisement became the subject of controversy because of its less-than-sensitive approach to racism.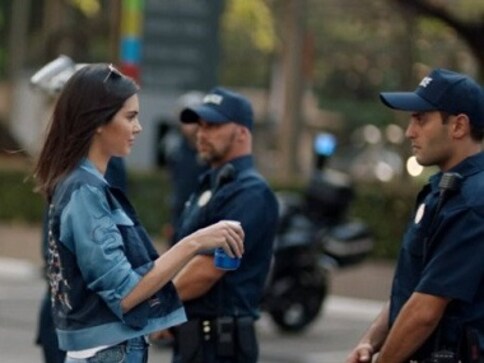 Kendell Jenner,  sister to the equally controversial Kim Kardashian, debuted in a Pepsi advertisement two days ago.
The ad itself checks all the right boxes in the diversity debate: the photographer is wearing a hijab, there are enough people of colour in the background and the 2 and a half minute ad itself is set to the flavour of the month, singer Skip Marley's song 'Lion.'
So what is the problem? Kendell Jenner's role in the ad.
Her part was pretty much all people remembered in the advertisement, which called for people to 'live bolder', 'live louder' (and, of course, buy Pepsi products).
Jenner modelled in a silver dress, blonde wig, and dark lipstick as the protest went by. She then decided to take off the makeup and wig and switched to an all-denim outfit before joining demonstrators.
And finally, she walked to a line of police officers and handed one a Pepsi and everyone cheered. The ad is said to have not only trivialised the Black Lives Matter moment, it also indicated that a rich white lady can put an end to all of the problems of racism in the world (with a pepsi can, no less).
Also Read: Kendall Jenner stars in faux-protest Pepsi ad, receives flak for making light of Black Lives Matter
Pepsi has apologized for the ad and pulled it from Youtube:
Here are a few more equally controversial ads that may take your attention away from the Kendall-Pepsi one:
Benetton pushes the wrong buttons
Pope Benedict XVI and Imam Sheik Ahmed el-Tayeb give each other a kiss in Benetton's unHate campaign.
Back in the 90s, Benetton and their photographer Oliviero Toscani got its kicks from controversial ad campaigns that explored topics like racism, the fate of death row inmates and more.
The unHate series, Benetton claimed, was aimed at fostering tolerance and 'global love' but would have known how much trouble they were likely to stir up. Just hours after being put up, Benetton was required to take down this advertisement and apologise to the Vatican, who took legal action.
The ad also didn't sit well with the religious groups of both sides who protested and vowed to reject the Italian brand after the advertisement came out.
Pooja Bedi's claim to fame
This 90s actress, before Pahlaj Nihalani happened to us, had quite a bit of controversial TV and Film content. But a Kamasutra condom ad featuring Pooja Bedi and Marc Robinson was banned because of its sexual content. The ad featured the two in a shower scene together, and ofcourse, was deemed to objectionable to be shown on TV.
Was Calvin Klien advocating child porn?
Calvin Klien was criticized for this 1999 ad for kids underwear. It was believed that the black and white images of the young boys and girls were borderline child pornography. The president of the American Family Association said the pictures were "nothing more than pornography." "Whether you like it or not you have pedophiles in this society. Anything that could get them excited is detrimental, irresponsible and reckless," he said.
Dove thinks white is more beautiful
Dove's VisibleCare body wash showes three women — one black, one possibly Latina and one white — standing in front of "before" and "after" images. The takeaway was that Dove body wash turns black women into latino women into white women, and makes them thinner too. Jezebel refers to it as "unintentionally(?) racist,"adding, "Bye-bye black skin, hello white skin! (Scrub hard!)"
Another Pepsi ad gone bad
Pepsi's Mountain Dew brand reached out to Odd Future rapper Tyler, The Creator in 2013.
The lyricist produced three video spots starring a talking goat. The worst of the lot involved a badly beaten woman trying to pick out her assailant from a police lineup of young Black men, and pundits decried the ad for its bizarre self-hating racism. Mountain Dew pulled the spots and apologised.
Entertainment
Bollywood actress Minnisha Lamba secretly tied the knot with her longtime boyfriend Ryan Tham on Monday.
Entertainment
"It's my personal decision to allow my own natural immunity and alternative healing and wellness practices to accelerate my healing," says Pooja Bedi in an Instagram video where she announced she has tested positive for coronavirus.
Entertainment
On the occasion of Pooja Bedi's 52nd birthday, here is a look at some of her pictures with her daughter Alaya.