First Lady: Anupama Chopra discusses Bollywood, wage disparity and more with Meghna Pant
On today's edition of First Lady with Meghna Pant, Anupama Chopra speaks about finding her place in the film industry and the evolution of Bollywood ever since.
"You have a generation of women who are no longer willing to just stay quiet," she says as she reminisces about how far Bollywood has come since having movie sets with just a handful of women, to having movie with female leads such as Kahaani, NH10 and Queen.
With over 20 years of experience as a film journalist and critic, Chopra has had a ringside view of the wage gap and gender disparity. She recollects how she found out from an interview with Anushka Sharma that whenever there are two newcomers, the female actor will still be paid less than the male actor. Other celebrities like Sonakshi Sinha have also revealed to her that the wage gap truly is one of the biggest issues that Bollywood needs to tackle.
When asked about how a woman can make it into male-dominated industry, Chopra believes that hard work can shatter the glass ceiling. "Honestly I can't tell you that I've followed some path or I've done something, I just worked my butt off," she adds.
So will the industry finally equalise towards women? Not in the future, Chopra admits. She believes that even though Bollywood, at the end of the day, is about the bottom line, cinema is a reflection of the society it caters to. Unless society itself equalises towards women, it will be a long road ahead for an egalitarian transformation of Bollywood.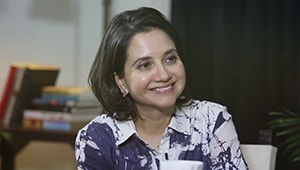 Updated Date: May 26, 2017 13:05:14 IST