Dobaara director Prawaal Raman on helming horror films and his mentor Ram Gopal Varma
Dobaara director Prawaal Raman says the biggest advice he can give to make a horror film is to not play it safe.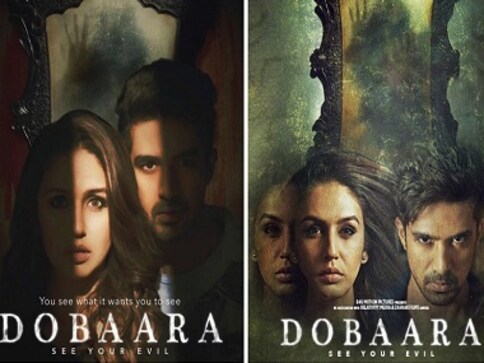 It was a gang war sequence shot on the streets of Mumbai for Ram Gopal Varma's Company, which was largely responsible for turning Prawaal Raman into a director.
The sequence, shot over a span of 12 days, impressed Ram Gopal Varma so much that he asked Raman, the second unit director of Company, to helm their next film.
His first film, Darna Mana Hai, changed the viewer's mindset towards horror films and the experiment initiated debates and discussion among film-goers. The quality horror genre would go on to become Raman's signature in coming years.
The filmmaker's next Dobaara: See Your Evil is all set to hit the marquee in first week of June. When I sit with the filmmaker for a tête-à-tête, a camera crew is busy setting up equipments for those ubiquitous bytes.
The extremely shy and reclusive filmmaker is not known to talk to the media much. "A director's job is to be behind the camera and to make movies. Actors look for limelight (and its their job). Their work is done only if they are seen. I can write my stories without anyone," explains the filmmaker.
This would explain why Facebook, Twitter and other social media platforms are a strict no-no for Raman.
"This is a conscious decision. I am just not interested in sharing my thoughts with others. I am more interested in real people. I have no inclination to buy likes and increase my followers. It's a separate world altogether. It's a great platform and I have no negative feelings towards it but I don't want to tell people that I am in London right now and am busy writing the script of my next film while sipping tea at the window," say Raman.
Prawaal's next film is a remake of Oculus, a much loved Hollywood horror film, which earned ten times its budget.
"When I saw Oculus the only expression which came out was 'what a smart film'. I only make original content, in the sense that I always write my own stories but when I was approached with the remake concept, it took me by surprise. It was an offer I could not refuse and I willingly accepted it," he says.
Raman is all set to fly to LA to show the film to the director of Oculus, Mike Flanagan. "I want to show the film to him as a mark of respect because he is the original filmmaker. I want Mike to be my first audience. I am just the narrator. I have credited Mike for original story in the film," reveals the filmmaker.
Prawaal has established a name for himself when it comes to quality horror. His experience on Raat brought him in contact with RGV and his debut assignment was Shool.
So does Prawaal consider RGV as his mentor? "No, I don't consider anyone as a mentor. I admire his film and love him as a filmmaker from Shiva to Satya. I cannot learn filmmaking from him or anybody else, as it's a very personal thing. What I have imbibed from him is discipline towards your craft. I won't call him as a mentor but as someone who influenced me," he says evasively, and claims he has not seen RGV's current work.
Having made quality horror with Darna Mana Hai and 404: Error Not Found, the three mantras that Raman reveals don't fit into the conventional mould. "First would be that one should not try to play safe, which is rampant in conventional cinema. Second would be not to cater to marketing and distribution needs to attract the audiences and third would be to respect the budget of such a genre."
The setting of his next film is London which raises the obvious question: Why? Prawaal has an explanation for this too. "It was a conscious decision to set the film in London and it's the story of a family. Had the story been set in India, where there are always neighbors and too many people around, bringing out the isolation factor would have been a challenge," he explains.
It's also interesting to note here that Raman's next film is not a horror, and currently he is busy scripting a film based on Naela Quadri Baloch, a freedom fighter from Balochistan. The film is about a woman seeking freedom from Pakistan. "My next might not be horror film but it might be a horror film in Pakistan," he laughs.
Almost all the films that Raman have made till date have been intense and dark in nature. "Cinema has a created fake world. You are not what you are. Mario Puzo and Copolla are not gangsters and I think that answers your question," he says.
Fun fact: both Imtiaz Ali and Raman hail from the same town but while one is a sucker for love stories, the other is more inclined towards thrillers: "Imtiaz has a knack for romance and I really like his work. We do keep in touch."
Entertainment
Yash's hard work in KGF2 and manifestations are putting the Kannada film industry on the map with SIIMA happening in Bangalore.
Entertainment
Have a look at actor Ranveer Singh depicting Allu Arjun's famous Pushparaj dialogue while he attended an award function.
World
The talented group of young South Korean men and women showed its amazing dance in an event which was organised to mark the Chuseok festival, which is a Korean Thanksgiving festival.