Dangal enters Rs 1,500 crore club; will it overtake Baahubali 2's box office collection?
Dangal is very close to toppling Baahubali 2's numbers. It's total box office collections now stand at Rs 1,546 crore, as compared to Baahubali 2's Rs 1,577 crore.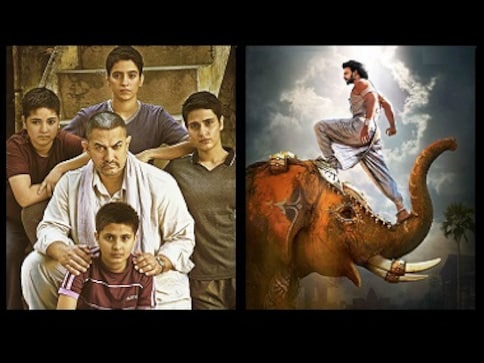 When Baahubali 2: The Conclusion (also spelt as Bahubali 2) broke into — nay, created — the Rs 1000 crore club with its spectacular box office collections, it seemed it had set a benchmark that no other Indian film, in the near future at least, could hope to match.
Then, SS Rajamouli's epic zoomed to Rs 1,500 crore (this was within three weeks of its theatrical release) — and the air it occupied became even more rarefied.
But Dangal is very close to toppling Baahubali 2's numbers. Its total box office collections now stand at Rs 1,546 crore, as compared to Baahubali 2's Rs 1,577 crore.
This surge in box office collections for Dangal has come solely from China, where it toppled Guardians of the Galaxy Vol. 2 to become one of the highest grossing films in the country. As of Wednesday, 24 May 2017, as per figures tweeted out by trade expert Taran Adarsh, Dangal's box office collections from China amount to Rs 778+ crore.
That's roughly the equivalent of all the money Dangal made in India and overseas, in territories like the US, when it released in December 2016.
China has turned into a major territory for Aamir Khan's films, with 3 idiots and PK doing very well there. Aamir is in fact now known as 'Uncle Khan' in China.
Before Baahubali 2 released, PK (Rs 792 crore), followed by Dangal, were the highest earning films in India. Baahubali: The Beginning followed in third place with a lifetime box office collection of around Rs 650 crore.
But Baahubali 2 has left the records set by its first installment in the dust, not to mention those of other top earners like Bajrangi Bhaijaan, Dangal and PK.
Until now.
Dangal is quite likely to pick up the few extra crores it needs to close the gap between itself and Baahubali 2.
Which film will ultimately be more profitable?
Baahubali 2's climax scene alone reportedly cost Rs 30 crore; the series (Baahubali: The Beginning and The Conclusion) together took around Rs 450 crore to make. In contrast, Dangal's total production cost was in the vicinity of Rs 70 crore.
But Baahubali has the joint collections of both films in the series to bank on — well above Rs 2,200 crore — not to mention all the money it made from the sales of rights even before the release of the second film (approximately Rs 1,000 crore). The franchise itself is a profitable one, with the potential for several more spin-offs (there's already The Sword of Baahubali VR, Baahubali: The Lost Legends on Amazon Prime, and Baahubali books.
Then there's the fact that Baahubali 2 hasn't yet even released in China. Baahubali: The Beginning proved to be a damp squib in the land of the dragon, and a delayed release was just one of the factors. However, producer Shobu Yarlagadda has said that the team is hoping to redress those issues and come up with a much smarter release for Baahubali 2 in China.
If they do manage to zoom in on the right strategy, Baahubali 2 could very well be adding a few hundred crores to its already overflowing coffers.
Either way, there will be a definite 'winner' in the box office race.
also read
Entertainment
In Bloody Daddy trailer Shahid Kapoor is seen fighting drug lords and cops
Entertainment
In an interview with Firtspost's Lachmi Deb Roy, actor Sonakshi Sinha says, "I had to learn how to ride a bullet and now I am a proud owner of it."
Entertainment
Haesoo, a 29-year-old Korean trot singer, has died by suicide recently, leaving behind a suicide note. The star- world is not so 'starry' as you think it to be. It has its own set of hurdles