Cannes 2018 Day 8 roundup — Solo: A Star Wars Story premieres, as does blockchain technology
Solo: A Star Wars Story made its presence felt at Cannes while blockchain set up shop at the film festival.
Solo: A Star Wars Story at Cannes
The Han Solo spin-off Solo: A Star Wars Story touched down at the Cannes Film Festival, bringing its cast and a full-sized Chewbacca to the French Riviera extravaganza. Director Ron Howard, wearing a hat that read "A long time ago in a galaxy far, far away," introduced his cast before the film's international premiere at Cannes. Stormtroopers stood in formation as stars Alden Ehrenreich, Donald Glover, Emilia Clarke, Woody Harrelson and Chewbacca actor Joonas Suotamo posed for photographers to promote the biggest Hollywood blockbuster at this year's festival.
Lebanese actress Manal Issa used the premiere's massive spotlight to draw attention to the deaths of Palestinian protesters a day earlier at the Gaza border. She held up a sign that said, "Stop the attack on Gaza!!" before the premiere.
Thandie Newton wore a custom dress with images of black Star Wars characters, including Finn, Mace Windu and Saw Gerrera, to the premiere. "Yeah, I mean it was, we haven't seen the film with audiences and that's great right off the bat. And people loved it," Newton said after the premiere. Howard described watching the film at Cannes as a "blast," calling it "a great jumping off place for a movie like ours."
Solo: A Star Wars Story is the third Star Wars film to land at Cannes, following Attack of the Clones in 2002 and Revenge of the Sith in 2005. It will be released in France on 23 May, two days before its release in the United States.
Christopher Nolan talks about the Cannes premiere of Kubrick's 2001: A Space Odyssey
Christopher Nolan, passionate booster of the big screen and champion of celluloid, has, in a time-traveling expedition of his own, returned 2001: A Space Odyssey to its original analog presentation in a new-but-old print that on Friday will put Stanley Kubrick's mind-blowing sci-fi masterpiece back into theaters to commemorate its 50th anniversary.
"It hasn't withstood the test of time. It's thrived on the test of time. It's profited by it," said Nolan in an interview. "The thing 2001 does, and it does it as strongly now as it did then, is it speaks to the infinite potential of movies. Cinema can do anything and be anything — things we can't conceive of."
The 1968 premiere of 2001: A Space Odyssey sparked more than 200 walk outs (including MGM executives) and critic Pauline Kael dismissed it as "trash masquerading as art." Later, 2001 became the highest grossing film of 1968 and its epic, eons-spanning odyssey has bewildered and astonished moviegoers — like Christopher Nolan who, after his father took him at age seven to a screening in London's Leicester Square, has been agog at Kubrick's achievement.
"For the first time since the silent era, it showed that you can construct a completely new rule set for the nascent form," says Nolan. "Cinema is 100 years old. It's still a young medium, but 50 years ago, it was a very young medium. I think you have to go back to (D.W.) Griffith to see somebody just go: 'OK, we're doing this. This is the experience you're going to have that you haven't seen before and you won't see afterwards.'"
"We've put on posters 'changed movies forever,' but, in a way it hasn't changed movies," he added. "In 2018, 2001 is just as radical."
Blockchain tech premieres at Cannes
Blockchain may not be the most glamorous new star at the Cannes festival but experts touting the technology say it will rock the world of film even if the red carpet crowd doesn't know it yet.
For the first time, key players in the emerging industry have set up shop at Cannes' bustling Film Market, a subterranean labyrinth where most of the world's movie trade takes place. In a series of workshops, six international start-ups are decoding the complex science behind blockchain and why it matters to both makers and consumers of movies.
"Blockchain is the future in film, there's no turning back," enthused Jonny Peters, the Australian founder of Gazecoin, one of the companies holding court at Cannes. Barely a decade old, the technology is an ultra-encrypted process used to handle peer-to-peer transactions, for now mostly of cryptocurrencies like bitcoin. But its partisans claim that blockchain has the potential to become cinema's biggest disruptor in decades.
They want to break up what they see as an opaque financing monopoly controlled by a handful of big studios, while also tackling film piracy. The revolution, if it comes, could be a "quantum shift" comparable to the advent of the internet, they say.
Cannes — which drew ire for banning red-carpet selfies and snubbing Netflix — insists its lens is firmly turned on the future, and that includes jumping on the fast-moving blockchain bandwagon. "Everyone is now talking about blockchain, and there's a general consensus that it will become important in a good number of areas including in cinema," Film Market director Jerome Paillard said.
One main aim is to make it a lot easier for independent artists to draw funding. "Many filmmakers struggle to raise funds because investors don't feel like they know where their money is going," said Daniel Hyman, of Swiss company SingularDTV. Blockchain addresses issues like accountability and control because it "provides a window into how exactly money is spent", he told a packed audience in Cannes.
For viewers, the changes could be equally important. The technology enables filmmakers to bypass big studios and distribute their content directly to audiences who can access it with digital tokens, aka cryptocurrencies. Next month will see the release of Hollywood's first blockchain film with No Postage Necessary by US director Jeremy Culver. The comedy about a luckless hacker will be made available via peer-to-peer video network app Vevue, which runs on the world's most advanced blockchain.
also read
Entertainment
Scoop is the adaptation of journalist Jigna Vora's biographical book Behind The Bars In Byculla: My Days in Prison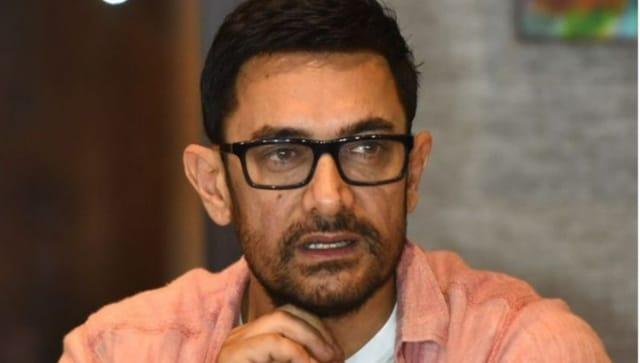 Entertainment
Producer Mahaveer Jain made a huge revelation about the Laal Singh Chaddha star that how he put his life at stake by not attending underworld parties in the 90s
Entertainment
According to an announcement on his website www.georgewinston.com, confirmed by a spokesman, Winston died Sunday after a 10-year battle with cancer