Cannes 2017: Happy End, Ismael's Ghosts, Okja and other films to watch out for
The Mecca for world cinema begins as the week long 2017 Cannes Film Festival kicks in.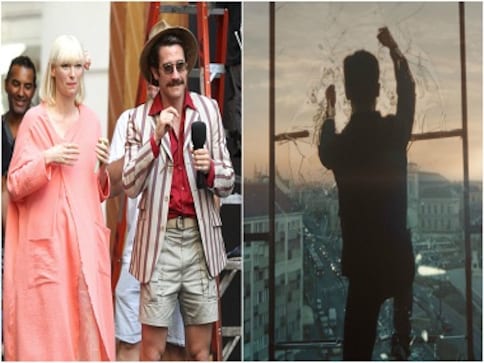 The Mecca for world cinema begins tomorrow as the week long 2017 Cannes Film Festival kicks in.
As is the case every year, Cannes 2017 brings a wide-ranging mix of returning favourites, newcomers, festival friendly auteurs, genre films, but this time there's even a dig into Netflix and television shows.
Listed below are some of the most interesting films playing at the festival.
Jupiter's Moon
Dir: Kornél Mundruczó
A couple of years ago Hungarian filmmaker Mundruczó delivered a whole new genre of cinema – a dog based thriller called White God, an expertly directed fast paced and moving film with canines as the protagonists, without the need for human actors to anchor the film. It was an experiment that somehow worked in mesmerising ways, and the filmmaker is back with another fascinating story that you've never heard of before.
In Jupiter's Moon we follow an immigrant who while crossing the border gets shot, but then realises he's gained the power to levitate.
Happy End
Dir: Michael Haneke
The celebrated two time Palm D'or winning Austrian filmmaker returns to his home after five years with Happy End, starring Isabelle Huppert as a member of a conservative family in Europe, watching the events of the immigrant crisis unfold around them.
With such a timely story topic, and a hugely Cannes friendly star, Haneke might just win his third festival award, making him the only film director in history to do so.
The Square
Dir: Ruben Ostlund
After the terrific Force Majeure and his tongue in cheek yet moving Oscar snub YouTube video, Swedish filmmaker Ostlund returns with another grand feature with a story that has never been told before. The story chronicles a museum director who sends a big splashy invite to art bigwigs for a new presentation. But when the bigwigs and the press show up to see what he's got up his sleeve, things quickly go out of hand.
Loveless
Dir: Andrey Zvyagintsev
After the incredible (but also severely depressing) 2014 film Leviathan, Russian filmmaker Zvyagintsev returns with another bleak drama with a political undercurrent. The story is about a divorced couple finding themselves working together to find their missing son.
Ismael's Ghosts
Dir: Arnaud Desplechin
French filmmaker Desplechin's new film ushers in the festival as the opening night selection.
The film stars Cannes darlings Mathieu Amalric and Marion Cotillard – the former as a film director whose life gets a big shock when he's haunted by the ghost of his ex flame played by the latter. The film looks more in the tragicomedy drama zone than horror, but it's interesting to see so many world cinema helmers of late resorting to the horror genre to deliver metaphorical stories.
Okja
Dir: Bong Joon Ho
After delivering a series of masterpieces Korean filmmaker Bong Joon Ho returns with another ambitious story skewering corporate industrialism and a metaphorical monster packed into a drama thriller from the POV of a small girl and her monstrous companion. Okja marks a historical moment in cinema as the film premiers at Cannes and then on Netflix worldwide just a few days later.
The Florida Project
Dir: Sean Baker
Sean Baker, who blew everyone away with the fiery, pulsating, iPhone-shot comedy drama Tangerine a couple of years ago is back with a story that chronicles a bunch of kids growing up and having all kinds of strange adventures in Orlando, while their parents struggle to make ends meet.
In The Fade
Dir: Fatih Akin
After ten years Turkish-German filmmaker Fatin Akin returns to Cannes with In the Fade, a drama thriller about a woman (played by Dianne Kruger) who finds out that her husband and child have died in a terrorist attack. Instead of wallowing in sorrow, she decides to take matters in her own hands and plans revenge against the perpetrators of the attack.
With reports of terror attacks rising in Europe the film will no doubt be considered relevant to contemporary times, and would hopefully find some answers to the questions regarding these kind of circumstances.
The Killing of a Sacred Deer
Dir: Yorgos Lanthimos
After delivering fascinating social commentaries on the human condition with Dogtooth and The Lobster, Greek filmmaker Lanthimos is back with another esoterically titled film, which no doubt delves into his favorite theme – confinement. This time his Lobster star Colin Farrell plays a surgeon who is forced to make an awfully deadly choice to fix the problems in his life.
TV: Top of the Lake and Twin Peaks
Dir: Jane Campion & David Lynch
Who knew that Cannes would become a home for television shows?
Four years after the tremendous conclusion of the New Zealand murder mystery Top of the Lake, the new season premiers at the festival, once again with show runner Jane Campion at the helm. This time the action shits to Australia where the body of a young girl washes up on a beach, and detective Griffin (Elisabeth Moss) finds herself in familiar territory again.
Legendary filmmaker David Lynch returns after a long hiatus for another season of Twin Peaks – which is titled Fire walk with me. The weird ambiguities and abstract Lynchian undercurrents of the original show captivated audiences, making a whole generation of cultish fans – we can't wait to see what devilish mysteries Lynch has in store for us this time around.
Entertainment
Korean films like The Mistresses and The Villainness are in competition at Cannes 2017 and are crime and action thrillers typical of the booming "Korean noir" genre.
Entertainment
While slaying the Cannes 2017 red carpet, Deepika Padukone found time to hang out with Susan Sarandon and Julianna Moore too.
Entertainment
An Oscar Best Picture victory for The Favourite could not only radically reconfigure Yorgos Lanthimos's career but also establish him as one of the boldest and most original filmmakers of our time.