Hansal Mehta responds to Apurva Asrani over Simran row: 'Don't try to harm my film'
'I don't owe anybody an explanation except those colleagues who work with love, respect and are genuine stakeholders in our efforts to make films,' said Hansal Mehta.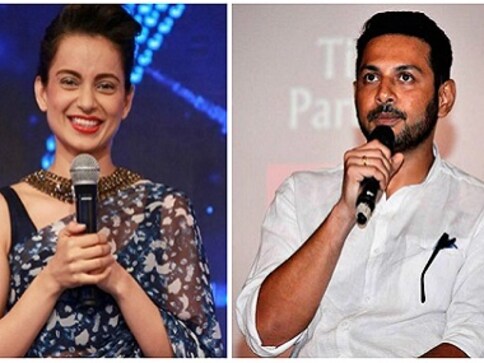 Mumbai: National award-winning filmmaker Hansal Mehta on Thursday clarified that he doesn't owe anybody an explanation over the ongoing controversy between writer Apurva Asrani of his upcoming film Simran and actress Kangana Ranaut.
Asrani was unhappy with Kangana for apparently claiming that she has co-written the script of Simran. In a lengthy Facebook post on Thursday, Asrani said it was "demeaning for any writer's name to be pushed after an additional writing credit".
He said he was not offended by the credits, rather feels "betrayed" by Kangana. "Ranaut has been claiming in several interviews that Hansal Mehta, the director of Simran, approached her with just a one line screenplay of the film. She says the story was dark and gritty thriller at that stage and that she herself developed it into a light, fun film," Asrani wrote.
In his post, Asrani called Mehta "spineless", and added that he should either "refute or endorse my story". Reacting to the current scenario, Mehta in a Twitter post wrote, "My spine is whatever it is, weak or strong; it is only for my film and nothing else. If I chose to not speak it is for my film. And when I do speak it will only be in service of my film."
Mehta said when he speaks - "it will not be driven by any blackmail or any noise on social media where dignity is perceived as weakness and conversation is replaced by allegation. I don't owe anybody an explanation exception those colleagues who work with love, respect and are genuine stakeholders in our efforts to make films."
The Aligarh filmmaker added he is "guilty". "I'm guilty of crediting individuals who contribute to making my films very special to many of us. And yes I will be guilty. Not once more. But a thousand times over. Call me names, as many names as you want. But in your desperation to seek attention and gain sympathy, do not try to harm my film," he said.
Asrani and Mehta had previously worked in Aligarh and Shahid. They share a long-standing relationship until now. Asrani was credited as the co-writer of Shahid. However, on Thursday, writer Sameer Gautam claimed he is the writer of the film.
In a Facebook post on Friday, Sameer wrote, "I was supposed to have a "Written By" credit. Then one day, not much later, I got to know from a team member that Apurva is insisting on a screenwriting credit for the film. Sir (Mehta) was happy with this cut and he then spoke to me about this."
At first, Sameer did not know what to say and then he said, "No" because he had given the film four years of his life with nothing but that to show for it.
"Apurva kept at it and refused to work any further unless he was given a screenplay credit for editing this 'fresh approach/ narrative' to the film. Hansal sir was in a Catch 22 situation and I could see it. It was difficult for him. He did not want to lose either of us. As much as he fought for me, he finally gave in to Apurva's demands and agreed to give him the credit," he added.
Entertainment
The trailer has kept us immersed and at the edge of our seats throughout. While we have seen Sanjay Mishra play multiple roles in his career, this is for the first time we will see him go all menace.
Arts & Culture
One of India's first couturiers celebrates 50 years of being in the business.
Entertainment
According to a report, the singer fell from a building staircase. He cracked his ribs, broke his elbow, and also hurt his head.