Akshay Kumar - 'Toilet: Ek Prem Katha is a romantic comedy, not a documentary'
Akshay Kumar spoke to Firstpost about his upcoming releases Gold, Padman and Battle of Saragarhi, and how he does not want to be typecast.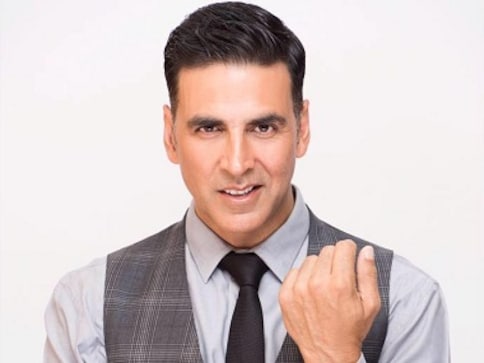 Akshay Kumar, is, by far the fittest man in Bollywood, and leads an extremely disciplined life by waking up at the crack of dawn and winding up his day by 6 pm. In fact, it has been a standing joke in the industry that when Akshay wraps up his work on the sets and gets ready to leave for home, certain actors turn up on the sets!
When we asked him how he has only two or three releases this year as opposed to his usual record of five to six films, he first corrects us by saying, "Two-and-a-half",  referring to Baby's spin-off Naam Shabana, in which he had an extended cameo, and he further asks, "Are you trying to say that I am slowing down? Or are you trying to say that I'm lazy?" He explains, "I have completed Padman, 2.0 (the sequel to 2010 blockbuster Robot, with Rajinikanth), and half of Gold is completed. We have not been able to announce a release date for Padman yet. There is no date available, because we have so many releases," says Akshay.
However, the actor is happy about the fact that the clash between his upcoming film Toilet Ek Prem Katha and Shah Rukh Khan's Jab Harry Met Sejal was averted, when the latter's release was changed to one week before the previously chosen date. "Everybody is happy when films don't clash, but unfortunately there are only 52 weeks and  180 releases, so some clashes are bound to happen. And then, we also have films from Hollywood and the South," he says. This brings us to the humongous success of Baahubali 2: The Conclusion, and the disappointing year that has been for Bollywood with just couple of super hit films like Badrinath Ki Dulhania and Hindi Medium so far. Akshay's immediate query is, "How much was spent on Baahubali 2's making? Over 400 crore? Toilet Ek Prem Katha has been made in Rs 18 crore. Obviously, the returns will be different."
Referring to the poor rate of success of Bollywood movies, he further says, "Maybe it has got to do with our content which is not right. Also, they are very systematic in the South. They don't spend more than Rs 2 crore on publicity. They don't do reality shows or too many press meets. But like us, they too release big films during Diwali and Pongal. They do reserve those dates. It is not threatening for us, but we can see some new things in cinema. Even our films release in the South, and they have never said that it is a threat. It is just that good films work."  So have the expectations from Shankar's sci-fi action drama 2.0, in which Akshay plays an antagonist, gone up?  "Are you stating that I have started taking stress? Well, I can't say anything more about the film, because I'm bound by my contract," he says.
Akshay recently revealed that the script of Toilet Ek Prem Katha was doing the rounds for four years and was offered to several stars who rejected it before it landed on his plate. "I found it very intriguing. I liked the fact that it was a real story. I wondered how these women actually told their spouses that they wanted a divorce because there's no toilet at home. It was a big step for these women from villages; even women from the city wouldn't take this extreme step," says the actor, adding, "I don't know how many people will watch the film, but even if five per cent out of the 54 per cent [who don't have toilets in their homes] are able to install toilets, I will feel my movie is successful. I am not bothered about the box office collections, I am more concerned about the eye-balls it will get. If my producer-distributor can reduce the ticket price, I will be very happy."
The National Award-winning actor, popularly known as Bollywood's khiladi, was the go-to actor for action films in the initial years of his career. Later, he was also applauded for his comedies, and off-late, he is being touted as the flag-bearer of patriotism and supporter of diverse social causes, through his movies and otherwise. In fact, he continues to take maximum risks when it comes to playing across genres. If with Toilet: Ek Prem Katha, which will be released on the Independence Day weekend, he takes on the sanitation crisis in India and the need for toilets within homes for women, director R Balki's Padman is an attempt to spread awareness about menstrual hygiene in rural India. Up next is Gold, a sports drama on the historic first Olympic medal that India won as a free nation. In the last two years, Akshay has acted in Neeraj Pandey's spy thriller Baby, vigilante action movie Gabbar Is Back, historical drama Airlift and crime thriller Rustom, the last of which won him the National Award for best actor for 2016.
"I want to help people with the help of media and government. Even if you don't want to write about the film, it is fine, but certainly write about the issue and what women have to go through. They have to walk three kilometres to relieve themselves. They wait for sunset and leave in a group, with the fear of rape. It is a huge issue and I am doing my bit with this film," says Akshay.  However, the actor clarifies that Toilet: Ek Prem Katha is a romantic comedy and not a documentary. "I am not giving any message, it is only towards the end that it gets a bit serious. It has got loads of masala and action besides four to five songs. Toilet humour is also shown in a different way and along with that there is a true story," he says.
However, Akshay is clear that he doesn't want to be typecast again. "I would love to do a khiladi. Just last year I did a complete MMA (Mixed Martial Arts) film, Brothers, then I did Housefull 3 as well. It's not that I don't want to do other films besides the realistic ones," he says.
And one can't help but ask him about the fate of the his Battle of Saragarhi which was announced with much fanfare; he plays the lead in this film.  There have been speculations that Salman Khan, who is supposed to be co-producing the film with Karan Johar, has opted out and that the film has been shelved.  Says Akshay, "The film is still happening; it is not shelved, but whether Salman is still producing it or not, we will know with time. Talks are on. It's not yet decided."
Entertainment
Would the second Bhool Bhulaiyaa film have the same impact as the first which came 15 years ago? Trade experts share their thoughts
Entertainment
Akshay Kumar's Prithviraj will lock horns with Kamal Haasan, Vijay Sethupathi, Fahadh Faasil's Vikram and Adivi Sesh's Major at the box office on 3rd June.
Entertainment
The film, based on medieval poet Chand Bardai's epic poem Prithviraj Raso, portrays the life and heroism of Prithviraj Chauhan as he valiantly fought against Muhammad of Ghor