Manveer Gurjar wins Bigg Boss 10: Why he was the most deserving contestant
Manveer Gurjar has won Colors TV's Bigg Boss 10 — and the consensus seems to be that the best man triumphed
Noida boy Manveer Gurjar, the owner of a dairy farm, was the very first contestant to make it to the Bigg Boss 10 finale week.
And on Sunday, 29 January, he was named the winner of the show as well — leaving the hugely popular Bani J in the runner-up position.
Other than few minor scuffles with Swami Om and his link-up with Nitibha Kaul, Manveer largely played it quiet throughout his Bigg Boss stint and did not do anything drastic that might have turned the spotlight on him in a negative manner.
He remained a good and loyal friend to Manu Punjabi and Mona Lisa, and the consensus was that he is genuine and honest. Humorous and witty, Manveer proved to be a good entertainer besides showing a lot of grit and determination while performing tasks. In one of the last tasks — the 'Bungee Cord Challenge' — it was Manveer's dedication that helped two of his partners in the task (Manu and Lopa) reach the finale week.
Unlike the others, Manveer refrained from bitching and back-biting and slowly but steadily consolidated his position, won people's hearts with his consistent efforts and likeable personality. His popularity was there for all to see when he and Manu visited a mall for the 'Ticket to Finale Week' task where he took on his buddy and emerged the winner by a good margin of votes. It's evident that people wanted Manveer to win the show — and he has.
But otherwise, it has certainly been a roller coaster ride for Manveer, who started out as less active than most of the other contestants. As the game progressed, and he teamed up with Manu, the two became extremely popular and strong in the house. Initially, Manu had an edge over Manveer. Manveer lived under Manu's shadow and didn't seem to mind. But obviously, it dawned on him later on that was not good from the point of view of his individual survival in the game. Perhaps, he also took his father's advice seriously: when Manveer's father visited the house, he told his son that he should be careful of Manu and play the game as an individual. Then when Manu had to leave the house because of his mother's demise, Manveer emerged from Manu's shadow and proved his mettle. So much so, that he started getting the audience's love and support more than any other contestant.
Not just his physical transformation (he shaved off his beard to save Manu from being nominated, and also shed a noticeable number of kilos), his behaviour also underwent a major change. The man who entered the house with a short temper and a warning, 'Think before you mess with me' for his fellow mates, was the one who remained calm in the toughest scenarios. In fact, he was the pacifier during several major arguments inside the house. He also managed this journey while staying true to his friends and his beliefs. While many felt that the stiff competition would eventually affect Manveer's friendship with Manu, nothing of that sort has happened from Manveer's side.
The overwhelming feeling seems to be that in Manveer Gurjar, the best man won Bigg Boss 10.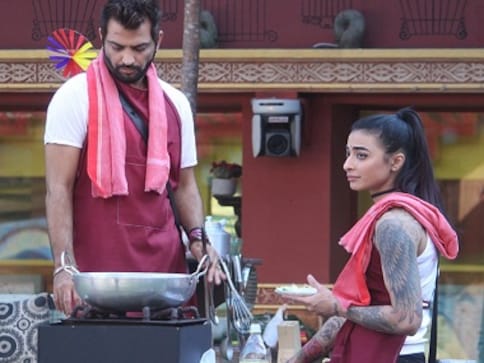 Bigg Boss Season 10
Manu Punjabi, Manveer Gurjar, Ban J, Rohan Mehra and Lopamudra Raut mark Day 100 in Colors TV's Bigg Boss 10 house
Bigg Boss Season 10
After her run on Colors TV's Bigg Boss 10 ended, Nitibha Kaul catted with Firstpost about her fellow contestants
Bigg Boss Season 10
Day 68 — what was broadcast as episode 68 — of Colors TV's Bigg Boss 10, saw a major fight between Lopamudra and Priyanka, but also visits for all contestants from their loved ones