Bigg Boss 11, Episode 72, 12 December 2017: Arshi, Akash want to use Shilpa's friendship to become finalists
In this episode of Bigg Boss 11, the upcoming weekly luxury budget task 'Bigg Boss 11 Lab' requires contestants to evoke emotions in each other.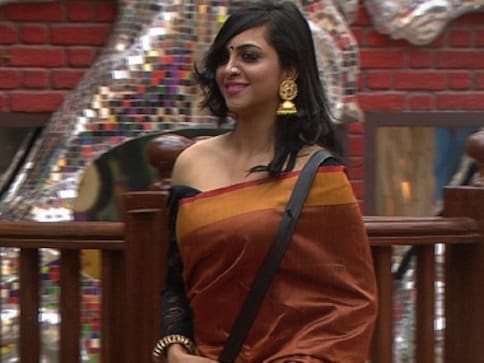 The contestants wake up to the song Man Ma Emotion Jaage which goes perfect with the upcoming weekly luxury budget task, 'Bigg Boss 11 Lab'. The task requires contestants to evoke emotions in each other.
Akash and Shilpa begin the day with arguing at the breakfast table over latter complaining about the discomfort she feels with his touch. Arshi, who is now getting back to be 'friends' with Shilpa, tells her that Akash had been kissing her for the longest time. But Shilpa clarifies that she stopped him several times in the past but he refused to listen. After that we see Akash and Shilpa having a heart to heart chat wherein Akash apologises to Shilpa for misbehaving with her. Shilpa says that she doesn't want an apology but all she wants is for him to understand what he did was wrong. Akash appears to accept his mistake probably because he's scared of being fired by Salman Khan the coming weekend.
This week, the contestants will be conducting an experiment to test changing human emotions. As the luxury budget task kicks in, the gharwale are divided into two teams – Robots and Karamchari; with Puneesh helming the task as the 'Mad Scientist Sanchalak.'
Hina, Priyank, Akash and Hiten are the Robots; while Vikas, Shilpa, Arshi and Luv don the hat of Karamchari. It is the responsibility of the karamchari to get specific emotions out of the Robots; while the Robots try their best to contain their reactions. The task is divided into three rounds based on different emotions – Anger, Sadness and Happiness.
Vikas asks Akash to lose the task, but he refuses to do so. Vikas tells Puneesh that Akash is going back on his words. Puneesh tells him that they may be friends but this is something that he has to decide for himself. On the other hand, Hina tells Luv to give the task his best and not worry about being in different teams.
The first emotion is anger and the first one to be tried in the task is Akash. 'Mastermind' Vikas takes the lead to instigate Akash by calling him a disgusting person who does not respect someone who he calls 'Maa'. He further tells him that he uses names of his mom and grandmother whenever he wants to for his benefit. Vikas and Shilpa see a tinge of emotion on his face and move on to Hina.
Vikas tells Hina that she lies about her age. Vikas then calls out her friendship with Luv and Priyank, and further provokes her by accusing her of breaking friendships in the house. Shilpa tells Hina that despite playing such a positive person, 'Akshara' on her show for eight long years, she has been behaving so negatively in the house. Hina also shows anger.
Priyank is next, and his good friend Vikas tells him that he knows how to play with emotions. Vikas says that Priyank has to make a love story in every show. He holds Priyank responsible for Benafsha Soonawalla's eviction and that she was better than Luv, who has survived so far.
Vikas further tells Priyank that he is no one to talk about his sexuality to Hina, but he went on to tell Hina that he is bisexual. Vikas asks Priyank that how does he know that? "Did you date me?". He also adds that Priyank wanted to be alpha male that is why he did this. Vikas then goes on talk to Priyank that how he disrespects women and body shames and slut shames them. He then calls out Priyank on his fake relationship with Divya Agarwal. The task gets over.
Vikas then meets his team members, Luv and Shilpa. Shilpa tells him that he should not have brought up the topic of sexuality. Meanwhile, Hina is heard telling Priyank that she doesn't trust Puneesh and Hiten, who is part of her own team for this task.
The task begins again. The emotion this time is 'crying'. Arshi tries to test Hina's control by continuously repeating her good friend Rocky Jaiswal's name, and whispers what Rocky had told her just before leaving the house. Hina gets emotional. Arshi and Shilpa go up to Priyank and tell him that he missed his mother during the luxury budget task last week but she did not come. Shilpa asks Priyank that if he feels his mother is disappointed in him. Shilpa tells him that he needs to respect his friendship with Vikas.  Priyank tears up and loses the task. Arshi apologises to him.
Luv takes on the challenge with humor and tickles their funny bone by cross dressing as Arshi, and all four -- Hina, Hiten, Akash and Priyank end up laughing. Arshi goes up next and pretends to be pregnant, and again all four of them are not able to control their emotion.
The next emotion is 'anger' once again, and here is when things go out of control when Vikas endlessly instigates Akash so that he loses his cool. From calling him ugly to lying about winning tennis tournaments and rap battles, and Akash accusing musicians of stealing credit...Vikas uses all the tricks that makes Akash furious after the end of the task. While Vikas tries to console him saying that it was merely a task, Akash slams Vikas for the words he used for him. He says that how dare he bring his mother and grandmother into all of this and vows to take revenge on Vikas in the second leg of the task.
And soon we see Arshi and Akash scheming and plotting against Shilpa, who is one of the strongest contestants in the house. Akash tells Arshi to take charge of the situation by being friends with her to reach the top position. Arshi says that she is confident of being one of the finalists, and that Shilpa is too dependent upon them.
Entertainment
TV celebs Karan Patel, Rohan Mehra, Karishma Tanna enter the Bigg Boss house.
Entertainment
There was no elimination this week in the Bigg Boss 11 house.
Entertainment
Bigg Boss announces that Luv and Akash have been nominated since none of the housemates saved them.