Bigg Boss 10 evicted contestant Swami Om claims to have slapped Salman Khan
After being ousted from the Bigg Boss house, Swami Om also makes bizarre allegations that Salman Khan has links to ISI and that he bribed the judiciary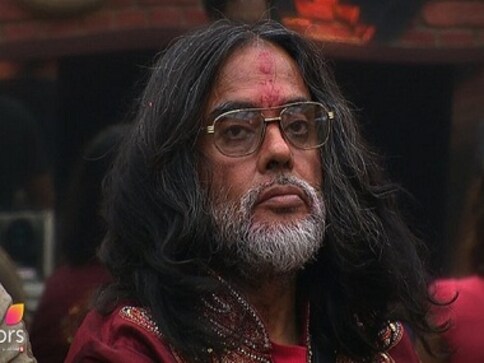 Evicted Bigg Boss 10 contestant Swami Om has hurled bizarre allegations at the host of the reality show, Salman Khan. From claiming the actors's links to ISI to the superstar greasing the palms of the judiciary, Swami has left little to imagination.
A few days ago, Swami became the second contestant to be booted out of the Bigg Boss house this season after his 'onscreen daughter' Priyanka Jagga. However, Swami has not taken his eviction too kindly.
In a video interview to The Quint, the evicted godman claims that the reason he was ousted from the show was because he had slapped Salman Khan across his face on the 30 December episode. Swami added that the makers did not air the footage of the show as the incident occurred inside the smoking chamber where there are no cameras.
Swami has claimed that the actor blew cigarette smoke on his face as a mark of disrespect which Swami considered the 'crossing of line.' Consequently, Swami slapped Salman across the face, or so he claims. He added that he tried to pull Salman outside the camera so that his actions could be recorded on the camera.
Elaborating further on his conversation with Salman, Swami alleged that the actor confessed that he has links to the underworld and to the intelligence agency of Pakistani, the ISI. He also claimed that he is in cohoots with the other two Khans, Shah Rukh and Aamir, as they are on a mission to convert India into a land of Islam. Facepalm.
Swami also claimed that Salman boasted of his invincibility as far as the legal sphere is concerned. He alleged that Salman confessed to bribing the judiciary in order to get acquitted in the blackbuck case and in the hit and run case. Swami claimed that Salman referred to the judiciary as bikau (corrupt) and that the actor bribed the two judges with a sum of Rs 100 crore each.
While Salman has not reacted to Swami's bizarre comments yet, we do not blame the actor for choosing not to do so.
Arts & Culture
Brazilian dancer David Motta, who left Moscow's Bolshoi Ballet two months ago due to the war in #Ukraine, stars in the Swan Lake ballet at Rio de Janeiro's Municipal Theatre before joining the Staatsballett in Berlin.
Bollywood
Swastika's hold on her craft motivated me to perform better, says Plabita who plays the role of Fetish Girl in Escaype Live
Entertainment
Apart from Salman Khan, Kabhi Eid Kabhi Diwali also features Pooja Hegde, Venkatesh Daggubati, Aayush Sharma, Shehnaaz Gill and Zaheer Iqbal in pivotal roles.