Narendra Modi to flag off first Udan flight today: All you need to know about the scheme
Under the Udan scheme, five airlines will operate on 128 routes connecting 70 airports. On each flight, 50 percent of the seats would have a cap of Rs 2,500 per seat/hour
Prime Minister Narendra Modi will launch on Thursday the 'Udan' scheme which is aimed at boosting regional connectivity with low-cost flights.
He will flag off a flight on Shimla-Delhi sector as also on Kadapa-Hyderabad and the Nanded-Hyderabad sectors, the PMO said on Wednesday.
Modi will launch the scheme from Shimla.
Udan ('Ude Desh ka Aam Naagrik') is a first-of-its-kind scheme globally to stimulate regional connectivity through a market-based mechanism, the PMO said in a tweet.
"To make air travel accessible to citizens in regionally important areas, the Ude Desh ka Aam Naagrik RCS (regional connectivity scheme) was launched in October, 2016," it added.
The Udan Scheme is a key component of the National Civil Aviation Policy (NCAP) which was released on June 15, 2016.
"Airfare for a 1-hour journey of appx. 500 km on a fixed wing aircraft or for 30 minute journey on a helicopter would be capped at Rs. 2,500," the PMO said.
"This with proportionate pricing for routes of different stage lengths and flight duration," it said.
Under the scheme, five airlines will operate on 128 routes connecting 70 airports, including 31 unserved and 12 under-served ones. The operators are Air India's subsidiary Airline Allied Services, SpiceJet, Air Deccan, Air Odisha and Turbo Megha. They would be operating 19-78 seater aircraft.
These flights would connect airports spread across over 20 states and union territories including Punjab, Uttar Pradesh, Madhya Pradesh, Maharashtra, Andhra Pradesh, Gujarat, Himachal Pradesh, Karnataka, Tamil Nadu and Puducherry. The airports that would be connected under UDAN include Bhatinda, Shimla, Bilaspur, Neyveli, Cooch Behar, Nanded and Kadapa.
On each flight, 50 percent of the seats would have a cap of Rs 2,500 per seat/hour. Airline Allied Services would operate on 15 routes, SpiceJet 11, Turbo Megha Airways 18, Air Deccan 34 and Air Odisha Aviation 50.
Under Udan, the operators would be extended viability gap funding -- for which money is partly raised through a levy of up to Rs 8,500 on flights operating in major routes like Delhi and Mumbai. The viability gap funding amount is estimated to be around Rs 205 crore per annum for the operators chosen in the first round of bidding. The viability gap funding would be in place for three years for the airlines concerned from the date of starting operations in a particular Udan route.
The scheme also provides for various benefits including no airport charges and three-year exclusivity on the routes. Amber Dubey, Partner and Head of Aerospace and Defence at KPMG in India said timely payment of viability gap funding to the operators would be key to sustainable operations. "AAI must install fool-proof monitoring mechanism to ensure no undue delays happen," he said.
While in Shimla, the Prime Minister will also address a rally at the historic Ridge Maidan.
This will be his first visit to Shimla after becoming the Prime Minister. He had visited the capital of Himachal Pradesh last in 2003 when he was the Chief Minister of Gujarat.
However, it is his second visit to the state. Last year, he had addressed a BJP rally at Mandi.
Modi was in-charge of organisational affairs of Himachal Pradesh for eight years till 2002.
With inputs from PTI
India
The prime minister said he appreciates all doctors, medical staff, and people in administration in the country for this effort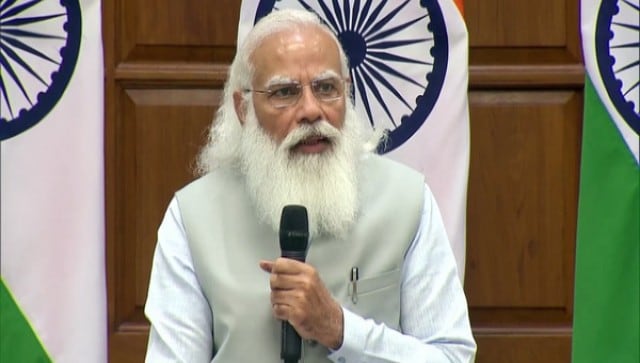 India
The meeting comes days after Modi chaired a meeting with his council of ministers, which was termed as 'Chintan Shivir'
India
At the Shanghai Cooperation Organisation's 21st Summit, Modi cautioned the global community against possible terror threats, expressed concerns over drugs and weapons smuggling and warned against a worsening humanitarian crisis in the country