Imran Khan gets booed, film snobs shun Bollywood at Mumbai Film Festival
While it's true that the MFF crowds could do with a few etiquette lessons — the queue for Boyhood had as much grace and order as a Virar (fast) train stopping at Andheri station — day one also showed why MFF regulars regard Bollywood with such disdain.
At its opening ceremony, Mumbai Film Festival gloried in Bollywood supporting world cinema and making this year's festival possible. There was chatter about how, with filmi celebrities lending glamour to the proceedings, MFF could be India's Cannes Film Festival. It was the stuff of celluloid dreams.
Yesterday, however, was the morning after.
Actor Imran Khan walked in to present Two Days, One Night by the Dardennes brothers only to be roundly and soundly booed. "Start the film!" chanted an impatient (and rude) crowd. One person hollered at Khan, "What are you doing here?" To which a rather nonplussed but dapper-looking Khan replied, "I'm not sure what I'm doing here." If Khan is to be believed, he was essentially shanghaied into 'presenting' a film that he didn't seem to know much about. Being there at Chandan Cinema, posing for photographers and saying a few words before the film started playing was Khan's version of a fist bump with MFF.
That seems sweet enough, but in the gathered crowd of snooty intellectuals and people who see the Hindi film industry's behind-the-scenes shenanigans, there was little warmth for the star. MFF's creative director, Anupama Chopra, may believe that you can't have a film festival in Mumbai that excludes Bollywood, but at least as far as the audience of Chandan Cinema was concerned, the film festival is no place for Bollywood.
The other celebrity presenter of day one was Varun Dhawan who was supposed to introduce Richard Linklater's Boyhood. Perhaps it was Khan's experience or the human tsunami that crashed upon the theatre for Boyhood, but net result was that Dhawan was nowhere to be seen and Boyhood was screened without anyone presenting it.
The crowd's reaction to Khan would probably make SoBo hearts swell with pride because it was precisely as boorish as it imagines Mumbai's suburbs and Andheri to be. While it's true that the MFF crowds could do with a few etiquette lessons — the queue for Boyhood had as much grace and order as a Virar (fast) train stopping at Andheri station — day one also showed why MFF regulars regard Bollywood with such disdain.
During the Q & A session following the Master Class conversation between actresses Catherine Deneuve and Deepika Padukone, someone in the audience asked Padukone why Bollywood doesn't make "socially-relevant films". Padukone said that it wasn't true that there was no socially-relevant cinema in the commercial arena and held up Prakash Jha's Arakshan and Kheley Hum Jee Jan Sey as examples.
Clearly, Padukone hasn't been out in the real world much if she thinks either of those films are relevant.
Incidentally, let it not be said that Bollywood alone has divas. Rumour has it at the last minute, Catherine Deneuve refused to let the Master Class conversation be filmed. One imagines HBO, which presented that session, won't be happy about that.
All in all, it wasn't a good day for presenters.
In contrast to all this shoo-sha was Spanish director Alex Sampayo, whose debut feature Schimbare had its first screening yesterday. The Spanish film has been well-appreciated in the festival circuit and despite having no star power, the theatre was packed and Sampayo's simple introduction received resounding applause from the audience.
You could feel the excited anticipation in the theatre and for most part, Schimbare delivered the goods stylishly and powerfully. The film opens with a loving couple, driving in a car. A little while later, they stop at a house. The man goes in and brings out a little girl. The woman sees the girl and almost has a breakdown. Sampayo reveals why the couple were driving and their connection to the little girl expertly and slowly. With every detail that he feeds the audience, the tension goes a notch higher.
Yesterday also gave MFF its first glimpse of prize-winning director Xavier Dolan, but with his actor hat on. Dolan is the star of Elephant Song, a film about a patient in a psychiatric facility who plays sinister games with a doctor and nurse. Dolan's performance shows he's absurdly talented. He single-handedly keeps you riveted and diverts your attention from the imperfections of Elephant Song.
Boyhood was, predictably, much loved by all, but the real cinematic star of day one was the documentary Red Army. Directed by Gabe Polsky, Red Army is a documentary about the Soviet Union and its legendary ice hockey team.
Here's how amazing the film is: MFF screened a print that didn't have subtitles for the Russian sections (about 35%-40%) of the film, and still, no one left the auditorium. They were all wonderstruck by the story of these patriotic athletes whose talent and spirits were both nurtured and exploited by the Soviet Union. It doesn't matter if you've never seen a game of ice hockey and don't give a damn about sport in general. Red Army is about human spirit and a very clever director who knows how to disrupt spiel using sharp-edged wit. Plus, when the Soviets played ice hockey, it was like ballet.
Chances are, last night there was a surge of searches for torrent files of Red Army and if that did actually happen, it's all because MFF didn't think Indian audiences may need subtitles to understand Russian.
Find latest and upcoming tech gadgets online on Tech2 Gadgets. Get technology news, gadgets reviews & ratings. Popular gadgets including laptop, tablet and mobile specifications, features, prices, comparison.
Entertainment
Surekha Sikri's agent told Press Trust of India that she was "critical but stable"
Entertainment
Shahid Kapoor took to his Instagram to share a picture of Mira, his wife, on her birthday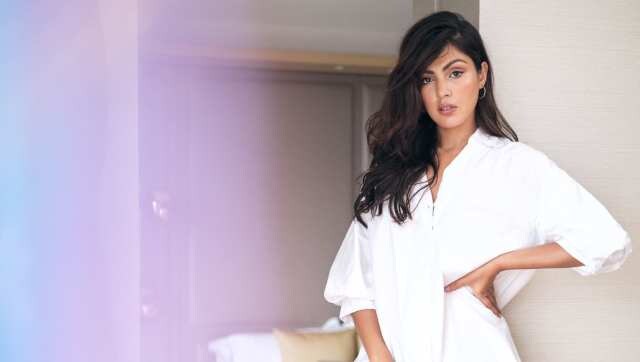 India
Rhea Chakraborty was questioned for about six hours by the NCB for the first time in relation to Sushant Singh Rajput's death on Sunday.