US to send two rescue and recovery teams to Turkey after massive quake
The death toll across Turkey and Syria has risen to 3090 after earthquakes. The total number of injured in Syria and Turkey has reached 15,914 following earthquakes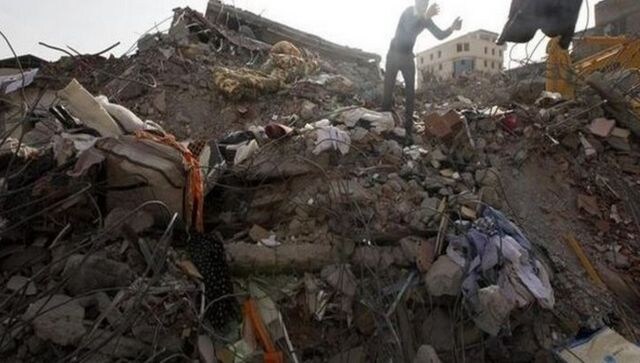 Washington: The United States has expressed "deepest condolences" to the people of Turkey and Syria following the earthquakes that jolted the two nations on Monday, US State Department spokesperson Ned Price said.
Addressing a press briefing on February 6, Price said that an initial assistance response is underway and US will send two rescue and recovery teams to Turkey.
"We express our deepest condolences to the people of Turkey and Syria following the devastating earthquakes. Department of State is in close contact with our Turkish allies and our humanitarian partners and our initial assistance response is already underway. We are determined to provide any and all assistance to help those affected by these earthquakes," Ned Price said.
Price added, "Two rescue and recovery teams constituting 78 individuals will be travelling to Turkey. We are looking at additional funding resources that we have available for both sides. We are going to remain committed to doing what we can do for our Turkish allies and people of Syria." He said that rescue and recovery teams will be dispatched to Turkey, who will work along with Turkish allies in the rescue and recovery effort.
Ned Price said that US Secretary of State Antony Blinken held talks with Turkish Foreign Minister Mevlut Cavusoglu. He said that Blinken expressed condolences for the loss of lives after earthquakes. According to Price, Blinken assured Cavusoglu that Turkey should call the US if they need anything and they are ready as an ally to help Turkey.
Price said that the US hopes that the rescue and recovery effort is able to pull people from the rubble and save as many lives as possible. He said that Blinken directed his team to see what funding might be available to help Turkey, NGO partners, and Syria. He said that they have not yet confirmed the deaths of Americans in the earthquakes that jolted Turkey and Syria.
"As of earlier today, we have not yet confirmed the deaths of Americans, but I think we're all realistic," Ned Price said.
"We are all very sober about the implications of this and the fact that many countries, many nationalities are likely to be implicated just given the massive toll and destruction that this earthquake has cost," he added.
The death toll across Turkey and Syria has risen to 3090 after earthquakes on Monday. The total number of injured in Syria and Turkey has reached 15,914 following earthquakes.
At least 2,379 people were killed and 14,483 others injured in Turkey after earthquakes jolted the southern part of the country on Monday, Anadolu Agency reported. Syrian Ministry of Health said that the death toll from the earthquake has risen to 711 and 1431 others have been injured in Syria, SANA reported.
On Monday, an earthquake of magnitude 7.7 centered in the Pazarcik district jolted Kahramanmaras and hit several provinces, including Gaziantep, Sanliurfa, Diyarbakir, Adana, Adiyaman, Malatya, Osmaniye, Hatay, and Kilis, as per the Anadolu Agency report.
Later in the day, an earthquake of 7.6 magnitude centered in Kahramanmaras's Elbistan district jolted the region. The earthquake was also felt in several neighboring countries, including Lebanon and Syria.
Read all the Latest News, Trending News, Cricket News, Bollywood News,
India News and Entertainment News here. Follow us on Facebook, Twitter and Instagram.
World
Ruling and opposition party sources now feverishly speculate that Erdogan will delay the May 14 presidential and parliamentary polls in the wake of Turkey's worst disaster of modern times
World
At least 870,000 people urgently needed food in the two countries after the quake, which has made up to 5.3 million people homeless in Syria alone
World
Following the deadly earthquakes on February 6 the death toll in Turkey and adjoining Syria have surpassed 17,000 lives in both countries.