Scottish referendum: British PM Theresa May rejects call for pre-Brexit independence vote
British Prime Minister Theresa May on Thursday rejected a call for a referendum on Scottish independence before Britain leaves the European Union — a move condemned as a 'democratic outrage' by Scotland's nationalist leader.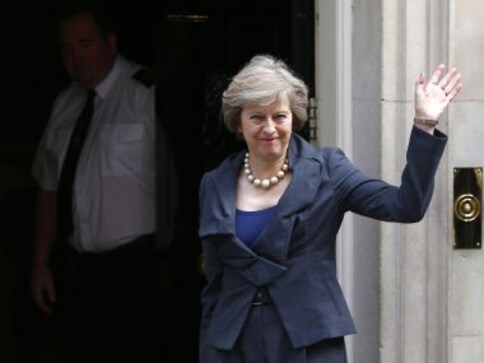 London: British Prime Minister Theresa May on Thursday rejected a call for a referendum on Scottish independence before Britain leaves the European Union — a move condemned as a "democratic outrage" by Scotland's nationalist leader.
May and Scottish First Minister Nicola Sturgeon both dug in their heels in a showdown that could complicate Britain's path out of the EU and threaten the future of the United Kingdom.
May said "now is not the time" to reopen Scotland's independence debate, though she did not rule out a referendum in the future. Britain is to begin the two-year exit process from the 28-nation EU by the end of this month.
The United Kingdom is made up of England, Scotland, Wales and Northern Ireland. The UK as a whole decided in a 23 June referendum to leave the EU, but Scots in that ballot voted 62 to 38 percent to remain.
Sturgeon announced earlier this week that she will seek a referendum on Scottish independence to be held between the fall of 2018 and the spring of 2019, so Scottish voters can decide whether to leave the EU with the rest of the UK or go it alone.
The Conservative-led British government, however, must agree to a legally binding referendum, and May said "now is not the time."
"All our energies should be focused on our negotiations with the European Union," May said, adding that holding a Scotland referendum while EU exit talks are still underway would "make it more difficult for us to get the right deal for Scotland and the right deal for the UK."
The British government's Scotland minister, David Mundell, said May's administration "will not be entering into discussions or negotiations" about a new referendum on Scottish independence.
But Sturgeon, undeterred, plans to ask the Scottish parliament next week to start the process of seeking a new referendum.
She said it would be a "democratic outrage" for the British government to stop the people of Scotland "having a choice over their future."
"It is for the Scottish parliament — not Downing Street — to determine the timing of a referendum, and the decision of the Scottish parliament must be respected," she said.
She said "having sunk the ship with Brexit," the British government was "trying to puncture Scotland's lifeboats as well."
May's office said the prime minister hopes the Scottish government will back away from its plans for a referendum within two years. May has not ruled out a later independence vote — but her stance could boost support for independence because it smacks of London meddling in Scottish affairs.
Still, Sturgeon's Scottish National Party does not hold an outright majority in the Scottish legislature, and her plan will face opposition. Scottish Conservative leader Ruth Davidson, whose party has the second-largest bloc of seats, said the Tories would "reject conclusively the timetable for a referendum set out by the Scottish government."
Davidson said voting on independence without knowing how Britain was faring outside the EU would mean that "on the most important decision we can make, we would be voting blind."
Scottish voters rejected independence by a margin of 55 percent to 45 percent in a 2014 referendum that was billed as a once-in-a-generation vote. But Sturgeon says the UK's decision to leave the EU has changed everything.
Also Thursday, Britain's EU exit moved closer when a bill authorizing the British government to begin divorce proceedings with the bloc became law. House of Commons Speaker John Bercow announced that the European Union (Notification of Withdrawal) Act had received the assent of Queen Elizabeth II.
May is now free to invoke Article 50 of the EU's key treaty, triggering two years of exit negotiations. She says she will do that by 31 March.
Under the terms of the EU treaty, Britain will no longer be a member of the bloc two years after May issues the notification. The British government hopes to seal a new free-trade deal between the UK and the bloc in that time.
But EU negotiators warn it could take two years just to settle the divorce terms, and say agreeing on a new relationship for the UK and the EU could take years longer.
Find latest and upcoming tech gadgets online on Tech2 Gadgets. Get technology news, gadgets reviews & ratings. Popular gadgets including laptop, tablet and mobile specifications, features, prices, comparison.
science
Before 1833, at least seven million fur seals were killed in the Antarctic and sub-Antarctic.
World
Sutcliffe was serving concurrent life sentences for killing 13 women and attempting to murder seven others in Yorkshire and northwest England between 1975 and 1980
Sports
Stewart, who would have been an integral part of the Team GB medals bid at next year's delayed Tokyo Olympics, apologised "wholeheartedly" and acknowledged his actions made his position untenable.