Pakistan election results delayed due to 'transmission failure' a day after goof-ups, power outages hampered voting
Despite Election Commission of Pakistan's orders to ensure a regulated power supply across the country, voting was delayed at several booths.
As Imran Khan's Pakistan Tehreek-e-Insaf (PTI) inches closer to becoming the single largest party in the country's general elections, by leading in an early count of votes, allegations of electoral rigging by rival political parties have raised doubts about the election process.
To make matters worse, the results are likely to be delayed because of a failure in the transmission service. Election Commission of Pakistan (ECP) secretary Babar Yaqoob on Thursday said that 'Result Transmission Service' has stopped and is behind the delay. "Presiding officers have been asked to meet their returning officers, along with army officers assigned to their voting booths, with the results," said Yaqoob.
Several rival party leaders had earlier alleged that the delay was caused by a 'wicked conspiracy' or pressure by PTI. "The RTS system had not been tested in Pakistan," he remarked.
Local media said that less than half the votes had been counted more than 13 hours after polls closed, an unprecedented delay that has fuelled widespread fears over the legitimacy of the exercise.
The Election Commission of Pakistan dismissed allegations of manipulation, blaming the delay on glitches in new, untested counting software.
"These elections were 100 percent fair and transparent," said Chief Election Commissioner Sardar Muhammad Raza early Thursday as the outcry grew.
Raza, however, did not say when election authorities would be in a position to announce the results.
Glitches, power outages, malfunctions
The delayed result comes in the backdrop of multiple complaints of hampered voting and poor infrastructural arrangements ahead of voting on Wednesday. There were no back-up plans in case things went wrong or if the counting system faced problems.
And that is exactly what happened. Despite the Election Commission of Pakistan's orders to ensure a regulated power supply across the country, the Dawn reported power outages at several polling stations in Peshawar and around that delayed voting. This led to women voters and election staff facing several difficulties, the report said.
Meanwhile, Times Now reported that in Jacobabad, in the Sindh province, unavailability of ink led to delays in the polling process. Several polling stations in Lahore also witnessed delays as the election staff did not reach the venue on time, the report said.
The report also mentioned that election agents were not allowed to enter polling booths in Nawabshah, in the Sindh province, thus resulting in a delay in voting. In North Waziristan's Khaisor village, poll officials didn't turn up, preventing over 1200 from exercising their franchise.
'ECP's performance leaves much to be desired'
The Human Rights Commission of Pakistan (HRCP), meanwhile, had observed the electoral process across Pakistan over the past several months, paying special attention to reports of violence, allegations of pre-poll manipulation and the arrangements put in place by the Election Commission of Pakistan (ECP).
On polling day, the commission's monitoring teams carried out detailed observation in 67 National Assembly constituencies, including 12 in Balochistan, 14 in Khyber Pakhtunkhwa, 21 in Punjab and ICT, and 20 in Sindh.
It noted: "Overall, HRCP observes that the ECP's performance leaves much to be desired. While the latter has carried out its clerical functions reasonably well, the political content of its work has fallen short of expectations. Polling schemes were poorly rationalised, with many voters in the Lahore Cantonment, for instance, indicating they did not know where to go to vote. Numerous observers have also reported that many polling stations were clustered together, but too small to cater to the number of voters. As a result, the polling process remained sluggish through the day. This, compounded with ill-trained staff in many cases, meant that many people who reached their polling station in time were compelled to queue outside the premises for want of space, but were not let in to cast their vote,"
"In one instance, HRCP received a complaint from a presiding officer who had spent the night at his designated polling station, but not received any official provision to feed his colleagues. Many polling stations consisted of small, dark, humid rooms, in some cases not even equipped with fans. The Commission feels strongly that ECP staff should have been better looked after, given the enormity of their task," it said in the report.
"The Commission also notes that, in some places, polling staff appeared to be biased toward a certain party, with voters who had received slips from another party's stall being turned back on flimsy grounds. In at least one instance, women voters reported being asked whom they intended to vote for. Such instances are serious contraventions of the law and HRCP hopes that these will be promptly and transparently addressed," it added.
Wednesday's elections, conducted under high levels of security, were meant to be a rare democratic transition from one civilian government to another in the young, nuclear-armed country which has been ruled by the military for roughly half its history.
Some 800,000 military and police were deployed to provide security on election day. But it was still marred by violent attacks. The largest, a suicide bombing claimed by the Islamic State (IS) group, left at least 31 dead and 70 wounded near a polling station in Quetta, in southwestern Balochistan province.
The voter turnout was recorded at 50-55 per cent of the nearly 106 million electorates, similar to the previous electoral contest in 2013.
A single party will need to bag at least 137 of the directly elected seats to be able to form the government on its own.
As many as 12,570 candidates were in the electoral fray for a total of 849 seats of national and provincial assemblies in the country's 11th general election.
With inputs from agencies
World
Pakistan has long had an uneasy relationship with madrassas like Haqqania. Leaders who once saw the seminaries as a way to influence events in Afghanistan now see them as a source of conflict within Pakistan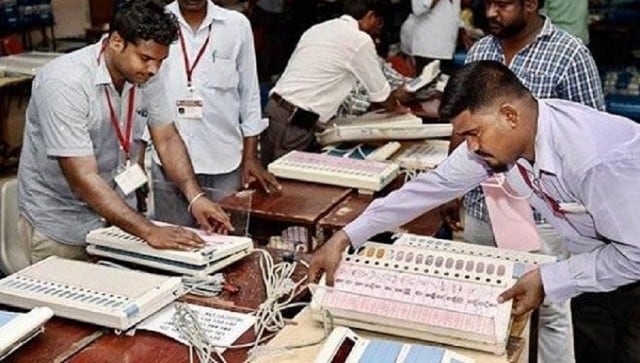 Politics
The run-up to the polls, which should have been a humdrum affair, became a cause celebre after it was marred by violence, arrests, sit-ins in far-away Delhi and a Supreme Court intervention asking officials to ensure peaceful polling.
India
Pilgrimage to the Kartarpur Sahib gurdwara was suspended in March last year because of the COVID-19 outbreak. The Kartarpur corridor was reopened on Tuesday for pilgrims