'Poor first impressions of polling day': Human Rights Commission of Pakistan issues statement on the general elections
The following is the full text of a press release issued by the Human Rights Commission of Pakistan during the counting of votes in the Pakistan general elections.
Editor's note: The following is the full text of a statement issued by the Human Rights Commission of Pakistan during the counting of votes in the Pakistan general elections on Wednesday. According to early trends, Imran Khan's Pakistan Tehreek-e-Insaf (PTI) has taken an early lead even as the Pakistan Muslim League-Nawaz (PML-N), the Muttahida Qaumi Movement-Pakistan (MQM-P) and Pakistan Peoples Party (PPP) have alleged irregularities. The statement is being reproduced verbatim and has not been edited by Firstpost for clarity or style.
The Human Rights Commission of Pakistan (HRCP) has observed the electoral process across Pakistan over the past several months, paying special attention to reports of violence, allegations of pre-poll manipulation and the arrangements put in place by the Election Commission of Pakistan (ECP). On polling day, the Commission's monitoring teams carried out detailed observation in 67 National Assembly constituencies, including 12 in Balochistan, 14 in Khyber Pakhtunkhwa and FATA, 21 in Punjab and ICT, and 20 in Sindh. HRCP's preliminary report is based on data from its observers in the field. The Commission will release a detailed report of its observations in the next several days.
Above all, HRCP commends the electorate for its commitment to democracy and representative selection, especially in the face of three devastating suicide attacks. The Commission strongly condemns the attack that occurred today in Quetta, which has left at least 30 people dead, and expresses its deepest condolences with their families.
Overall, HRCP observes that the ECP's performance leaves much to be desired. While the latter has carried out its clerical functions reasonably well, the political content of its work has fallen short of expectations. Polling schemes were poorly rationalized, with many voters in the Lahore Cantonment, for instance, indicating they did not know where to go to vote.
Numerous observers have also reported that many polling stations were clustered together, but too small to cater to the number of voters. As a result, the polling process remained sluggish through the day. This, compounded with ill trained staff in many cases, meant that many people who reached their polling station in time were compelled to queue outside the premises for want of space, but were not let in to cast their vote.
In one instance, HRCP received a complaint from a presiding officer who had spent the night at his designated polling station, but not received any official provision to feed his colleagues. Many polling stations consisted of small, dark, humid rooms, in some cases not even equipped with fans. The Commission feels strongly that ECP staff should have been better looked after, given the enormity of their task.
HRCP takes serious exception to the authorities' failure to facilitate physically disabled people's access to polling stations, despite the many promises made in the past. In several cases, observers reported that disabled voters had been assigned to polling booths on the first floor. The Commission also received complaints through the day that, in many areas, women were not allowed to vote: HRCP hopes that legal action is taken against any such people who denied women their right to vote.
The Commission also notes that, in some places, polling staff appeared to be biased toward a certain party, with voters who had received slips from another party's stall being turned back on flimsy grounds. In at least one instance, women voters reported being asked whom they intended to vote for. Such instances are serious contraventions of the law and HRCP hopes that these will be promptly and transparently addressed.
Follow all the live updates to the Pakistan general elections here
India
A top Pakistani army general and five senior military officials were killed when their Mi-17 helicopter crashed due to bad weather while on a flood relief operation in troubled Balochistan province on 1 August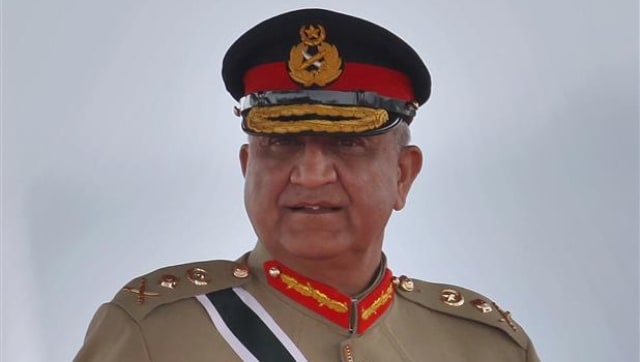 World
Last month Bajwa reached out to Washington requesting help in early disbursement of funds from the IMF for cash-strapped Pakistan. Bajwa's intervention was criticised by various Pakistani leaders including former prime minister Imran Khan
World
In recent months the northern districts of Pakistan's Khyber Pakhtunkhwa have witnessed a rise in suicide attacks, despite the government's ceasefire agreement with the TTP. A total of 105 army personnel were killed in such attacks within the first three months of this year