Karachi is centre of anti-India jihadist groups backed by Pak Army, claims Brussels-based NGO
Karachi, Pakistan's largest and wealthiest city, has become a epicentre of anti-India jihadist groups and criminals who have the backing of the Pakistani army, claims a report released by International Crisis Grou
Karachi, Pakistan's largest and wealthiest city, has become a centre of anti-India jihadist groups and criminals who have the backing of the Pakistan Army, claims a report released by International Crisis Group, a Brussels-based NGO.
The report said decades of neglect and mismanagement have turned Karachi into a pressure cooker. Ethno-political and sectarian interests and competition, intensified by internal migration, jihadist influx and unchecked movement of weapons, drugs and black money, have created an explosive mix.
The ICG research paper titled Pakistan: Stoking the Fire in Karachi suggests that, "To address complex conflict drivers, the state must restore the Sindh police's authority and operational autonomy while also holding it accountable. Over the longer term, it must redress political and economic exclusion, including unequal access to justice, jobs and basic goods and services, which criminal and jihadist groups tap for recruits and support. "
The report, addressing the major force driving the conflict, states, "With Sindhis now fewer than 10 percent of Karachi's population, less than Mohajirs, Pashtuns and Southern Punjabi Seraiki speakers, the contest between the PPP, Sindh's largest party, and the Muttahida Qaumi Movement (MQM), Karachi's largest, is not primarily electoral but over the nature of the city's governance."
With both parties politicising the state institutions they control and providing services on partisan grounds, Karachi's citizens lack reliable access to health care, water and affordable transport and accommodation. This politicisation has also aggravated ethno-political conflict.
The NGO also raised concern over the functioning of paramilitary Rangers in Karachi city in its report. It said, "Characterised by heavy-handedness and human rights violations, including extra-judicial killings, torture and enforced disappearances, it instead breeds ethnic tensions and could boost recruitment to criminal, including jihadist networks".
The crisis report also said that anti-India terrorist groups such as Lashkar-e-Taiba and Jaish-e-Mohammad have links with madrassas. "Pakistan's most dangerous groups actively contest Karachi's turf & resources. Anti-Shia Lashkar-e-Jhangvi and anti-India LeT/JuD and JeM have umbilical links with Karachi's large, well-resourced madrasas," the report mentioned.
These outfits support and operate madrassas and charity fronts with no interference from Pakistani law enforcement authorities.
The report said that during a crackdown on jihadists and criminal gangs in the country, the Pakistan Army spared many areas in Karachi and its outskirts of the city, known as the redoubts of "good" jihadists like LeT-JuD and Jaish-e-Mohammed.
"There are pockets all along the Super Highway of 'good Taliban'", ICG also quoted a senior Sindh ruling PPP (Pakistan People's Party) member in the report.
The report quoting representatives, senior officials, journalists, civil society activists also said that "while many jihadist masterminds had fled Karachi by September 2013, expecting the Pakistan Army's operation in many areas, they might have returned emboldened by lack of action."
On the role of these groups when India-Pakistan tensions are running high, ICG quoted a retired senior provincial official of Pakistan, who said, "Any time Pakistan-India or Kashmir tensions flare, these groups mobilise in the heart of the city… You can't treat (LeT and Jaish-e-Mohammed) as your friends in one part of the country and your enemies elsewhere."
Escalating tensions and failure to defuse the impending ethno-political crisis and rein in criminal and jihadist networks threatens to sink Pakistan's most important economic centre further into conflict.
The PPP and MQM leaderships should recognise that their governance failures have opened opportunities for the military's counterproductive intervention in Karachi's political affairs on the pretext of restoring stability, the report added.
The Brussel-based group has recommended that Karachi's political parties, including the PPP, MQM and Awami National Party should restart a comprehensive dialogue to address Karachi's political and security challenges.
It also recommended ending the Rangers' operation and commit to a law enforcement policy rooted in a reformed criminal justice system, including an operationally autonomous but accountable police force. To the Sindh governments, both at federal and provincial level, it encourage to investigate all allegations of custodial killings, torture, illegal detention and other human rights abuses by any law enforcement/security agency and hold individuals to account.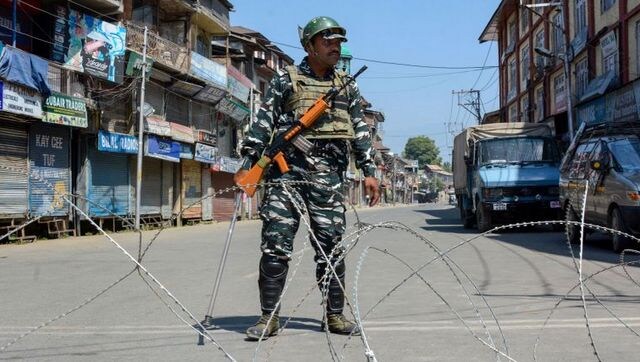 India
A police spokesperson said two of the four recent cases of target killings in Srinagar and Bandipora have been solved with the elimination of the terrorists involved in these incidents
World
Both Pakistan and Turkey are now among 23 countries worldwide that are on the group's grey list, which includes Morocco, Myanmar, Jordan and the Philippines too
India
A massive search operation in the forest areas of Jammu and Kashmir's twin border districts of Poonch and Rajouri to track down ultras involved in the killing of seven army soldiers entered its sixth day on Saturday