Iran Presidential Election 2017: All you need to know about the candidates and the issues
On Friday, Iran goes to the polls to pick their next president. History favours incumbent president Hassan Rouhani—every Iranian president since 1981 has won re-election—but there are signs of trouble on the horizon.
Editor's note: This article was originally published on 17 May. It is being updated and republished in light of the fact that the Iranian presidential election will be held today.
Iran goes to polls to pick its next president today. History favours the incumbent Hassan Rouhani — every Iranian president since 1981 has won re-election — but there are signs of trouble on the horizon.
The election is largely viewed as a referendum on the nuclear deal struck with world powers and shepherded by Rouhani's administration.
Iran agreed to limit its enrichment of uranium in exchange for the lifting of some economic sanctions.
Iran has since resumed crucial oil exports to Europe and concluded billion-dollar deals to purchase passenger planes, but the effects have yet to trickle down to most Iranians, creating an opening for hard-liners, who feel Rouhani gave too much away.
The candidates
1. Incumbent president Hassan Rouhani
He is the moderate. The signature achievement of his government was negotiating a nuclear deal with world powers, reviving a stalled economy and bringing inflation down to single digits.
2. Conservative candidate Ebrahim Raisi
He is a hard-line cleric and judge. He was allegedly involved in the 1988 mass execution of thousands of prisoners. He is also the favourite of Ayatollah Ali Khamenei, Supreme Leader of Iran. According to a report in Bloomberg, Khameini, in a speech in Raisi's home town, attacked the state of Iran's economy. The significance of that wasn't lost on anyone.
Raisi also has the support of two major clerical bodies that declined to endorse anyone in the last presidential election. He has pledged to support the poor with a monthly cash payment equivalent to $65, which is about a sixth of what a menial laborer makes in a month.
Key issues in this election
Economy
What will it come down to? As one American political analyst once famously put it: The economy, the economy, the economy.
So let's look at the economy under Rouhani. While Rouhani likes to boast the benefits of the nuclear deal he struck with the United States, the average Iranian hasn't really seen or felt its benefits. Statistics back up this assertion.
According to a report in Al Jazeera, since taking office, Rouhani has brought inflation down to 6.5 percent from 40 percent in 2013, a feat that has been lauded by economists. What's more Iran saw a 12.5 percent increase in growth under his tenure.
However, unemployment rates for men and women are currently at 21.8 and 10.4 percent respectively. For the youth, unemployment is at 30 percent. This is sure to weigh heavily on the minds of the voters. During the televised presidential debates, Raisi used popular rhetoric to lash out at Rouhani for Iran's slow economic growth.
The nuclear deal
While Rouhani has claimed that the nuclear deal has brought stability, peace and prosperity to Iran's economy, his claims have been undermined by US president Donald Trump, who has threatened to tear up the nuclear deal and impose sanctions on Iran. If Raisi takes power, the future of the nuclear deal and peace in West Asia could be at stake.
If turnout is the key, Rouhani could be in trouble
As his opponents promise populist cash handouts to the poor, Rouhani needs all the voters he can to cast ballots on Friday. But even some of his supporters say they may stay home. "I will not vote," said Hossein Ghasemi, a 35-year-old taxi driver who voted for Rouhani in 2013. "None of them care about our demands and difficulties linked to daily increasing prices."
Another sign of trouble for Rouhani came from a report on Monday by the state-run IRNA news agency. According to their survey, one third of 6,000 eligible voters said they would not be voting, while another 46 percent said they would pick their candidate later. "The main rival of Rouhani is 'lack of participation' by people," said Saeed Leilaz, a Tehran-based political analyst.
Meanwhile, the president found himself heckled and his vehicle beaten by angry miners Sunday as he visited the site of a coal mine disaster that killed at least 42 people. "I like Rouhani, but I do not want to vote at all," said Aidin Yahyavi, 32. "Years after graduating, I am still unemployed and my parents support me."
That's exactly the kind of voter Rouhani needs to inspire. About a third of eligible voters live in big cities where Rouhani remains popular and where average turnout is around 40 percent. Another third live in smaller, regional cities. In rural areas, where clerics and Iran's hard-line Revolutionary Guard hold greater sway, turnout reaches 90 percent.
"The economy is not in good shape," said Mehdi Khalaji, a fellow at the Washington Institute for Near East Policy. "They trust Rouhani because he succeeded in the nuclear negotiations .... (but) people want to hear about candidates' capabilities to solve economic problems."
Influential reformist activist Mostafa Tajzadeh, who spent years in prison after opposing Ahmadinejad's contested 2009 re-election, worries promises of cash will sway the poor and unemployed. He and other activists fear that the Iranian middle class and more liberal voters in Tehran so far seem unenthusiastic.  "It is possible that the army of poor and unemployed people ignore promises for increasing cash for poor people," he said.

With inputs from AP
India
It is noteworthy that Iran is not being criticised by any Islamic country for the Mahsa Amini incident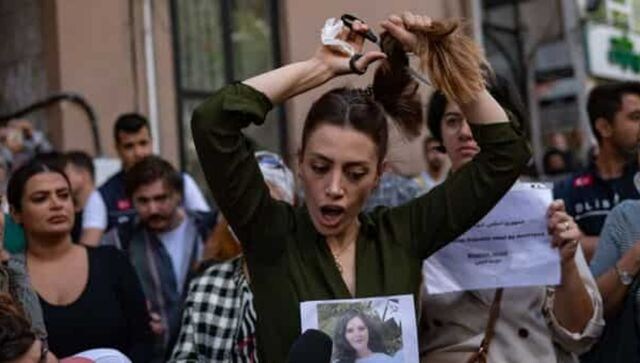 World
Speaking with relatives of a Basij militiaman killed in the city of Mashhad, Iran's ultra-conservative President labelled the protests "riots" and urged "decisive action against the opponents of the security and peace of the country and the people", his office said
World
President Ebrahim Raisi was scheduled to speak to CNN's Christiane Amanpour on the sideline of UN General Assembly. Forty minutes into the meeting, she 'walked away' after an aide asked her to wear a headscarf, as Iran continues to see angry protests over the death of 22-year-old Mahsa Amini