France Presidential Election 2017: Turnout heads towards 80 percent as voters flock to booths
Turnout in the French presidential election was on track to be around 80 percent, polling groups estimated on Sunday.
French voters flocked to the polls under heavy security Sunday in the first round of a highly unpredictable presidential election seen as vital for the future of the ailing European Union. Turnout in the French presidential election was on track to be around 80 percent, polling groups estimated on Sunday, which would put it in line with 2012 and confound fears of high abstention levels.
In the late afternoon (1500 GMT), turnout was 69.42 percent, according to official data, one of its highest levels in 40 years.
Far-right leader Marine Le Pen and centrist Emmanuel Macron are the favourites to progress to a run-off on May 7 but the race is too close to call in a deeply divided country.
Le Pen, the 48-year-old leader of the anti-immigration National Front (FN), hopes to capitalise on security fears that were catapulted to the fore of the campaign after the fatal shooting on Thursday of a policeman on Paris's Champs Elysees avenue claimed by the Islamic State group.
Aiming to ride a wave of populism that carried Donald Trump to the White House and led Britain to vote for Brexit, Le Pen wants France to abandon the euro and also intends to call a referendum on withdrawing from the EU.
Observers predict a Le Pen victory could be a fatal blow for the EU, already weakened by Britain's "Brexit" vote to leave.
Macron, 39, is seeking to become France's youngest ever president and has campaigned on a strongly pro-EU and pro-business platform.
Riding the crest of a worldwide shift away from established political parties, the former banker and economy minister formed his own movement, "En Marche" (On the Move), that he says is "neither to the left nor to the right."
But polls show scandal-tainted conservative candidate Francois Fillon, a former prime minister, and hard-left firebrand Jean-Luc Melenchon are also in with a fighting chance of finishing first or second in order to reach the all-important second round.
Le Pen cast her ballot in Henin-Beaumont, a former coal-mining town in northern France that has an FN mayor.
Macron voted in the chic northern seaside resort of Le Touquet with wife Brigitte, his former high school teacher who is 25 years his senior. Fillon and Melenchon both voted in Paris.
At midday, turnout on a bright spring day was up slightly compared with the same time in 2012 -- when a total 79.48 percent of the electorate cast ballots -- seemingly defying forecasts of a record low participation rate.
Nearly 47 million people are eligible to vote in the eurozone's second biggest economy.
Most polling stations will close at 1700 GMT, with those in major cities shutting an hour later. First projected results are expected shortly afterwards.
In the wake of the policeman's killing on Thursday, 50,000 police and 7,000 soldiers have been deployed around France to protect voters.
The terror attack was the latest in a bloody series that have cost more than 230 lives since 2015.
Guy Belkechout, a 79-year-old pensioner who was voting in the working-class Parisian suburb of Trappes, said he was concerned.
"Security issues influenced me after the attacks. Candidates who want fewer security measures, who want to reduce the police's powers, have not got my vote," he told AFP.
Analysts were divided over whether Thursday's attack would sway voters in a country that has begun to take the jihadist threat in its stride.
In the aftermath of the shooting, Le Pen called for France to "immediately" take back control of its borders from the EU and deport all foreigners on a terror watchlist.
"If it were to benefit someone, that would clearly be Marine Le Pen who has dominated this issue throughout the campaign, or Francois Fillon," said Adelaide Zulfikarpasic of the BVA polling institute.
Hajaf Erhamani, a 39-year-old teaching assistant from the well-heeled Paris suburb of Sevres, said she was more worried about the economy and the slew of ethics scandals that marred the campaign.
"You can't trust politicians these days. On the left and the right, they're stealing from us," she complained.
Several voters told AFP they had voted tactically in a bid to keep the far right out of power.
Closely watched around the world, the French campaign has been full of twists and turns.
A race that began with the surprise nomination of Fillon as right-wing candidate in November shifted into higher gear in December when unpopular Socialist President Francois Hollande decided not to seek re-election.
Hollande's five years in office have been dogged by a sluggish economy and the constant terror threat.
After voting in Tulle, central France, Hollande said "democracy is stronger than all else", in a reference to the Champs Elysees attack.
Fillon was the early frontrunner until his support waned after he was charged following accusations he gave his British-born wife a fictitious job as his parliamentary assistant for which she was paid nearly 700,000 euros ($750,000) of public money.
Though there are four main contenders in the election, a total of 11 candidates are taking part.
The candidate for the governing Socialists, Benoit Hamon, was a distant fifth going into the final weekend.
World
The proposals by the European Commission will cover everything from tougher caps on car pollution to new national limits on gases from buildings
World
The fact inversion about the siege is the latest in Trump's contorted oeuvre of the 'big lie' compendium, the most specious of which is that the election was stolen from him, when it was not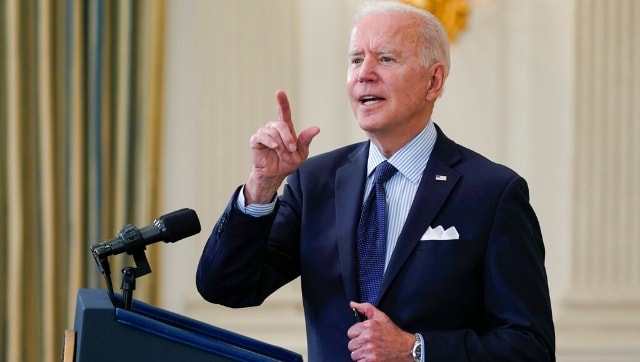 World
The White House and communications experts say Biden's whispering is just this veteran politician's old-school way of trying to make a connection while emphasising a point.