Donald Trump's Bollywood binge in New Jersey
Before Trump is likely consigned to the dumpster heap on November 8, he'll be spotted in Edison presiding over a preview of his coming political demise on a night of boisterous Bollywood song and dance.
This is how it ends.
Before Donald Trump is likely consigned to the dumpster heap on November 8, he'll be spotted in Edison, New Jersey, presiding over a preview of his coming political demise on a night of boisterous Bollywood-Kollywood-Punjabi song and dance.
"Once in a lifetime opportunity to hear and see Donald Trump in person," announces a hurriedly cut Youtube video that's got a princely number 30 views a day before the event.
On the evening of Saturday, October 15, Donald J Trump - star of the groper-in-chief tapes - will do guest-speechifying at a neighbourhood stage where Prabhudeva, Malaika Arora, Andhra actor Ram Charan, Sophie and such starlets grind their hips to warm up a weekend crowd dressed in gold-ish finery soaking in the aromas of chaat stalls.
"Mr Trump will be arriving early, at around 7 pm, and will speak at 7:45 pm," we are informed by the Republican Hindu Coalition which is pulling out all stops for the Trump gala in the Little India of New Jersey - Edison.
After trampling on all the unwritten codes of running for high office, Trump comes to heavily Asian-populated New Jersey suburb where his campaign office has downed shutters, nobody answers the phone and on a weekend when America's First Lady has been angered enough to take the fight to Trump.
At once devastating and inspirational, Clinton's most prized campaign surrogate said "I can't believe I'm saying that a candidate for president of the United States has bragged about sexually assaulting women. Because let's be very clear, strong men, strong men, men who are truly role models, don't need to put down women to make themselves feel powerful."
A car load of Indian media corps covering the elections from Washington DC will be driving upstate to New Jersey to check in at what promises to be another fact-free gig - "What if he says something more potty…?" is why they're travelling.
Trump event coverage is no longer politics - it's for the cheap thrills of more locker room talk.
Fittingly, the cheap seats - $9.99 - for the Trump-Bollywood circus are sold out.
With 26 days left in an election campaign and his campaign in a tailspin, what will The Donald say that anyone cares about?
And why is he going to Edison at all?
Two reasons.
Reason Number One is Shalabh Kumar, a Hindu-champion of Trump who has donated $1.1 million to the now-doomed GOP candidate's campaign. Shalabh Kumar's Facebook page has a pinned post from June this year, his Twitter handle was born during Narendra Modi's trip into Washington D.C, the donation to the Trump campaign was around the same time too, all his social media posts frozen in time from before the Trump tapes, the tax bombshell and so on.
Kumar - the Ambala-born Indian-American industrialist from Chicago, made news at the Republican National Convention in Cleveland after pledging a $1.1 million political contribution to Trump.
An electronic engineer (Punjab Engineering College, Chandigarh, and Illinois Institute of Technology), Kumar made his fortune through AVG Advanced Technologies, a company he founded in the area of automation controls, semiconductors, telecommunications, thick-film hybrids and electronic component manufacturing and distribution.
Since AVG Advanced Technologies turned up no website, here's a sampling of what the Republican Hindu coalition says about Kumar:
"From electronic products to planning the wedding of his son Vikram Aditya Kumar to Pooja, Miss India 2007, he is known for his daring and out of box thinking. He had nine helicopters fly in a "V" formation to form the head of Vikram's baraat (groom's party) that flew over Auckland, New Zealand. During the 2014 Independence Day celebrations in NY, he had pop star Daler Mehndi singing and dancing during the entire parade route to the delight of 250,000 fans. And of course he successfully dared the Republican Party to rise in favor of Narendra Modi when he was an outcast. After Osama Bin Laden was found under the nose of Pakistan, he was successful in cutting foreign aid to Pakistan."
Reason Number 2 for Trump's Edison visit is that the billionaire has never cared where his support comes from. Hindu Republican? Sure, jump in! Whether someone likes him or not matters more to Trump than what's right, wrong, disgusting or the gutter.
America has a label for this brand of wingnut politics - the alt-right, which sounds like a keyboard command and is in fact an online phenomenon. They have a brand ambassador too, when Trump's not available in person to barf - a green frog called Pepe.
Don't be misled by the goofy, social media trappings though - if you follow the trail, it will lead you to the cliff edge of a unprecedented demographic shift that racist white people, not cartoon frogs, are hanging from.
This green frog believes that Trump's misogyny is a justified rebellion against the prevailing culture and we're given no details what that prevailing culture might be or if there's one at all.
That's what the Trump New Jersey gig is - a green frog thinking fact-free thoughts to the throbbing beat of a Malaika Arora item number as the leaves begin to fall.
Trump in Edison, New Jersey is a white man with black thoughts who will witness first hand that brown is the new colour of what long ago was redneck America.
World
The State Department has published the data for the first time since President Donald Trump's blackout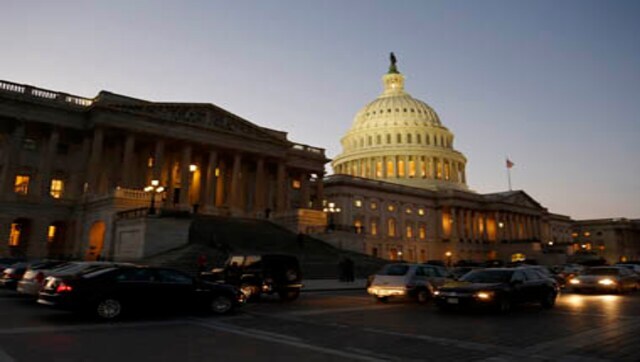 World
The breakthrough — which temporarily defers the crisis by adding another $480 billion to the allowable debt total — came with an estimated 11 days to go until the country would no longer have been able to borrow money or pay off loans for the first time in its history
World
The celebration is part of Chinese State media's carefully manufactured nationalistic narrative