tech2 News StaffSep 21, 2017 05:00:01 IST
In the past few years there has been an increasing integration of biometric sensors in smartphones. It is no longer the case that only the flagship devices have these sensors. Even a Xiaomi Redmi 4 which sells for Rs 6,999 has a fingerprint scanner. There are a number of phones in the sub Rs 15,000 price bracket which have a fingerprint scanner.
Biometric sensors in smartphones were initially used as an easy and fast way to access the device, without the need for keying in a passcode. Increasingly, the same sensor was used to authenticate transactions, and gain access to services. The Apple iPhone X, has done away with a fingerprint scanner and has replaced TouchID with FaceID.
Using your face to unlock a phone is not a novel concept. The Samsung Galaxy S8 is perhaps the prototype of all smartphones of the future as it has implemented a number of ways to access the phone through biometric sensors. There was a fingerprint scanner, iris scanning, and face recognition, apart from the ability to simply key in your passcode.
However, the face recognition feature was fallible, considering that a printout of a face was enough to gain access of the phone. Before the iPhone X, the Huawei P10 had also implemented 3D facial recognition technology. The iPhone X uses a cluster of sensors on the front face in an area known as the notch, to make sure that the facial recognition feature cannot be fooled by printouts.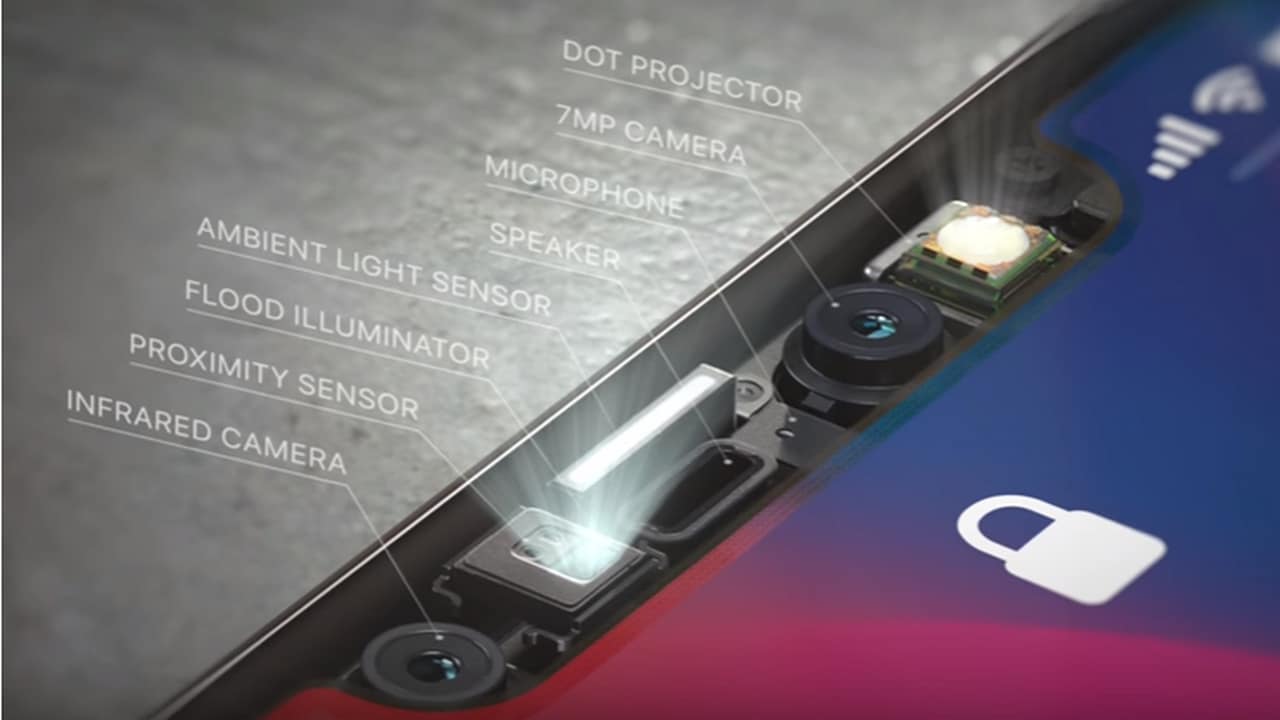 The phone only unlocks if you are paying attention, works in a range of lighting conditions, can recognise the person despite changes in facial hair and while the user is wearing headgear or eye gear. FaceID works by projecting a number of invisible dots on the face of the person, and creating a 3D map of the face. FaceID on each device can support only one user at a time.
According to an article in MIT Technology Review, the approach of capturing a face in three dimensions using structured light was available back in the 1980s. The article goes on to note that phones of the future will support multiple types of biometric sensors, including iris scanning, face recognition, and fingerprint scanning. So what does the future of biometrics on smartphones look like?
Multiple biometric sensors
The cost of integrating multiple biometric sensors is not that high. There are also efforts to bring down the cost of the sensors to integrate them with mid-range and entry-level smartphones. This means that an increasing number of devices are expected to have multiple biometric authentication mechanisms, including facial recognition, iris scanners and fingerprint scanners. The user will be able to pick and choose which kind of authentication mechanism is to be used for which application.
Fingerprint scanners integrated with the screen 
On the iPhone X, there is no TouchID because there was no space to accomodate a fingerprint scanner. On the Samsung Galaxy Note 8, the fingerprint scanner is located at an awkward position on the back, next to the cameras, which requires users to have unusually long fingers, or stretch a bit. This problem will be taken care of in the Samsung Galaxy Note 9, which is expected to feature an in-screen fingerprint scanner according to KGI analyst Ming-Chi Kuo.
Apparently, underglass fingerprint scanners were attempted by Apple for the iPhone X and by Samsung for the Galaxy S8, but both companies were not able to actually implement it. Attempted solutions included making the glass thinner at the location of the scanner, creating a pinhole through the glass for the sensor, or embedding a film type sensor on top of the glass. These early attempts show that the smartphone industry is committed to creating screens with integrated fingerprints scanners.
The need for a fingerprint scanner, as well as a trend towards edge-to-edge displays, or a bezel-less display has created the need for fingerprint sensors embedded in the glass itself. A leaked video of a Vivo phone shows a fingerprint sensor embedded in the display. A convertible by Acer, the Switch 7 Black edition has an underglass fingerprint scanner.
One of the biggest advantages of underglass fingerprint sensors is that they can take up more area than conventional fingerprint scanners. Only a portion of the finger covers the small buttons used currently, and a user may require to feed in multiple sections of a single finger to allow for seamless unlocking of the device. Another advantage of larger fingerprint scanners are a decreased susceptibility to spoofed prints.
Integration with government biometric databases
India is among the countries with the most enthusiastic adoption of biometric technologies. More than 9 percent of the people in India have used an iris scanner. One of the biggest drivers of this enthusiastic adoption is the Aadhaar program. However, the templates for authenticating the biometrics are saved in a central location, on government servers, as against on the device itself, leading to security concerns.
For end users, signing on to new services may be a pain, but requires authentication nonetheless. New users of Android phones in India may not even have an email id, or know that they require one to download applications from the Android app store. This is where seamless integration with Aadhaar can help drive adoption of technologies, and this is already taking place.
Microsoft's made for India Skype Lite app uses Aadhaar for authentication. Jasmeen Nagpal of Microsoft said in a statement, "with the latest version of Skype Lite, Aadhaar integration can be used to verify users' identity online, helping them communicate more securely with others."
DeltaID and IndusOS have announced a smartphone operating system with Aadhaar integration. Rakesh Deshmukh, Co-founder and CEO of Indus OS, said "The OS will be released across our smartphone brand partners and we foresee 100 million users to be using the Aadhaar-authenticated OS by 2020."
Increasing concerns of mass surveillance
While currently, most biometric authentication systems on smartphones save the biometric data locally, there is no reason that this will continue to be the case. Already, some applications are interfacing with government biometric databases, such as the Skype Lite application which can be authenticated through Aadhaar.
The problem with biometrics is that once a person's intimate details are compromised, there is no way to generate a new face, iris or fingerprint. It is trivial to generate a new passcode. Additionally, Apple's privacy policy has no specific provision preventing access of biometric data by Apple, third parties, or the government. In both Android and iOS ecosystems, biometric data could be leaked because of rogue applications. With the increasing use of biometric technologies, the concerns over privacy and mass surveillance will also increase.
Find latest and upcoming tech gadgets online on Tech2 Gadgets. Get technology news, gadgets reviews & ratings. Popular gadgets including laptop, tablet and mobile specifications, features, prices, comparison.