World Badminton Championships 2018: PV Sindhu's second successive silver medal should be lauded and not pilloried
Many fail to take into account is the awesome consistency that PV Sindhu has shown over the past five years, winning two World Championship silver (2017, 2018) and bronze (2013, 2014) medals each, and a silver at the last Olympics (2016).
Sindhu-bashing appears to have once again become the national pastime. All those who had been singing paeans of praise and showering Pusarla Venkata Sindhu with encomiums for her lion-hearted displays against the Japanese armada of Nozomi Okuhara and Akane Yamaguchi in the quarter and semi-finals of the just-concluded World Badminton Championships had, in the space of 24 hours, changed their tune, and were now raining down brickbats upon the lissome 23-year-old Hyderabadi.
A second loss to Spain's Carolina Marin in a vital tournament final within the space of two years, with defeat by a wafer-thin margin to Okuhara in another key final, sandwiched in-between, was simply too bitter a pill to swallow. The 19-21, 21-12, 21-15 loss to Marin in the 2016 Rio Olympic final was as hard to take as the 21-19, 21-10 drubbing in the 2018 World Championship final in Nanjing, and the 21-19, 20-22, 22-20 result at Okuhara's hands in the final of the 2017 Worlds in Glasgow.
There can be no doubting the heartfelt anguish of the Sindhu-bashers that their favourite has yet again failed to vault the final barrier, and appears resigned to wear the mantle of the perennial runner-up. They want to see her installed as undisputed champion, creating the kind of records that Marin has begun crafting, being the only woman to win an official World Championship thrice.
However, they forget the three crucial points that made this facile win possible for Marin. One, the Spaniard was moving on the court like a streak of greased lightning, having tweaked her training to increase her pace considerably from the level she had displayed in the Malaysia Open in the closing days of June 2018.
Secondly, Marin's main rival for the title, Tai Tzu Ying of Chinese Taipei, had been eliminated by He Bingjiao of the host nation, on the back of some good form by the Chinese left-hander and enormous, vociferous crowd support. Finally, Sindhu's physical and mental reserves would have been at a low ebb after her two draining victories over Okuhara and Yamaguchi in her two rounds leading up to the final.
This is how two-time former national badminton champion and chief coach of the Prakash Padukone Badminton Academy (PPBA) read the Marin-Sindhu final in Nanjing: "Sindhu started playing the right way in the beginning. She contained Carolina's pace well, and did play patiently. Unfortunately, at a crucial stage of that first game, when comfortably placed at 15-11, Sindhu gave away three easy points, which really turned things around for Carolina.
"From that point, Marin really capitalised on that lapse on Sindhu's part. Losing that crucial first game did affect Sindhu, and she conceded a big lead at the beginning of the second game. An 11-3 half-way lead was simply too much to hope to make up. Full credit to Marin for her tactical acumen. Sindhu has to forget this match quickly, and concentrate on the future. I am sure she will realise her dream soon."
This positive valedictory message to Sindhu from one of India's most celebrated badminton coaches, and the strong belief that she will surely climb the topmost step of the victory rostrum in the foreseeable future, is so different from the stringent criticism from her detractors that she once again, like the South African cricket team, "choked" on an all-important occasion with the finishing line in sight.
However, what such fans fail to take into account is the awesome consistency that Sindhu has shown over the past five years, winning two World Championship silver (2017, 2018) and bronze (2013, 2014) medals each, and a silver at the last Olympics (2016). And this bagful of medals from a quality field on every occasion, when each round starting from the first is either a pitched battle or a no-holds-barred dogfight.
Vimal Kumar has this observation to make about the strength of the field in the women's singles event: "No men's player other than Momota was impressive in Nanjing; they are just not able to play a good constructive rally. The sort of mistakes they make is atrocious. It is so boring to watch the men's singles! Women's singles has so much depth, and is, any day, better to watch."
Thus, if Sindhu has been able to maintain this amazing level of consistency over a five-year period, at a time when there are so many outstanding rivals with different styles of play – the speedy and temperamentally solid Carolina Marin of Spain, the artistic strokemakers like Taiwanese Tai Tzu Ying and Ratchanok Intanon of Thailand, the super-fit Japanese stonewallers and die-hard retrievers like Akane Yamaguchi and Nozomi Okuhara, to say nothing of the hungry players on the fringe, like the Chinese duo of Chen Yufei and He Bingjiao – her feat of being in so many key finals should be lauded, and her runner-up position not pilloried.
The need to appreciate and cherish Sindhu has been put into words by a passionate 45-year-old fan of the game, who is professionally a sports management consultant, and who also happens to be secretary of the Goa Badminton Association. Sandeep Heble puts Sindhu's "perennial bridesmaid, but never the bride" status in proper perspective with this submission:
"Lee Chong Wei has never won an Olympic or World Championship gold, but his place is right up there as one of the greatest badminton players of all time. The gold may have eluded India's badminton superstar, PV Sindhu, once again, but it has been a superlative performance by her, nonetheless. It is a tough field out there, and it takes a lot of talent, courage, perseverance and hard work to simply be out there and fight it out against the world's best.
"In the Bollywood movie 3 Idiots, we had the interesting Boman Irani character 'Virus', who suggested that life is all about the number one game, while nobody remembers who was the number two. On the other hand, was the underlying moral of this delightful film, espoused by 'Rancho', the role played by Aamir Khan. That life is not just a race where the A graders are the masters and the C graders are the slaves. It is so much more. Pursue excellence, and success will chase you. So very true.
"In the last few years, there have been very few players who have been as consistent as PV Sindhu, the toast of our nation. The lanky girl from Hyderabad has never failed to astonish us, giving us so many moments to rejoice and celebrate. She has won so many medals for India, and achieved what very few have managed to do before.
"India must be proud of her success. Two World Championship bronze medals in 2013 and 2014, an Olympic silver in 2016, and two consecutive silver medal finishes in the World Championships of 2017 and 2018, knocking out several great players along the way. What breath-taking performances from a champion player!
"Kudos to Sindhu, who is a great fighter! At 23, Sindhu will have many more years of success, and she must keep pursuing her quest for excellence, as Rancho from 3 Idiots did. Her time to win greater glory and reach higher milestones under the sun will come. Till then, let us once again rejoice and celebrate another successful campaign by one of India's most incredible athletes. The juggernaut rolls on."
Amen to that!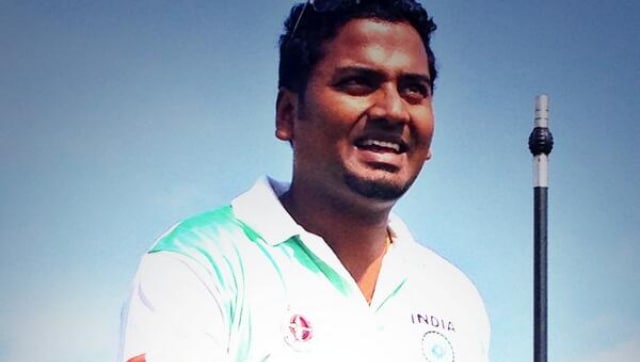 Sports
The 2012 London Olympian was admitted to Kalapahar Covid Care Hospital in Guwahati after his oxygen level plummeted to the 92-mark.
First Cricket News
In a YouTube interview on 'Mind Matters', Pujara said handling pressure is important to survive in international cricket.
Sports
The 44-year-old Mayweather meanwhile has not fought since beating mixed martial arts star Conor McGregor by technical knockout in a money-spinning cross-combat superfight in Las Vegas in 2017.