Indonesia SSP: Kidambi Srikanth's success a result of his temperament and hard work off the court
2017 has seen Kidambi Srikanth conquer his demons on and off court. With two back-to-back finals in Singapore and Indonesia, he is now finding the podium a familiar place.
A video on Kidambi Srikanth's Facebook page is a must-watch if you want to understand the man behind the champion. Posted on 16 October last year, it shows Srikanth sitting with his right leg heavily strapped and being fed shuttles by a coach at the Pullela Gopichand Badminton academy in Hyderabad.
For the better part of the three months when he suffered a hairline fracture in his right ankle, this was Srikanth's training regimen to work on his reflexes and eye-arm coordination. What's more, Srikanth made it a point to be part of team sessions at the Academy during the period. The strategy to keep Srikanth badminton-focused in this manner instead of letting him feel depressed lying on bed was devised because the boy from Guntur in Andhra Pradesh could not even manage to stand for long.
Nine months later, Srikanth is standing tall. With two back-to-back finals in Singapore and Indonesia, Srikanth is now finding the podium a familiar place. While fellow Indian Sai Praneeth put it past him in Singapore in April in the first all-Indian final in a Super Series event, Jakarta saw a clinical decimation of Japanese player Kazumasa Sakai in the finals. Except for letting Sakai run away with the first part of the second game before he caught up with him at 13-13, Srikanth did not put a foot wrong at the Indonesia Open.
Referred to by people on the circuit as the 'Mark Waugh of badminton' for the lazy elegance that he exudes, Srikanth within Indian badminton circles, is considered world champion material. The consensus is that all Srikanth has to do is to recognise it as well.
This victory is the second Super Series Premier title for Srikanth, having won the China Open in 2014, in which he defeated Lin Dan in the final. Dan, considered one of the greatest ever to have played the game, spoke of Srikanth as the "most complete player" he had seen.
But Srikanth doesn't let praise or criticism, victories or defeats affect him. It is as if the shuttler has taken an immunity booster shot, enabling him to stay grounded, irrespective of what happens around him.
"I always tell Srikanth that he is a sleeping giant. He goes about doing things at his own pace," says R Ramakrishnan, Director, Baseline Ventures, the sports management firm that represents Srikanth. "Injuries, wins or losses, he does not take pressure on himself."
His attitude on and off court has won Srikanth the tag of being one of the coolest players in world badminton today.
"Even when he beat Lin Dan at the China Open, he did not show his excitement," gushes Kidambi Nandagopal, Srikanth's elder brother who is a doubles badminton player. "Win or lose, his attitude towards others is the same. If he wins, he will be happy. If he loses, he will take it positively."
The Indonesia Open has been a tournament on which India stamped their class in the men's singles. How often does one see Indian players slaying both Olympic champion Chen Long and World No 1 Son Wan Ho on such a big stage. While HS Prannoy defeated Long in the quarters, Srikanth got the better of Wan Ho in the semis. It is interesting that Prannoy who eventually lost in a very tight semi-final to Sakai, and Srikanth did it in tandem because the two are close friends and share the room when they are travelling abroad for tournaments.
Looking at it from the mental game's view point, it can be argued that the tournament was won by Srikanth in the semis. It showed in the confident manner in which he tackled Sakai on Sunday. The danger, however, was that the fatigue of taking on Wan Ho could have had a bearing on Srikanth's performance in the finals. Fortunately, it did not and the big win will see Srikanth gatecrashing once again into the top 10 in world rankings.
After the match, Srikanth made it a point to highlight his Indonesian coach Mulyo Handayo's contribution to the triumph. Since February, Handayo has been working with the Indian team, working in particular on their endurance and mental toughness. He is on record saying Srikanth's game reminds him of his champion student Taufik Hidayat. Given Taufik is a role model for most Indian players, that is a huge compliment for Indian badminton.
Srikanth got drawn to badminton as young boy watching Nandagopal play and like him, started off as a doubles player. National coach Gopichand saw the spark in him to be a good singles player and groomed him accordingly.
2017 has seen Srikanth conquer his demons on and off the court. The grouse against him in the past was that he was consistently inconsistent, losing against players he should ideally have vanquished. Srikanth has also been unlucky with injuries and illnesses, missing several Super Series championships in the bargain.
In June-July 2014, Srikanth contracted a bug for meningitis and collapsed after complaining of a severe headache. Hospitalised for over a week for brain fever, his performance in subsequent big ticket events like the Asian Games and Commonwealth Games was unimpressive. Indian badminton seemed in danger of losing a great potential. However, Srikanth showed that he was a mentally tough customer and breached the China Open in November 2014.
As India celebrates Srikanth's victory, the 24-year-old is flying to Sydney for the Australian Open. He would hope he and India can be on top Down Under as well.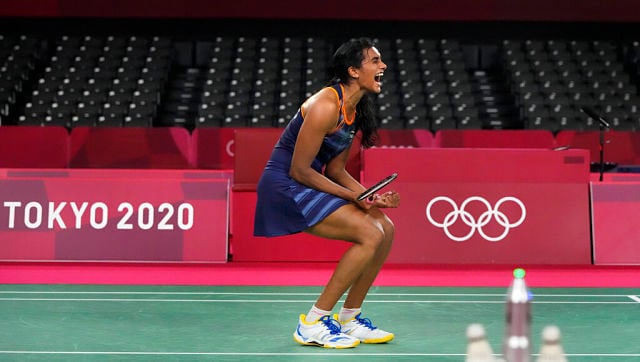 Sports
The 26-year-old Indian, who won a silver in the 2016 Rio Olympics, defended brilliantly and rode on her attack to outclass the fourth seeded Yamaguchi 21-13 22-20 in a 56-minute quarterfinal clash at the Musashino Forest Plaza here.
Sports
Denmark's badminton world number two Viktor Axelsen overcame a nervy start to move into the Olympic final on Sunday, ending Guatemalan underdog Kevin Cordon's unlikely tilt at the title.
Sports
Gopichand, who had guided Saina Nehwal and Sindhu to a bronze and silver respectively in the last two Olympics, believes Indian badminton players have a good opportunity to better their performance.