Novak Djokovic has 'no regrets' about missing Indian Wells, Miami tournaments over COVID vaccine status
Novak Djokovic missed an opportunity to play at the Masters 1000 tournaments in Indian Wells and Miami due to a ban on unvaccinated foreigners from entering the USA.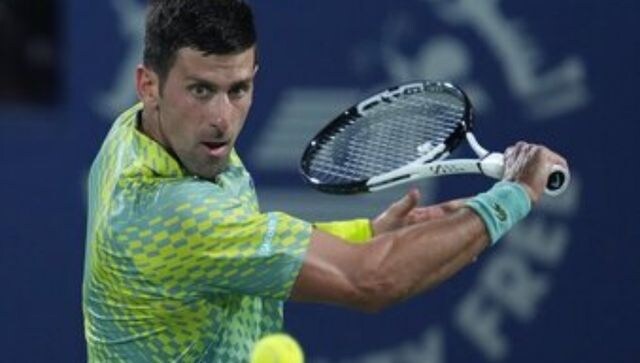 Novak Djokovic said he has 'no regrets' over missing Masters 1000 tournaments at Indian Wells and Miami due to his COVID-19 vaccine status which prevent him from entering the US. He, however, hoped that the rules change in time to allow him to play the US Open.
The US Department of Homeland security denied Djokovic's request to enter the US before Indian Wells got underway. US rules currently bar unvaccinated foreigners, such as Djokovic, from entering the country. This policy, however, is expected to be lifted in May.
"I have no regrets," Djokovic told CNN. "I've learned through life that regrets only hold you back and basically make you live in the past.
"I don't want to do that. I also don't want to live too much in the future. I want to be as much as in the present moment but of course think about future, create a better future.
"So I congratulate Alcaraz. He absolutely deserves to come back to number one."
Carlos Alcaraz leapfrogged Djokovic to take over as the World No 1 after winning the title in Indian Wells. Prior to it, Djokovic had eclipsed the long-standing record for most weeks at No 1 – man or woman – held by Steffi Graf.
Djokovic, who won the Australian Open in January, said it was disappointing he not allowed to compete in the US where he has had plenty of success including three Grand Slams.
"But at the same time, it's the conscious decision I made and I knew that there is always a possibility that I won't go," Djokovic said.
"It's the current state or current situation that I hope will change for later this year, for the US Open. That's the most important tournament for me on American soil."
The Serb said the controversy had not dented his enthusiasm for the sport or desire to win.
"Actually, the contrary, I'm as enthusiastic as ever, as motivated as ever for the sport, my family, my foundation, all the projects and everything I'm doing off the court," he said.
"The dignity, and integrity, and staying true to myself, and my beliefs and my rights are above everything."
Read all the Latest News, Trending News, Cricket News, Bollywood News, India News and Entertainment News here. Follow us on Facebook, Twitter and Instagram.
also read
Tennis
Kosovo's top Olympic body said Wednesday it had asked the International Olympic Committee to open disciplinary proceedings against Serbian tennis star Novak Djokovic over his public statements on clashes in the country.
Tennis
Novak Djokovic has long held controversial medicinal beliefs and raised eyebrows yet again at the French Open with a chip on his chest.
Tennis
Novak Djokovic, 36, a polarising figure in tennis, gave spectators a sarcastic round of applause and a thumbs-up.