Australian Open 2023: Novak Djokovic is once again christened the 'King of Melbourne Park'
Novak Djokovic beat Stefanos Tsitsipas 6-3, 7-6, 7-6 in near three hours on Rod Laver Arena for his record extending 10th Australian Open, his record-tying 22nd Grand Slam title and a return to the summit of world rankings.
Melbourne: The year is 2022. Novak Djokovic is locked up inside a hotel in Melbourne, detained for not meeting the country's vaccination requirement. He desperately yearns to go out and hit the tennis courts. Do what he does best. Go on and work towards winning a 10th Australian Open. Instead, he is holed up and wrestling with the legal system.
Rather than working with his coaching team to iron out his shots, he is working with the lawyers. The Serb is attempting to find loopholes in the vaccination requirement rather than thwart opponents on the hard courts of Melbourne Park.
Eventually, he lost that battle. A piece of paper decided his fate rather than winners and unforced errors on a tennis court.
Flash forward to 2023 and the situation is completely different. He hits the tennis courts, works with his team to get even better. The benefits are reaped quickly with a title in Adelaide.
But there are hiccups along the way. The 35-year-old picks up a left hamstring issue that needs a strict training regimen and painkillers. It gets challenging to even get a practice session going. The condition is so severe that in the words of his coach Goran Ivanisevic, 97 per cent of the players would go on and pull out of the tournament. Yet, he soldiers through.
To compound Novak's trouble, his father Srdjan is embroiled in controversy for posing with pro-Putin supporters while getting out of a win. The ruckus leads to Djokovic senior not taking his seat in the player box for two matches. A moment and sequence of events that sadden both the individuals.
Despite all that, the outcome on the Sunday didn't change. Novak Djokovic beat Stefanos Tsitsipas 6-3, 7-6, 7-6 in near three hours on Rod Laver Arena for his record extending 10th Australian Open, his record-tying 22nd Grand Slam title and a return to the summit of world rankings.
As the Tsitsipas shot goes long, Djokovic points to his head, to his heart and climbs up to the box to celebrate. He hugs his mother, brother, coaching team and then suddenly, out of nowhere, collapses on to his back and starts bawling.
When he got back to the court, Djokovic sits down on the bench, buries his face into the towel and sobs some more. This means so much to him.
"This probably is the, I would say, biggest victory of my life," he declares.
"I want to say this has been one of the most challenging tournaments I've ever played in my life, considering the circumstances. Not playing last year; coming back this year," says Djokovic who dons a jacket which has the number '22' on the chest. "And I want to thank all the people that made me feel welcome, made me feel comfortable, to be in Melbourne, to be in Australia."
On the court earlier, there was little Tsitsipas could do to change the outcome. He changed tactic from one set to the next. He pushed, he charged, he created little openings. He rallied the crowd for the extra step. And still he came up short.
"I did everything possible in order to get a good match against him. There is nothing that I didn't use in my advantage. There's nothing that I could have extracted more for today. I did everything possible," said Tsitsipas who labelled Djokovic as the best player who has ever held a tennis racket.
He is not wrong, is he? Djokovic stretched his unbeaten streak in Melbourne to 28 matches, the longest run there in the Open Era. His Grand Slam trophies tally now reads: 10 at Australian Open, seven at Wimbledon, three at the US Open and two from the French Open. Only two women — Margaret Court, with 24, and Serena Williams, with 23 — are ahead of him.
In the grand scheme of things, this trophy means a lot more for Djokovic than previous one did. "Very emotional for us. Very emotional for him," said Djokovic's coach, Goran Ivanisevic. "It's a great achievement. It was a really tough three weeks for him. He managed to overcome everything."
And yet he manages to lift the trophy after losing just one set over the fortnight. On the night, he was equally flawless. He dropped just five points on serve in the first set. Even when he was pushed and sent into the corners, even when he was angered by the crowd that interrupted, even when he took a dramatic tumble, he dusted himself off and kept at it.
Also Read: 'Absolute beast', Twitterati overjoyed as Djokovic wins Australian Open
At the start of the third, just as it looked like Tsitsipas had a window – with a break – Djokovic quickly shut it in his face right back. The Greek dreamt of winning the trophy in his sleep the night before but as he went 0-5 down in the tiebreak, the writing was on the wall.
Tsitsipas huffed and battled to close the deficit, with five of next six points, but he couldn't change the outcome against someone who has never lost a final here.
"I try to pinch myself and really live through these moments," said Djokovic. He just pinched himself for the 22nd time on Sunday night in Melbourne.
Read all the Latest News, Trending News, Cricket News, Bollywood News, India News and Entertainment News here. Follow us on Facebook, Twitter and Instagram.
Tennis
Watching body language, anticipating shots and reactions, have been areas that Cirstea has been encouraged to engage with by Johannson.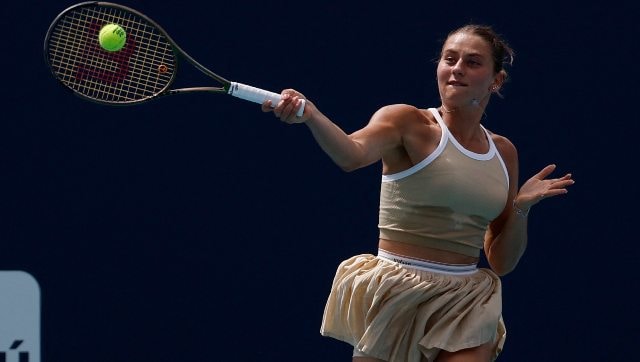 Tennis
Ukraine's Marta Kostyuk says the WTA Tour has ignored a request for a meeting with players from the war-torn nation in the latest signs of the conflict-related tensions in women's tennis.
Tennis
Martina Navratilova revealed in January she had been diagnosed with throat and breast cancer.