Singapore Open: Sai Praneeth could upset Kidambi Srikanth; Carolina Marin favourite for women's title
The Singapore Open title match will pit the speed and aggression of Srikanth against Praneeth's defensive skills, consistency and superior stamina.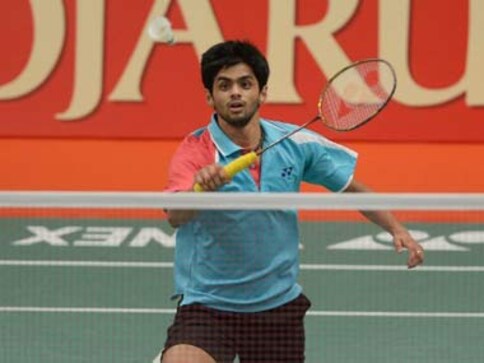 Indian national badminton coach Pullela Gopichand had asserted a few years ago that it was only a matter of time before two Indians would face off in the final of a Superseries event. That dream became a reality on Saturday, when his wards Kidambi Srikanth and B. Sai Praneeth, both 24 years of age, qualified to face each other in Sunday's men's singles title clash of the $350,000 Singapore Open.
Not surprisingly, Gopichand has refrained from naming a title favourite, rightly saying that it will be a needle contest between two of the boys who have been training at his Gachibowli Academy in Hyderabad for close to seven years. Srikanth has a better international record, having won two Super Series titles, the 2013 China Open and the 2015 India Open, whereas former national champion Praneeth is still looking for his first international title.
Praneeth, it must be said, has been in rousing form throughout the tournament, managing to last the course in grueling three-game encounters, and making up for his relative lack of smashing power with nagging accuracy and resolute defence. His staying powers, that have always been among his biggest assets, have come to his rescue in the closing reaches of three of his four matches in the tournament.
As for Srikanth, his game is built around speed and aggression, with his trademark shot being the leaping overhead down-the-line smash, which he has also begun hitting across court with precision in recent times. He likes to control the net, and adopt the dribble-and-smash pattern that has always been the bread-and-butter ploy of the best badminton singles exponents over the ages.
While some allowance must be made for the fact that Srikanth has only returned recently to international badminton after a long period on the sidelines due to injury, stamina has never been his forte, and he prefers to finish matches by the short route. However, he did show determination and resilience in coming back from three match-points down to win the final five points of his marathon 81-minute second round clash against Indonesia's Ihsan Maulana Mustofa.
So, whom do the odds favour today? The Singapore Open title match will pit Srikanth's speed and aggression against Praneeth's defensive skills, consistency and superior stamina. No doubt Srikanth is playing better today than he was in January, when he was still a trifle tentative after his prolonged injury time-out, but Praneeth appears to be playing at his best ever.
The records show that Praneeth, ranked No 30 by the Badminton World Federation (BWF), enjoys a 4-1 career win-loss record over his close friend and sparring partner, ranked one place above him on the ladder. Their most recent tussle, in the Syed Modi International in January this year, ended in a three-game triumph for Praneeth, who asserted his supremacy after losing the first game.
There are some players who may not have as good a track record, but prove to be some sort of a nemesis. This element is present in the Srikanth-Praneeth equation. While the former is more experienced and has a better record at international level, the latter's game does not really suit him.
The verdict, after considering all these points, is that the underdog, on paper, holds the bulk of the aces in this contest. A betting man's flutter on Praneeth would not be misplaced. Srikanth needs to keep this match crisp and short if he is to ascend to the top rung of the victory rostrum. In a long-drawn encounter, the odds are heavily loaded in favour of his rival.
Carolina Marin on the rise
With so much attention concentrated on the men's singles final, the ramifications of the women's singles summit clash appear somewhat feathered over. But this could well be the match in which reigning world and Olympic champion Carolina Marin wrests back from Chinese Taipei's Tai Tzu Ying the accolade of the world's best female badminton player.
In the wake of her trailblazing gold-winning feat at the Rio Olympics last year, Marin has not been able to win another title. A leg injury slowed her down for a while, robbing her of arguably her best asset, speed of movement around the court. She has gone three Superseries tournaments this year – the All England, India Open and Malaysia Open – without a crown. While she stumbled in the final of the latter two events, she was eliminated much earlier at Birmingham, leaving the title to be contested by Tai Tzu Ying and Thailand's Ratchanok Intanon.
Yet, Marin's progress in recent weeks is noteworthy. After losing the India Open final to local hope PV Sindhu, she gained sweet revenge for that defeat in the quarter-final of the Singapore Open, with a totally convincing win over the lanky Indian. She was beaten narrowly in the final of the Malaysia Open by Tai after winning the opening game, and would not have been flattered if she had won that match in straight games, for she lost the second stanza over the extra points.
The momentum that Marin has gained in this tournament, with excellent victories in consecutive rounds over two of her three top current rivals, Sindhu and Korea's Sung Ji Hyun, reveal that the Spanish left-hander is set to regain her world's pre-eminent status. If she were indeed to win, though, it may take some time for her status to reflect in the rankings, for Tai has a hefty points cushion at the top of the heap.
In the paired events, one sees the usual suspects in the title round of the women's doubles. Japan's Ayaka Takahashi and Misaki Matsutomo, ranked No 1, are all set to play one of their interminable matches against the No 2 seeds, Kamilla Rytter Juhl and Christinna Pedersen of Denmark, after both pairs made the final grade with relatively comfortable victories over Korean rivals.
There has been a rejuvenation of sorts for another top Danish combination. Left-hander Mathias Boe and right-handed Carsten Mogensen, after a string of tournaments without a place in the final, will take on the No.4 seeds, Li Junhui and Liu Yuchen of China, for the men's doubles title.
The Danes appeared to play with a vengeance in the semi-final against the top-seeded Indonesian pairing of Marcus Fernaldi Gideon and Kevin Sanjaya Sukamuljo, who had won successive titles at the previous three Superseries tournaments. It looked like they had an axe to grind after being tragically denied a place in the draw of the Malaysian Open last week, after their country's association failed to send in their entry on time.
The mixed doubles will see a first Superseries final for the unconsidered Thai twosome of Dechapol Puavaranukroh and Sapsiree Taerattanachai, who will face off against the powerful Chinese combination of Lu Kai and Huang Yaqiong, seeded No 3 and runners-up to Chinese compatriots Zhang Siwei and Chen Qingchen at the Malaysia Open, a week ago. It would be tremendous for the young Thai pair to make a statement of their potential and excellence at this level.