Rio Olympics 2016: By dropping Gurbaj Singh, Hockey India has denied team of best possible medal chance
Part of the team that won gold at the 2007 Champions Trophy, silver at the 2010 and 2014 Commonwealth Games, Gurbaj was also at the 2014 World Cup in Holland and the Incheon Asian Games. But today he finds himself out of the Indian side.
If Hockey India ever releases its list of Looniest Decisions Golden Collection, the omission of Gurbaj Singh for the 2016 Rio Olympics would be in the top five. For those who have come in late or are slightly off the hockey radar, Gurbaj is the best right half in the country today. So the question is — what is a man who shows you glimpses of the wizardry of the 70s, skills that make your heart beat faster, the sideways swish that has defenders falling like nine-pins doing back in India?
Gurbaj, a deputy superintendent of police with the Punjab police is trying not to watch the Olympic Games. "I don't think I will watch the Games, especially hockey," he says. There is a deep down sadness in his voice; a kind of restlessness that comes when a man is sentenced for a crime he didn't commit. Like most players from the North, Gurbaj is aggressive. But not the kind to risk missing an opportunity for a whim.
Part of the team that won gold at the 2007 Champions Trophy and then picked up silver medals at the 2010 Commonwealth Games and the 2014 Glasgow Commonwealth Games, Gurbaj was also at the 2014 World Cup in Holland and the 2014 Incheon Asian Games where India won gold to qualify for the Rio Olympics. Brilliant performances took him to Antwerp for the World League semi-finals where India qualified for the finals in Raipur. It was at Antwerp that Gurbaj fell off the radar.
The coach's report blamed him for indiscipline and talking back to the coach. Hockey India banned him for creating "disharmony" within the team. In fact, there was a report way back in 2012 when Michael Nobbs was the coach at the London Olympics, blaming him for indiscipline. Gurbaj has a habit of speaking out if he feels certain tactics didn't work.
Players do speak out and it's the coach's job to make sure that players are handled with sensitivity. Each player in the team is different. Some listen without any reservations, some ask questions while some like Gurbaj take on the coach if he feels strongly about a decision. Reports say that former Indian captain Jude Felix and assistant coach at Antwerp gave the adverse report.
"I didn't do anything of that sort. I respect all coaches. But if there was indiscipline against me, why didn't Jude point out the indiscipline?" asked Gurbaj.
There was also talk that he tried and created a group against the coach. Gurbaj's reply is vehement: "Ask any player if I ever indulged in 'groupbazzi'? I am here because of the coaches. I didn't get these skills overnight. These are the coaches who have made me. And let's assume, I said something about the team, was it so harmful that you drop me from the national team?"
Gurbaj is angry, disappointed and in a way broken as a man. After playing 200 internationals, where every coach, Indian or foreign, praised his skills and his longevity, he was consigned to the dustbin, forced to file a case against Hockey India, win the case, skipper the second team at the 2015 SAF Games for a silver medal and then read that he wasn't good enough to be among the top 33 players in the country.
Today, Gurbaj is out of the national camp, no more in the reckoning; a career as good as over. "I only wanted to be play hockey," he says. "Even today, I am fit. I keep myself fit. But I can't understand the logic of keeping a good player out."
Reasoning and logic are sentiments and emotional points that Indian sport rarely understands. Like players, every federation has good and bad days. But ever heard of a federation sacking itself?! But they will sack a player. No questions asked.
If Michael Phelps was an Indian hockey player, there is no way he would have made it to Rio after all that he did: Driving a Range Rover at high speed in a 45-mph zone, failing two field-sobriety­ tests and later a breathalyzer that put his blood-alcohol level at .14, above the driving limit of .08. He pleaded guilty to a drunk driving charge; in 2009, he was photographed by a British tabloid smoking a bong, and the US federation banned him for three months. Phelps later told Sports Illustrated, "I was in a really dark place. Not wanting to be alive anymore." But Phelps is now in Rio, ready to add to his legend and 18 gold medals. Gurbaj will never dream of an Olympic medal anymore.
Col Balbir, Olympic bronze medalist at the '68 Mexico Games, says it's a folly to drop a player of Gurbaj's calibre. "It's a special position," he said. "He had a tremendous understanding with the back line and Sardar. And the way Gurbaj could switch into attack, you knew there was a chance that opportunities could be created from the right flank. He should have been in the team." Balbir speaks about counselling players and at the same time, "we never believe in that concept".
There have never been any doubts about Gurbaj as an attacking player. In fact, his forte, as a right half, has been defending against strong, attack oriented teams. It's been Gurbaj who could pick out the ball from among a maze of legs, not gifting away penalty corners in defensive situations. It's also true that with the rise of Birender Lakra, Indian hockey had a player who could have played in different positions and wasn't a specialist like Gurbaj. It's also true that Hockey India and its band of coaches were looking to fill up Gurbaj's position with Lakra. Romeo James, coach at the SAF Games where Gurbaj was a captain and now coach with the Indian junior side said, "I don't think Gurbaj can make it to the team. Lakra was playing well. But, yes, with Lakra injured, he could have made it to the national side. But not when Lakra was around."
It's a double whammy now. Birender Lakra is injured and Hockey India in its over-zealous method of teaching players a lesson has also lost out on Gurbaj by not keeping him in the national camp. "I am at my peak," he said. "This time is never going to come back. Like all players, I worked hard, dreamt of the Olympics and now everything has been taken away. Personal issues with players should never be the criteria for selections."
There are deep layers of disappointment in Gurbaj; it will take years to peel them off one by one. But the one that will sit deep inside, eating him up will be that he was deprived of a shot at the Olympics after the disappointment of 12th place at London. "I wanted to do something. Not repeat the same mistakes. Do something for the country. I also wanted to do it for myself; as a player, as a person."
Not able to speak directly about his teammate and the one who worked in tandem with him brilliantly, Sardar said after Gurbaj had been dropped, "We can only play with the players that we have and I would say that in the last few months we have used all the players in all positions, and they are performing well. About Gurbaj, I have already said that it's very important to have experience. Gurbaj is a good player and we cannot say anything on whatever Hockey India and its committee has decided and our target and focus is on hockey right now."
The severest indictment against Hockey India had come from the Punjab & Haryana high court, where Gurbaj had gone for justice. Justice Rakesh Kumar Jain had said in October 2015, "I can smell that there is somebody in the system against him. You (Hockey India) have given no reason for a ban of nine long months. You want players to be your slaves. If somebody speaks anything, he is banned. You are banning him since he has complained about the food?"
Joaquim Carvalho, member of the '84 LA Olympic team and coach when India won the 2007 Champions Trophy in Chennai where Gurbaj played under him, said. "Gurbaj is a very important player and hugely versatile. I remember Oltmans (Indian coach) saying once in an interview that Gurbaj is too good a player to be left out. As a player he has always been short listed. It's too crucial a position."
Carvalho also said that now without Lakra and Gurbaj, the team lacks balance. With Gurbaj there would be more fire, power and balance in the team. It's not clear if Gurbaj will sit down to watch India, his own national team take on Ireland. Months ago, in Incheon in 2014, hours after he helped India win the Asiad gold and directly qualify for the Olympic Games, Gurbaj was asked, "What now?" The reply with a huge smile was "Rio."
Currently, Rio is another planet. Inaccessible and yet so appealing.
Sports
Having fulfilled her late father's dream by featuring in the Indian women's team that scripted history in Tokyo, Lalremsiami is now aiming to win an Olympic medal.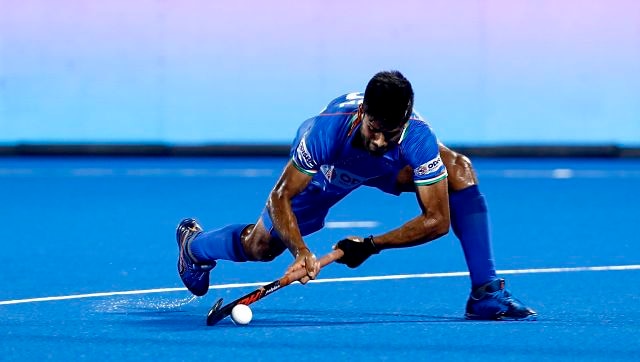 Sports
Varun further stated that skipper Manpreet Singh's one-on-one chat with him before the team left for Tokyo helped him a lot.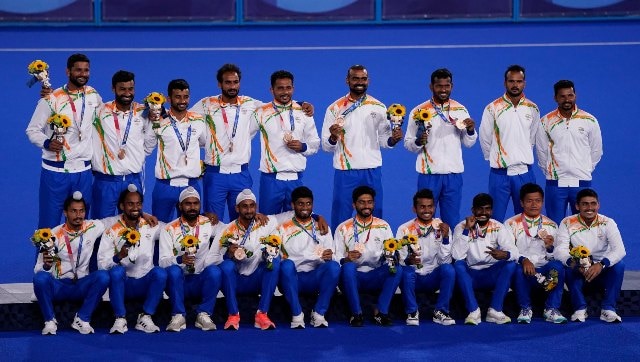 Sports
The Indian men's hockey team produced an inspiring performance at the Tokyo Games, where it edged out Germany 5-4 to claim a bronze medal, the country's first in the sport in 41 years.