Premier League: Chelsea defeat shows Arsenal's one-dimensional play is stale, so is Arsene Wenger
For Arsenal, the expiry date of their game plan and perhaps their manager has long gone past. It's time for change and one can't help but think that it must start with the manager.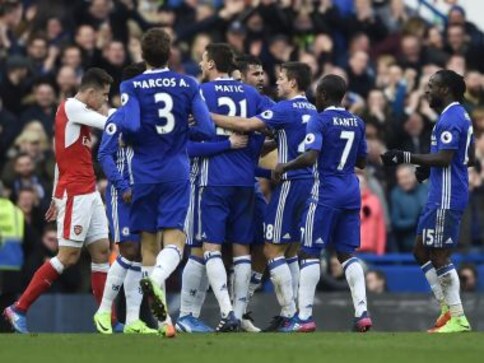 "We want you to stay... we want you to stay... Arsene Wenger! We want you to stay."
There are few things more embarrassing in football than your rival fans begging your manager to stay so that he continues to prolong your suffering. The ecstatic terraces at Stamford Bridge subjected Arsenal fans with this prickly dose of sarcasm, who've grown numb to their side's inability to sustain a title challenge — a fresh episode of which culminated in front of them on Saturday.
It was yet another Chelsea win over Arsenal, yet another win which was completely expected and yet another win achieved by a new Blues manager using the same ploy as his predecessors. Arsenal have played the same way in the last decade and Chelsea's ten-year-old plan to bring their downfall still works. So why should anyone change it?
"Same old! Same old!" shouted the red and white half of the Shed End. The misery for Arsenal fans started fairly early in the afternoon as Marcos Alonso headed the Blues into a 13th-minute lead. The writing was on the wall and they could see it quite evidently. They had been there, done that a bit too often for their liking.
However, it wasn't all gloom and doom for the Gunners from the word go on Saturday. In fact, Arsene Wenger's men started well, putting pressure on Chelsea with their high pressing. The back three of David Luiz, Cesar Azpilicueta and Gary Cahill — who have been rock solid all season — had uncharacteristic moments of unease in the beginning. There were few half chances for the visitors to take the lead, but they failed to be clinical while the Chelsea players showed an incessant desire to prevent their opponents from scoring.
The Blues struggled to build many attacks of note in the early stage of the game, but every time they beat the initial Arsenal press, they looked threatening. The reason behind this was alarmingly visible in the manner that Arsenal conceded the first goal.
Francis Coquelin was guilty of following the ball, thus leaving a huge amount of space for Chelsea's withdrawn forwards of Eden Hazard and Pedro to exploit. Secondly, Nacho Monreal got attracted to the winger, leaving a huge gap in their back line. Laurent Koscielny tried to plug it, but that left the defence stretched. The Frenchman then didn't show enough desire to block the cross, despite being forced out of position, and Chelsea profited.
Diego Costa's header which was tipped onto the crossbar by Petr Cech, rebounded back into play; Theo Walcott, who initially left it too late to track Alonso's run into the box, then showed little effort or desire to put pressure on the Chelsea wing back as he bundled in from close range.
To sum it up, the Arsenal rearguard made one tactical blunder after another and the Blues, who had endured a tough start, were up and running.
"Games at the highest level are decided by a piece of brilliance or someone not doing their jobs. Theo Walcott saw the danger but decided to do nothing about it. The game from that moment swung completely in Chelsea's favour," Graeme Souness criticised the England international's commitment in Sky Sports'  post-match show.
After that it was always going to be difficult for Wenger's men to get back into the game as Antonio Conte's side got the license to sit back and hit the Gunners on the break, something which they are very good at. However, there can't be any excuses in the way they allowed Chelsea to double their advantage.
It took Chelsea five passes after winning the ball, and some magic from Eden Hazard to score the second goal, but he was hugely helped by Coquelin's tactical ineptitude. Firstly, he attempted a cheeky pass in a dangerous area, then left his position trying to regain the ball and was simply outclassed by the genius of Hazard.
"Francis Coquelin does three things that you should never do as a central midfielder: you flick the ball, then you run out of position, then he gets put on his backside," Souness told Sky Sports. 
While the Frenchman's lack of quality was magnified in the big game, Wenger didn't employ any other midfielder with a slightly defensive mindset in the middle of the park against a quality opponent like Chelsea. Coquelin was often left too much to do and he was clearly not ready, perhaps never good enough.
Wenger pointed at "inexperience" in his side for their meek surrender, but he did little about it when he had the chance to address the issue in the summer transfer window and the January one that just closed a few days ago. He went out and spent £34 million to get Granit Xhaka, who had a horrible disciplinary record in the summer. Instead of featuring in this crucial clash, Xhaka was in the stands serving a suspension when his teammates capitulated.
The French manager had revealed before the game that he had the chance to sign N'Golo Kante, who was immense in the Chelsea midfield. But Wenger seemed to have another judgement of error, allowing the Blues to sign him for a price £2 million less that what the Gunners paid for Xhaka. Astonishing, isn't it?
The north-Londoners worked hard in the attacking third to create chances against a solid Chelsea defence — they had the numbers with both full backs rushing forward; they had five purely attacking players on the pitch. But they simply disregarded the threat posed by Chelsea. They didn't show much interest in defending, or perhaps they had no clear game plan to do so. Arsenal ultimately paid the price for their lack of a back-up strategy and their naivety.
"You have to stop the opposition team playing football. This Arsenal team, for the past five or six years, just don't seem to pay enough attention to it," Gary Neville said in his podcast after the game.
"Men against boys is a cliché that's used too much, but there are far too many times over the years that we've watched this type of game involving Arsenal," he added.
"At Arsenal, we don't really look at anything from the other team, we look at ourselves and that's it. Here, maybe two to three days before the game, we start looking at some videos, we know more or less the starting eleven that is going to play... we know nearly everything about them," Cesc Fabregas, who scored Chelsea's third goal against Arsenal on Saturday, had said this in 2010 referring to the game preparation of the Spanish national team, as compared to Wenger's.
It speaks volumes about why the Gunners are without a title in 13 years and why Fabregas left them to win several trophies since.
Conte, on the other hand, had said in an interview earlier this season that he works for nine hours every day that sometimes stretch to twelve. A large part of that involves watching videos of his own team, opponent teams and analysing them.
His meticulous preparation was evident in Saturday's game. Conte's side knew exactly what was coming when they allowed the Gunners to have the ball for nearly 60 percent of the game. Despite not having possession for large periods, Chelsea controlled the game. They waited patiently for Arsenal to make an error and then pounced with a quick counter-attack. They knew it would be easier to create chances on the break against this side who leave plenty of space vacant when on the front foot.
It's deja vu for Arsenal and Chelsea fans alike. There's no surprise that the Blues "want it to stay", but for the Gunners, the expiry date of their game plan and perhaps their manager has long gone past. It's time for change and one can't help but think that it must start with the manager.
also read
Football
Man City boss Guardiola, whose side are chasing a trophy treble this season, does not want a cloud hanging over their achievements and wants a resolution as soon as possible.
Football
Newcastle United needed just one point from their last two games to be assured of a Champions League place.
Football
The 22-year-old has taken just 35 appearances to set a new Premier League record of 36 goals in a single season to help Manchester City retain the title