NBA: John Wall, Rockets beat Kings without injured James Harden; 76ers extend unbeaten run over Hornets
Houston Rockets announced that James Harden wouldn't play about 38 minutes before the game was scheduled to begin.
Houston, Texas: John Wall scored 28 points and the Houston Rockets beat the Sacramento Kings 102-94 on Saturday despite playing without an injured James Harden.
Harden, who sat out with a sprained right ankle, was not listed on the injury report and coach Stephen Silas did not mention his injury in his pregame availability. The team announced that he wouldn't play about 38 minutes before the game was scheduled to begin.
Wall, who sat out Houston's first two games because of COVID-19
contact tracing, missed all of last season and played just 32 games two years ago because of injuries. He scored 22 points in his Rockets' debut on Thursday after a trade from Washington to make him the first player to score 50 points in his first two games after an absence of at least two years since Michael Jordan did it in 2001, according to the Elias Sports Bureau.
"I just put in a lot of hard work and dedication to get to this point," Wall said. "I couldn't ask for a better start to be 2-0 in my first two games."
Silas wasn't sure what to expect from Wall after being out for so long. But he has definitely been impressed.
"Whatever expectations I had, he's obviously exceeded them," he said.
The Rockets scored the first nine points of the fourth quarter to extend their lead to 92-81 with about 8½ minutes left. Eric Gordon led the team in that stretch, making a 3-pointer and three free throws.
Sacramento ended a scoring drought of more than 3½ minutes soon after that on an alley-oop dunk by Richaun Holmes.
Both teams struggled to score after that as they combined to miss 10 shots in a row. Gordon finally made a shot for Houston with just less than five minutes to go, and Wall added a bucket a few seconds later to extend the lead to 96-83.
Silas raved about his team's defense on Saturday and said without Harden's scoring prowess it was even more important to concentrate on that part of the game.
"We really buckled down and played some defense," Silas said. "In order for us to be good we have to be good on defense. We can't just outscore people."
The Kings used an 8-2 run, capped by four points from Harrison Barnes, to get within 98-91 with less than a minute to go. But Christian Wood responded with a dunk to put the game out of reach.
Harden had started Houston's first three games this season and is averaging a league-leading 37 points with 11 assists.
De'Aaron Fox had 23 points for the Kings, who lost to the Rockets for the second straight game after winning three of their first four games.
"The guys should feel bad about the loss just like I do, losing is painful," coach Luke Walton said. "But they should also feel very good about how they are playing as a group."
He said they got stagnant offensively in the second half and was particularly disappointed in their lack of assists.
"We only had 11 assists tonight as a team, which is awful," he said. "That's not who we are as a group."
Wood had 20 points and 16 rebounds and Gordon added 21 points for Houston.
The Kings cut the lead to two points on a 3-pointer by Buddy Hield with about 7½ minutes left in the third quarter. Wall made four quick points after that to stretch the lead to 79-73.
The Rockets were up by seven late in the third before Fox scored the last five points of the quarter to cut the deficit to 83-81 entering the fourth.
New York Knicks 106-102 Indiana Pacers
Indianapolis: Austin Rivers made the go-ahead 3-pointer with 3:23 to play and added another clutch basket during the game-sealing run Saturday night to help the Knicks record a rare 106-102 victory over Indiana.
Rivers missed New York's first four games with a groin injury before returning to the lineup Thursday. Two nights later, he made an impact.
Less than two weeks after the Knicks lost to Indiana for the ninth time in 10 meetings, by a 14-point margin, Rivers helped them find a way to rebound.
No, he wasn't the team's top scorer. That honor belonged to RJ Barrett, who had 25 points. And, no, Rivers didn't have a second straight double-double. That was Julius Randle, who had 13 points, 13 rebounds and eight assists.
But Rivers was effective inside and outside, and his teammates took the cue by following their coach's calling card. New York outrebounded Indiana 51-32, with the Pacers grabbing just five offensive rebounds.
Brogdon led the Pacers with a career-high 33 points but his 3 was blocked by Mitchell Robinson with less than a minute to go, which led to Rivers' breakaway basket during the decisive 11-0 run.
Oklahoma City Thunder 108-99 Orlando Magic
Orlando: Darius Bazley had a season-high 19 points, George Hill scored 13 of his 18 points in the third quarter and the Oklahoma City Thunder dominated the second half of a 108-99 win over the Orlando Magic on Saturday.
The Thunder ended a three-game losing streak and bounced back nicely from a 33-point loss to New Orleans two nights earlier. Oklahoma City also avenged a 118-107 home loss against the Magic five nights ago.
Orlando (4-2) has dropped two straight after starting the season 4-0. The Magic were routed 116-92 by Philadelphia on New Year's Eve and lost on Saturday after making just 37% of their shots.
Orlando was even worse in the fourth quarter when it made just eight of 28 shots (28.5%) and missed all 10 of its tries from 3-point range. That allowed the Thunder to outscore the Magic 24-17 over the final 12 minutes to break open a close game.
Nikola Vucevic scored a season-best 30 points by making 13 of 21 shots, including four 3-pointers. He also grabbed 13 rebounds. Terrence Ross added 26 points and four 3-pointers off the Orlando bench.
Six players scored in double digits for Oklahoma City, which shot 44.2% from the floor with 13 3-pointers. Shai Gilgeous-Alexander added 16 points, while Al Horford, Hamidou Diallo and rookie Theo Maledon each scored 12 points.
Charlotte Hornets 112-127 Philadelphia 76ers
— Tobias Harris (@tobias31) January 3, 2021
POSTERIZED pic.twitter.com/a7LOCuH0Dz

— NBC Sports Philadelphia (@NBCSPhilly) January 3, 2021
Philadelphia: Joel Embiid had 19 points and 14 rebounds and Tobias Harris scored 24 points to lead the Philadelphia 76ers to a 127-112 win over the Charlotte Hornets.
Ben Simmons had 15 points, 12 rebounds and 11 assists to help the Sixers beat the Hornets for the 12th straight time. Philadelphia has not lost to Charlotte since 2 November, 2016.
The Sixers are rolling in Doc Rivers' first season on the bench and followed a 24-point win over Orlando with another victory where they led by double digits for most of the game.
Cleveland Cavaliers 96-91 Atlanta Hawks
Already our favorite video of 2021. #BeTheFight pic.twitter.com/kzSgJuhy63

— Cleveland Cavaliers (@cavs) January 3, 2021
Atlanta: Collin Sexton scored 27 points, Andre Drummond had 12 points and 11 rebounds and the Cleveland Cavaliers wiped out a 15-point deficit in the third quarter and beat the Atlanta Hawks 96-91 on Saturday night.
JaVale McGee, who finished with 14 points, scooped in a runner to help the Cavs reclaim the lead at 84-83, and Sexton made it a three-point lead with a 17-footer on the next possession to keep Atlanta on its heels.
Clint Capela had 16 points and 16 rebounds for the Hawks, who had 22 turnovers in the final three quarters but tied it at 88-all on Bogdan Bogdanovic's 3 before Sexton hit a 3 to put the Cavs up 91-88 with 27.2 seconds remaining. John Collins missed an ensuing dunk attempt before Darius Garland hit a free throw and Sexton hit four foul shots to end the scoring in the closing seconds.
Toronto Raptors 116-120 New Orleans Pelicans
New Orleans: Eric Bledsoe capped a 19-point, 10-assist performance with a go-ahead 3-pointer in the final minute, and the New Orleans Pelicans held on for a 120-116 victory over the Toronto Raptors on Saturday night.
Brandon Ingram added 31 points, capped by four free throws in the last 13 seconds to seal the victory. Zion Williamson scored 21 points, highlighted by a pair of driving spin moves in the lane to set up left-handed leaners off the glass.
The Pelicans lost a 12-point lead in the fourth quarter, briefly falling behind in the final four minutes, but were able clamp down defensively and limit the Raptors to just one point during the final 2:47.
Find latest and upcoming tech gadgets online on Tech2 Gadgets. Get technology news, gadgets reviews & ratings. Popular gadgets including laptop, tablet and mobile specifications, features, prices, comparison.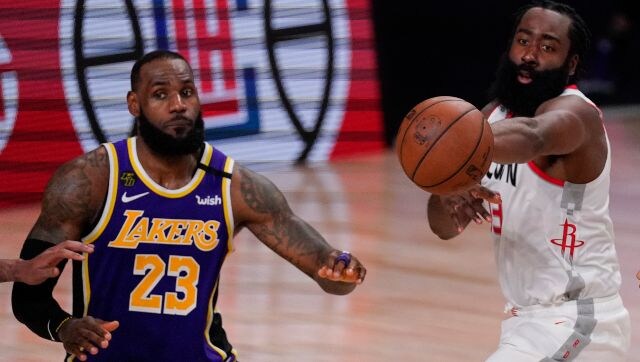 Sports
Harden was due to arrive in Brooklyn on Thursday and Marks believed he could be cleared to play once all the players in the deal had passed their physicals.
Sports
In Houston, LeBron James scored 26 points -- and electrified his own Los Angeles Lakers bench with a nothing-but-net three-pointer — in the defending champions' 117-100 thumping of the Rockets.
Sports
It was the 13th NBA game called off since 10 January because of coronavirus issues.