IPL 2016, GL vs RCB as it happened: AB de Villiers, Abdulla guide Bangalore to final!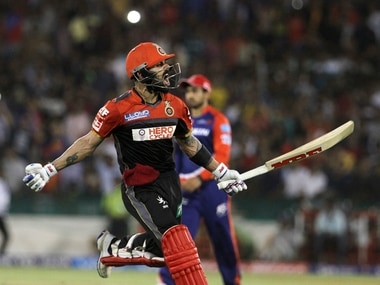 00:17 (IST)

To read the full match report, click on the link below.

00:17 (IST)

IPL 2016: AB de Villiers, Iqbal Abdulla help RCB storm into final with miraculous win over GL - Firstpost}

Bengaluru: AB de Villiers played a breathtaking knock to single-handedly lead Royal Challengers Bangalore (RCB) fightback and take them into the Indian Premier League (IPL) final with a thrilling four wicket win over Gujarat Lions (GL) in Bengaluru on Tuesday.

https://www.firstpost.com

23:45 (IST)

AB de Villiers is the Man of the Match for his incredible 79 off 47 balls, including five sixes and as many fours!

Spare a thought for Iqbal Abdulla! The youngster got the crucial breakthroughs of Brendon McCullum and Aaron Finch in a single over, and his unbeaten 33 off 25 balls, which helped Royal Challengers Bangalore become the first side to qualify for the grand final of IPL 2016.

23:34 (IST)

When Sachin Baby was dismissed for a three-ball duck, with RCB's score reading 29 for five, the local fans would have already started filing out of the stands in frustration and disappointment.

Yet, the game was never over as long as AB de Villiers was at the crease, and in the end he forged a match-winning, unbroken 91-run stand with none other than Iqbal Abdulla, who had not faced a single ball in the entire tournament till then! And boy did the latter come in handy as well, smashing a hat-trick of boundaries in the 18th over by Bravo.

In the end, Bangalore proved why they have the best batting lineup in the world. Even when they are down and out, there's always someone to stand up and take them past the finish line!

23:29 (IST)

Records galore tonight!

91* run stand between ABD and Abdullah is the 2nd highest 7th wicket partnership in IPL history. #RCBvGL

— Bharath Seervi (@SeerviBharath) May 24, 2016

23:27 (IST)

RCB into the finals of IPL for the first time since 2011. The last 5 seasons have all been won by the team finishing 2nd on points table!

— Bharath Seervi (@SeerviBharath) May 24, 2016

23:26 (IST)

Virat Kohli wants to win as much as the average Indian dad wants his son to get into IIT.

— Alt Cricket (@AltCricket) May 24, 2016

23:26 (IST)

#RCBvGL
YAY! GREAT FINISH BY AB DE VILLIERS & AB DU LLA.

— Ramesh Srivats (@rameshsrivats) May 24, 2016

23:24 (IST)

After 19 overs,Bangalore 159/6 ( AB de Villiers 79 , Iqbal Abdulla 34)

The 19th over lasts just two balls, as de Villiers and Abdulla bring up the remaining three runs to COMPLETE A MEMORABLE FOUR-WICKET WIN FOR ROYAL CHALLENGERS BANGALORE!

When Virat doesn't deliver for RCB, ABD does!

23:22 (IST)

After 18 overs,Bangalore 156/6 ( AB de Villiers 78 , Iqbal Abdulla 32)

AB attempts another reverse paddle in the first ball of the 18th over, but the ball bounces off his hip towards third man for four byes. Huge appeal in the second ball for caught-behind, with the umpire not looking interested at all. Wide off the third ball, which makes Bravo and Raina livid! The ball was revealed to have deflected off AB's foot.

FOUR! Abdulla responds to his fans chanting his name with a boundary off a short ball down towards fine-leg, beating fine-leg! FOUR MORE! Abdulla seems to be winning it for RCB! Top-edges another short one from Bravo over the keeper's head towards the third man boundary! FOUR! THREE CONSECUTIVE BOUNDARIES TO END THE 18TH OVER! Abdulla is giving the finishing touch to a masterpiece that was built by AB de Villiers! RCB need just 3 off 12 now!

23:16 (IST)

After 17 overs,Bangalore 138/6 ( AB de Villiers 77 , Iqbal Abdulla 20)

SIX! Quicker one from Jakati along middle and leg, and AB slogs it over backward square-leg for his fourth six of the innings! Meanwhile, the fifty partnership between de Villiers and Abdulla, swinging his bat off a full-toss towards wide long-on, with the ball barely falling out of Aaron Finch's hand to fall on the other side of the rope.

Praveen comes into the attack in the next over, and AB muscles him over midwicket in the third delivery of the over to move into the 70s. The South African batting wonder displays his innovation, reverse-paddling the next ball through backward point to strain Raina's nerves even further! Another big over for RCB, with 12 coming off it!

23:15 (IST)

Life Goals: To be as passionate as Virat Kohli who hasn't taken off his pads even after getting out on a duck.

— Trendulkar (@Trendulkar) May 24, 2016

23:06 (IST)

After 15 overs,Bangalore 110/6 ( AB de Villiers 58 , Iqbal Abdulla 11)

FOUR! AB de Villiers brings up a much-awaited fifty in 33 balls, hammering the ball down the ground. Miscues the next ball towards wide long-off, but the ball ends up somehow clearing the rope. Survives a couple of close call with a risky slog towards wide long-off, with the fielder at the deep nearly pulling off a stunning catch! Smith however, has been taken to the cleaners in this over, conceding 14 off it!

22:51 (IST)

After 12 overs,Bangalore 89/6 ( AB de Villiers 43 , Iqbal Abdulla 5)

Jadeja returns to the attack, and proves the danger is not over for RCB yet with the end of Kulkarni's overs. Traps Binny lbw (in a rather dubious decision), with RCB losing their sixth wicket with 68 on board. Jakati concedes a waist-high no-ball in the following over, and gets hammered for a six down the ground by ABD in the freebie. De Villiers moves to the 40s with a glorious drive through the covers in the 12th over! RCB need 70 off their last 48 balls!

22:44 (IST)

Looks like Binny desperately wants to justify his selection. Even he knows that was unfair. #RCBvGL

— Sandipan Banerjee (@im_sandipan) May 24, 2016

22:44 (IST)

Proud to be in the stadium watching a historic match where Kohli has failed

— Karthik Lakshmanan (@lk_karthik) May 24, 2016

22:44 (IST)

Proud to be in the stadium watching a historic match where Kohli has failed

— Karthik Lakshmanan (@lk_karthik) May 24, 2016

22:43 (IST)

OUT! Binny departs for 21 off 15 in an entertaining cameo, as he is trapped lbw off the bowling of Ravi Jadeja, who gets his 2nd wicket in the process! At a second glance, Binny may have fallen victim to a bad decision, with the ball appearing to have pitched outside off. RCB lose their sixth with 68 on board, with AB having to play a Superman-like innings to save RCB.

22:37 (IST)

After 9 overs,Bangalore 65/5 ( AB de Villiers 26 , Stuart Binny 20)

De Villiers brings some respite to the under-fire batting unit with consecutive fours off the last two balls of the first over after powerplay. Gujarat skipper Raina finishes Kulkarni's quota of overs, conceding six to finish with figures of 4-1-14-4. Meanwhile, Binny starts flexing his arms as well, hammering two fours and a six off Jakati in the ninth over to slowly get the momentum back in Bangalore's favour. 18 off the ninth over. RCB need 94 off 66, not a tough ask as long as ABD is at the crease.

22:29 (IST)

After 6 overs,Bangalore 31/5 ( AB de Villiers 12 , Stuart Binny 1)

At the end of the group stage of IPL 9, nobody in their right mind would have even thought of RCB getting reduced to 31 for five at the end of the powerplay, with the likes of Kohli, Gayle, Watson and Baby back in the pavilion without contributing much. Kulkarni's figures of 3-1-8-4 is proof of the spell from hell that he unleashed on the most famed batting lineup in the tournament, and has single-handedly established the platform for his side to storm into the final ins style tonight!

22:25 (IST)

OUT! Kulkarni again, and this time he gets his fourth! Baby looks to drive it over extra-cover, but Jakati ends up leaping up at the position to collect the catch! RCB have lost five wickets with less than 30 on board, and even 100 would be a miracle for them at this stage. That is unless AB de Villiers joins the rest of the top-order back in the dug-out soon.

22:20 (IST)

OUT! Jadeja joins the party, firing a quicker one to Watson, as the latter gets a bottom edge of the bat while going for an almighty sweep, with the ball lobbing over to Smith in the slips! Removed for 1, as RCB are suddenly reduced to 28/4. Who would have thought of the Bangalore top-order crumbling in their own backyard?

22:18 (IST)

OUT! Two-in-two for Kulkarni! Back of length outside off, and Rahul gets a thick outside edge towards the slips, where Smith holds on to the catch, for him to depart for a golden duck. RCB 25/3!

22:13 (IST)

OUT! And Kulkarni is on fire today! Short ball just outside off, and Gayle drags the ball onto his off-stump to depart for 9 off 12! RCB lose their 2nd wicket with 25 on board, as Gujarat are in firm control of the proceedings at the moment!

22:11 (IST)

After 3 overs,Bangalore 24/1 ( Chris Gayle 9 , AB de Villiers 8)

11 runs are hammered in the first over by Praveen, before KULKARNI REMOVES KOHLI FOR A DUCK! Getting Kohli out early in the innings is considered a massive boon for the bowling side, and Dhawal Kulkarni has removed the leading run-getter of the tournament for a duck! Huge shift of momentum here, although Gayle and AB de Villiers enjoy an equally fearsome reputation. The latter hammers a six over wide long-off in the third over to signal his intent.

22:05 (IST)

OUT! KOHLI OUT FOR A DUCK! V Kohli b Kulkarni 0 (2b 0x4 0x6)

This is huge. Good length delivery outside off, stays a touch low. Kohli stays in his crease and looks to push it to the off side but is done in by the low bounce. He ends up chopping it on.

AB de Villiers strides out to the middle.

21:42 (IST)

After 20 overs,Gujarat Lions 158/10 ( Shadab Jakati 1 , )

Jordan is handed the ball for the final over, and he manages to rattle Praveen Kumar's off-stump with quick, straight delivery that the UP pacer simply has no clue about. Dhawal Kulkarni looks for a risky second in the final ball of the innings, and he is caught well-short of his crease at the non-striker's end as Gujarat are bowled out for 158!

21:38 (IST)

After 19 overs,Gujarat Lions 154/8 ( Praveen Kumar 0 , Dhawal Kulkarni 8)

Bravo manages to get his first boundary in the 18th over of the innings, bowled by Jordan. Couple of lbw appeals to end the over, with one of them running away towards third-man for four byes.

SIX! Eklavya Dwivedi comes down the track, and smashes the first ball of the following over by Watson towards wide long-off! SIX MORE! Dwivedi is starting to exhibit his flair with the bat, pulling the second ball in a clean hit over the midwicket boundary! Turns out to be quite an eventful over, as Watson removes both Dwivedi (19) and Bravo (8) off the next couple of deliveries, before ending the over with a wide and two successive boundaries! Crazy over, with 21 runs and to wickets coming off it, with Watson finishing with figures of 4/29 from his quita of four overs.

21:35 (IST)

OUT! And that's two-in-two for Watson, with the Aussie all-rounder getting his fourth wicket in the process! Bravo swings his bat wildly, but fails to connect to the ball to get his stumps disturbed! Departs for 8 off six, as Watson is on a hattrick at the moment!

21:33 (IST)

OUT! Dwivedi goes for yet another big hit, but ends up guiding it towards long-on, where Kohli holds on to a superb catch after lunging forward! Bit of confusion, as the umpire Dharmasena looks to go upstairs, with the TV umpire adjudging it to be a clean catch! Dwivedi's 19 off nine balls comes to a swift end, as GL lose their seventh wicket with 145 on board!

21:22 (IST)

After 17 overs,Gujarat Lions 121/6 ( Dwayne Bravo 3 , Eklavya Dwivedi 5)

SIX! Smith brings up the 100 for Gujarat with a wild swing of bat towards backward square-leg off a full-toss along leg from Aravind. Watson manages to nip a potential partnership between Smith and Jadeja by dismissing the latter for 3, with Gujarat losing their fifth wicket with 107 on board.

SIX! Smith seems to not give a damn about the fall of wickets, and smashes the second ball of the following over, bowled by Chahal, high over the midwicket fence to move into the 70s! Chahal has the last laugh though, as Smith miscues a quicker delivery outside off that turned away from the batsman, with Kohli taking a simple catch at long-on! Smith departs for 73, and it's pretty much up to Dwayne Bravo to get Gujarat to a respectable score.

21:19 (IST)

OUT! Smith pays for his impatience, looking to get as many runs on the board as quickly as possible. Clever variation by Chahal, as he fires a quicker one outside off that moves away from the batsman. Smith doesn't get enough power on the shot in his attempted slog over long-on, and ends up serving the simplest of catches to opposition skipper Kohli near the boundary rope. departs after a brilliant 73 off 41 balls, that helped bring Gujarat back on its feet, as RCB are in firm control of the proceedings at the moment! GL 115/6

21:13 (IST)

OUT! The full, wide delivery does it for Shane Watson, Jadeja is induced to reach out for the ball, and slice it straight into the hands of Chris Gayle at backward point to depart for 3. A partnership nipped in the bud, as Gujarat lose their fifth wicket with 107 on board.

21:07 (IST)

Anything goes in T20 batting, but surely not what you attempted at this time Karthik...

— Cricketwallah (@cricketwallah) May 24, 2016

21:02 (IST)

After 14 overs,Gujarat Lions 94/4 ( Dwayne Smith 58 , Ravindra Jadeja 0)

Smith brings up his half-century in absolute style — hammering a four and a six off Abdulla in the 13th over to get to the milestone in just 31 deliveries. The West Indian hard-hitter's performance is a testament of the immense depth that the Gujarat batting order possesses, with the likes of Ravi Jadeja, Dwayne Bravo and James Faulkner yet to bat in the innings. Jordan finally gets the breakthrough in the 14th over, with Karthik dragging a full delivery onto his stumps to depart for 26, and bring an end to the 85-run fourth wicket stand. Jadeja is the new batsman out, with Smith still looking menacing at the other end.

21:00 (IST)

OUT! The superb 85-run stand between Smith and Karthik comes to an end! Full delivery from Jordan outside off, Karthik attempts a second ramp towards fine-leg, but ends up edging it on to his leg-stump off the toe end of his bat! Karthik departs for 26 off 30, as Gujarat lose their fourth wicket with 94 on board!

20:55 (IST)

After 12 overs,Gujarat Lions 72/3 ( Dinesh Karthik (W) 18 , Dwayne Smith 45)

Smith gets his second six — big one over long-on, off the first ball of Chahal's second over, before getting his third boundary of the innings with a lofted drive over the bowler's head a couple of deliveries later. Four to end a rather expensive over for Chahal, with an inside edge from Smith's bat sending the ball through the keeper's legs towards the long stop boundary. 16 off the 10th over.

Karthik gets a bottom-edge off an attempted reverse-sweep in the first ball of the following over, with the ball running away towards the long-leg boundary for his first four. Brings up the fifty-stand between Smith and Karthik, and the partnership is key for Gujarat to fight their way back to a winning total on this pitch. Smith muscles the final ball of the 12th over towards the cow-corner fence for his third six of the innings, moving into the 40s in no time at all!

20:41 (IST)

After 9 overs,Gujarat Lions 42/3 ( Dinesh Karthik (W) 11 , Dwayne Smith 22)

Dwayne Smith continues to keep up the offensive against the rampaging RCB attack, pulling a short one from Jordan in the fourth ball over the backward square-leg fence, as the Gujarat run-rate is steadily progressing with his progress. Smith progresses to a score of 22 from 19 balls at the end of the ninth over, and his presence, along with a partnership with Dinesh karthik will be crucial for the side now.

20:30 (IST)

After 6 overs,Gujarat Lions 23/3 ( Dinesh Karthik (W) 5 , Dwayne Smith 11)


Following the departure of Raina for just 1, Dwayne Smith brings in some respite for the Gujarat Lions with back-to-back boundaries off Abdulla, who got the scalps of the openers in his previous overs. Meanwhile, Gujarat manage to crawl to a mere 23/3 at the end of the powerplay, and it seems as if the battle is already half-won for RCB.

20:21 (IST)

OUT! ITS RAINING WICKETS AT CHINNASWAMY! Who would have thought of that, given the fact that the Bengaluru track is considered a bowler's graveyard! Short stuff from Watson to Raina, and the latter pulls it straight to Aravind at short fine-leg! the captain departs for 1, as Gujarat lose their third wicket with nine on board! A terrible collapse awaits the new outfit!

20:16 (IST)

After 3 overs,Gujarat Lions 9/2 ( Suresh Raina (C) 1 , Dinesh Karthik (W) 2)

Good first over by Sreenath Aravind, conceding just two off it, including a leg bye. The lack of runs in the first over, combined with the burden of getting a massive total on the board against a side with the best batting order in the league.

The pressure of getting the runs, combined with the brilliant move to introduce Iqbal Abdulla in the second over, results in the early departure of openers Brendon McCullum and Aaron Finch, both falling victim to Abdulla's turn in the same over. Skipper Raina and wicketkeeper-batsman Dinesh Karthik walk out to bat, and get off the mark in the following over, in which Aravind doesn't give anything away once again! Nightmarish start for Gujarat!

20:09 (IST)

OUT! Abdulla gets two wickets in one over! Both openers back in the hut! Pitched along the middle stump, the ball turns away sharply from Finch, who is looking to play it towards the leg side. Gets a thick outside edge to Gayle in the slips to depart for 2, as GL suddenly collapse to 6/2!

20:07 (IST)

OUT! Abdulla strikes in his first ball of the innings, as Royal Challengers Bangalore get the HUGE wicket of Brendon McCullum early in the innings! Clever tactics by Kohli, introducing Abdulla in the very second over, and McCullum was itching to go for the big hits, and miscued to AB de Villiers at long-off! GL 2/1

19:42 (IST)

RCB XI: Gayle, Kohli (c), ABD, Rahul (wk), Watson, Binny, Baby, Jordan, Aravind, Abdulla, Chahalhttps://t.co/MKnmCSAiUY #IPL2016 #GLvRCB

— FirstpostSports (@FirstpostSports) May 24, 2016

19:41 (IST)

GL XI: Finch, Baz, Raina (c), Karthik (wk), Smith, Jadeja, Bravo, Dwivedi, Praveen, Jakati, Dhawalhttps://t.co/MKnmCSAiUY #IPL2016 #GLvRCB

— FirstpostSports (@FirstpostSports) May 24, 2016

19:40 (IST)

Both RCB and GL have opted for unchanged sides for today's crunch encounter.

19:39 (IST)

Royal Challengers Bangalore win the toss, and skipper Virat Kohli elects to chase!

19:28 (IST)

Squads:


Royal Challengers Bangalore: Virat Kohli (c), Chris Gayle, AB de Villiers, Shane Watson, KL Rahul, Sachin Baby, Varun Aaron, Abu Nechim, Sreenath Aravind, Stuart Binny, Yuzvendra Chahal, Travis Head, Iqbal Abdullah, Kedar Jadhav, Chris Jordan, David Wiese, Akshay Karnewar, Sarfaraz Khan, Vikramjeet Malik, Mandeep Singh, Parveez Rasool, Harshal Patel, Kane Richardson, Tabraiz Shamshi, Vikas Tokas, Praveen Dubey.


Gujarat Lions: Suresh Raina (c), Dwayne Smith, Brendon McCullum, Aaron Finch, Dinesh Karthik, Ravindra Jadeja, Dale Steyn, James Faulkner, Ishan Kishan, Praveen Kumar, Dhawal Kulkarni, Shivil Kaushik, Dwayne Bravo, Sarabjit Ladda, Amit Mishra, Akashdeep Nath, Paras Dogra, Eklavya Dwivedi, Shadab Jakati, Pradeep Sangwan, Jaydev Shah, Umang Sharma, Pravin Tambe, Andrew Tye.
Bengaluru: With the conclusion of the league phase, the stage is all set for the Indian Premier League (IPL) play-offs, as a rampaging Royal Challengers Bangalore (RCB) take on Gujarat Lions in the first qualifier in Bengaluru on Tuesday.
Having won four of their last league games on the trot, the Virat Kohli-led RCB finished on the second spot on the points table while Suresh Raina's Gujarat Lions have had a successful debut campaign to atop the standings.
Going into Tuesday's clash at the M. Chinnaswamy Stadium here, both the sides will have an advantage. While the winning team will book a place in the final, the losing team will get to play in the second qualifier against the winner of the eliminator for a place in the title clash.
In the first qualifier, RCB will not only have the advantage of playing the high pressure game on their home ground but also can take solace from their all-round effort in the six-wicket win against Delhi Daredevils on Sunday.
The Bangalore franchise, runners-up in 2009 and 2011, will hope for a solid start from the in-form batting trio of skipper Kohli, West Indian Chris Gayle and South African veteran AB de Villiers.
With 919 runs so far in the tournament, Kohli, who has amassed four tons and five fifties, is a shy away from breaking another IPL record of becoming first to score 1,000 runs in an IPL edition.
Lokesh Rahul, Shane Watson and youngster Sachin Baby form a formidable middle order followed by the likes of all-rounder Stuart Binny.
The bowling department which was a weak link for the side in the earlier part of the league phase, has also come to the party towards the business end with the pace-spin duo of Watson and Yuzvendra Chahal among the top five wicket-takers.
With 19 wickets so far, leg-spinner Chahal is the purple cap holder while Australian veteran all-rounder Watson, with 16 wickets is fifth.
On the other hand, Raina has led debutants Gujarat from the front with back-to-back half centuries in the final two league matches to finish on top of the standings.
Apart from Raina, the batting will centre around West Indian Dwayne Smith, former New Zealand skipper Brendon McCullum, Australian Aaron Finch and stumper Dinesh Karthik.
Gujarat also boasts of quality all-rounders in Dwayne Bravo and Ravindra Jadeja, who can add enough firepower in the lower order.
The bowling department has variety in its ranks with chinaman Shivil Kaushik being one of the finds of the tournament while veteran medium pacer Praveen Kumar has also been impressive with his new ball partner Dhawal Kulkarni.
Smith, with his gentle medium pace has been an effective weapon for Raina to contain the rival batters while the left-arm spin of Jadeja and Shadab Jakati will be good test for the RCB batters, who will relish playing at the home turf.
Firstpost is now on WhatsApp. For the latest analysis, commentary and news updates, sign up for our WhatsApp services. Just go to Firstpost.com/Whatsapp and hit the Subscribe button.
Updated Date: May 25, 2016 00:17:59 IST