Home advantage, vibrant squad: Don't be surprised if France win Euro 2016
That future is now. The time for France time has finally arrived. That summer of 2016 which they've long been building towards is here.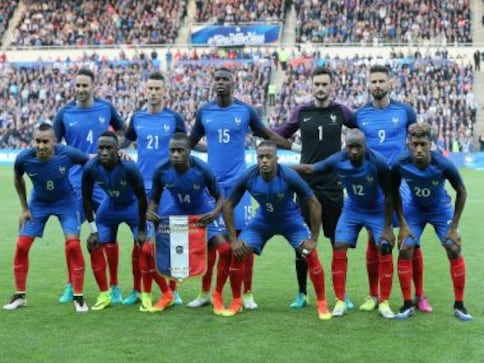 France's long road to redemption has finally reached its true destination: Home. It has been a little over six years since the country celebrated winning the rights to host the 2016 European Championships. Only a month later, French football descended into a state of crisis.
The national team exited the World Cup in South Africa in complete disgrace following a winless campaign which was infamously blighted by player rebellion and woeful performances – something that led to government intervention, resignation of the football federation's president and heavy sanctions for players.
France had become a laughing stock on the sport's biggest stage. Supporters were left angry, embarrassed and disillusioned. Their heroes had utterly tarnished the country's image. Initial excitement over hosting the Euro had given way to fear and indifference as dark clouds of uncertainty hovered above French football.
Since then, it's been one lengthy repair job for the national team. An exercise in rebuilding trust and recapturing the love of their own nation. Two quarter-final exits followed. One at Euro 2012, which was a par result, and another at the 2014 World Cup, which was commendable – since it came on the back of impressive performances.
Both knockout defeats were suffered at the hands of the eventual tournament winners. Both the campaigns pointed towards a positive future.
That future is now. France's time has finally arrived. That summer of 2016 which they've long been building towards is here.
Boasting a squad brimming with exceptional talent – both young and old – and a team impressing with a fairly entertaining style of play under the guidance of Didier Deschamps – who led the country to a World Cup triumph on home soil – France head into the tournament as one of the favourites.
They even have history on their side: Les Bleus have been victorious on home soil the previous two times they've hosted a major event. Legendary number 10 midfielders were at the forefront of those triumphs. Michel Platini inspired the team at Euro 1984, while Zinedine Zidane followed in Platini's footsteps and went one better at the 1998 World Cup.
This year, the supporters are pinning their hopes on Paul Pogba, arguably the best midfielder in the world, to do the same. He might be only 23 years old – Platini was 29 in 1984, Zidane was 26 in 1998 – but he is capable of taking France all the way. Pogba frequently bosses games for both the national side and his Italian club Juventus although he is often frustrating in equal measure. His dynamism, with a taste for the spectacular, makes him the centrepiece of Deschamps' 4-3-3 setup.
However, presence of Pogba isn't the sole reason why the French midfield is the team's greatest source of strength. Alongside him in three-man midfield will be Paris Saint-Germain's Blaise Matuidi, a supreme box-to-box midfielder and Leicester City's N'Golo Kante, an all-action defensive midfielder who rose to prominence last season playing for Premier League champions Leicester City and made his national team debut earlier this year. All three players played vital roles in their clubs' title-winning campaigns last season.
Add to this trio an in-form Dimitri Payet, 19-year-old Kingsley Coman and level-headed midfielders Yohan Cabaye and Morgan Schneiderlin as more than able back-ups – and it tells you why the French are ready to dominate this edition.
Controversy, though, never seems to be far away from the team. And the road to Euro 2016 hasn't been any different.
Karim Benzema, France's most prolific current goal-scorer, wasn't included in the squad due to his role in last year's sex-tape blackmailing scandal involving teammate Mathieu Valbuena. Benzema recently claimed that Deschamps' reasons for excluding him were racially motivated – a sensational allegation that was backed by Frenchman Eric Cantona.
Mamadou Sakho served a one-month suspension following a doping violation while playing for English club Liverpool. He was subsequently left out of the squad even though the defender had become available at the time of selection.
Olivier Giroud, meanwhile, was booed in recent friendlies by some sections of the French crowd. He often misses too many chances and the French have not readily accepted him as their no.1 striker – especially when his place in the team comes at the expense of Benzema, Kevin Gameiro and Alexandre Lacazette.
France's forward line still has plenty of bite. One of Giroud and André-Pierre Gignac – most likely the former – will form the focal point of the attack with young and firing teammates Anthony Martial and Antoine Griezmann running either side of the frontman in a wide forward role.
It is an aging and unreliable backline which remains France's biggest worry. An unshakeable defence, including the likes of Lilian Thuram, Marcel Desailly and Laurent Blanc, formed the backbone of the country's back-to-back triumphs in World Cup 1998 and Euro 2000. But injuries to four central defenders, namely Raphael Varane, Jérémy Mathieu, Kurt Zouma and Aymeric Laporte, along with Sakho's absence has left Deschamps with few reliable options to choose from.
Laurent Koscielny, 30, and Eliaquim Mangala, 25, do not form the sturdiest of central defensive pairs while Patrice Evra, 35, and Bacary Sagna, 33, are now waning full-backs. The likes of Lucas Digne, Christophe Jallet, Samuel Umtiti and Adil Rami do not provide adequate cover in defence.
French defence is likely to test the nerves of their supporters this summer, especially when they're holding on to leads. At least they will find comfort in skipper Hugo Lloris, a modern-day 'sweeper-keeper' who is one of the world's best under the bar.
Home advantage isn't always a boon – just ask Brazil and Germany. Expectations are often through the roof and pressure to deliver is immense. Last year, though, Chile and Australia showed how a boisterous home crowd and familiar conditions can inspire a team to continental triumph.
If France's recent friendlies – a 3-2 win over Cameroon and a 3-0 demolition of Scotland – are anything to go by, a vibrant and partying French crowd will certainly be charged up to assume the role of the 12th man this summer.
France have beaten Netherlands, Portugal and Germany in Friendlies played over the last year and a half but also lost to England and Belgium. Switzerland, Albania and Romania will not pose much of a threat in the group stages but the knockouts will be a different story altogether in this 24-team tournament.
Anything less than a semi-final will be considered as failure. But don't be surprised if the French complete a hat-trick of wins on home soil.
France squad
Goalkeepers: Hugo Lloris (Tottenham Hotspur/ENG), Steve Mandanda (Marseille), Benoit Costil (Rennes)
Defenders: Adil Rami (Sevilla/ESP), Laurent Koscielny (Arsenal/ENG), Eliaquim Mangala (Manchester City/ENG), Samuel Umtiti (Lyon), Patrice Evra (Juventus/ITA), Bacary Sagna (Manchester City/ENG), Lucas Digne (Roma/ITA - on loan from Paris Saint-Germain), Christophe Jallet (Lyon)
Midfielders: Paul Pogba (Juventus/ITA), Blaise Matuidi (Paris Saint-Germain), Lassana Diarra (Marseille), N'Golo Kante (Leicester City/ENG), Yohan Cabaye (Crystal Palace/ENG), Moussa Sissoko (Newcastle United/ENG)
Forwards: Antoine Griezmann (Atletico Madrid/ESP), Dimitri Payet (West Ham United/ENG), Anthony Martial (Manchester United/ENG), Kingsley Coman (Bayern Munich/GER - on loan from Juventus/ITA), Olivier Giroud (Arsenal), Andre-Pierre Gignac (Tigres UANL/MEX)
Squad:
also read
Football
Club ambassador Mabbutt said Spurs would do everything they could to hold on to their record goalscorer, whose contract has just over a year to run
Football
Barcelona's league and Spanish Super Cup wins are the minimum that could be expected, and significant improvement on the continent is needed next season.
Football
Marseille came from behind at home to beat bottom club Angers 3-1 to move to within two points of second-placed Lens