FIFA World Cup 2018: Improved Brazil finally played like a team challenging for title in win against Serbia
For the first time in the FIFA World Cup 2018, Brazil finally played like a team challenging for the title as they beat Serbia 2-0 to finish on top of their group and qualify for the Round of 16.
For the first time in the FIFA World Cup 2018, Brazil finally played like a team challenging for the title as they beat Serbia 2-0 to finish on top of their group and qualify for the Round of 16. Paulinho and Thiago Silva were the goalscorers for Brazil, but it was Philippe Coutinho's performance that, once again, stood out. Neymar, on the other hand, showed familiar frustration over not playing to his best, but against Serbia, he largely put out an improved performance.
So far in the tournament, Brazil have improved every game. They have shown progression and that's what makes them dangerous. They are hitting form at the right time.
Senegal take on Colombia while Japan face Poland at 7.30 on Thursday while England face Belgium and Panama take on Tunisia at 11.30 in the second set of matches on Day 15.
It was expected that Brazil will dominate the initial proceedings considering they hadn't qualified for the next round. Tite's team enjoyed the possession and started to create chances for their forwards. But before they could make an impact, Marcelo, who plays a vital role for the team on the left, had to be substituted because of an injury. He was replaced by former Chelsea full-back Filipe Luis.
However, Brazil didn't lose their rhythm because of that unplanned change. Neymar was in the thick of things and got the first real opportunity to put his team ahead. He did well to find some space in the crowded six-yard area and then tried to slot it in from the left side. Serbian goalkeeper Vladimir Stojkovic was up to the task and saved it. Minutes later, Neymar threaded a good pass to Gabriel Jesus from his own half. The Manchester City striker used his feet well to send the defender the wrong way, but his shot from inside the box was blocked by another defender.
The game had opened up and Brazil were looking like the side who would get the opening goal. It was in the 36th minute that their efforts bore fruit as Coutinho delivered a superb long ball and Paulinho, who had made a brilliant run into the box, lofted it over the charging goalkeeper.
Brazil went into the break with a deserving lead. Strangely, Serbia, who were in contention for the Round of 16 spot, didn't do enough to test Brazil. They lacked cutting-edge going forward and at times, the defence was guilty of lapse in concentration.
It was the period after the break that Serbia started to assert themselves. For 15 odd minutes, Brazil looked shaky at the back with goalkeeper Alisson spilling a straight forward save but the ball was cleared to safety before it reached Aleksander Mitrovic.
The World Cup in Russia has had its fair share of late goals and upsets, and Serbia certainly possessed the quality to trouble the Brazilians. However, Tite's side were in no mood to make things complicated as they doubled the lead in the 68th minute thanks to a solid header by centre-back Thiago Silva from a corner. On a day when Brazil were playing better football, it looked impossible for Serbia to mount a comeback.
The second goal certainly played its part in terms of having a psychological impact on the Serbs. It seemed like the Serbian team realised that their World Cup hopes had dashed and now it was all about damage limitation. At times, they pressed the Brazilians and created a few chances, but that did very little to trouble the South American side.
With the final whistle, Brazil made it to the next round with seven points from three matches while Serbia crashed out having garnered just three points. Brazil were joined by Switzerland from their group in the Round of 16. The Swiss ended second on the table with five points after their 2-2 draw with Costa Rica on Wednesday.
Thanks to Germany's humiliating defeat against South Korea, which ultimately resulted in the team getting knocked out, Brazil don't have to face them in the next round. They will now have to overcome the Mexico challenge to make it to quarters.
On a night when defending champions were shown the door, Brazil came out with a resounding display against Serbia. The five-time world champions did not have the best of start in Russia but they are finding their groove at the crucial time. Neymar still looked like he's short of match fitness but was able to find space in the attacking half. Coutinho, meanwhile, remains the best player of this Brazil side. His blistering runs followed by intelligent passes have left the opponents in their wake. So far, he has scored two and assisted one, and looks in ominous touch. His form will be crucial as Brazil enter the crucial phase of the tournament.
Click here for full coverage of FIFA World Cup 2018
Click here to view the full schedule of FIFA World Cup 2018
Find latest and upcoming tech gadgets online on Tech2 Gadgets. Get technology news, gadgets reviews & ratings. Popular gadgets including laptop, tablet and mobile specifications, features, prices, comparison.
Sports
In a huge relief for India U-17 World Cup footballer Anwar Ali, who has a congenital heart condition, the Delhi High Court on Tuesday allowed him to carry on playing until the national federation arrives at a final decision.
World
The Brazilian president's announcement came a day after the health minister said that the vaccine developed by Sinovac would be included in the nation's immunisation program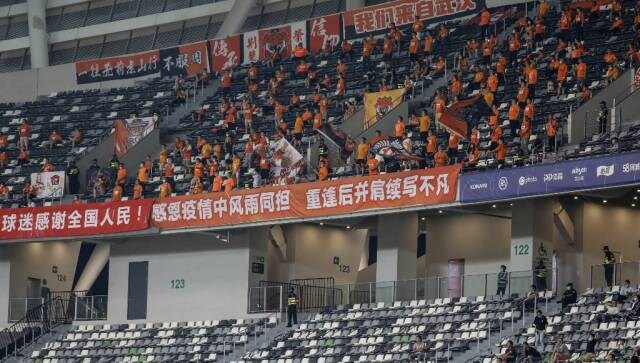 Sports
Along with building a football infrastructure and overhauling grassroots, school and youth systems, the CSL is a crucial part of the determination to be a superpower in the sport.