'Why did Kapil Sibal link Babri Masjid to elections', asks Narendra Modi in Gujarat's Dhanduka: Highlights of PM's speech
On the occasion of the 25th anniversary of Babri Mosque demolition, Modi also accused the Congress of linking the Ram temple issue to the Lok Sabha elections.
Campaigning for the first phase of election in Gujarat ends on Wednesday and political parties are making their final attempt to woo the voters from 89 Assembly constituencies that go to polls on 9 December. Addressing one such rally in Dhanduka, a city in Gujarat's Ahmedabad, Prime Minister Narendra Modi on Wednesday launched a blistering attack on Opposition Congress and raked up several issues starting from Ambedkar, Sardar Patel to Babri Masjid demolition case.
Remembering Babasaheb Ambedkar on his death anniversary, Modi said, "Today we remember the great Dr Babasaheb Ambedkar. I paid tributes to him in Parliament this morning, before coming to Gujarat. Dr Ambedkar was passionate about ensuring proper irrigation facilities to every part of India."
Modi said that it was the BJP that finished the scam being run in the name of the tanker service, and ensured proper water facilities for entire Gujarat.
Seeking to appeal to the Dalit electorate, Modi also attacked the Nehru-Gandhi family for "doing great injustice to both, Ambedkar and Sardar Patel." "There is only one family which has done greatest injustice to Dr Babasaheb Ambedkar and Sardar Patel and everybody knows who they are," Modi said.
He said the Congress had failed to do anything even though it had been in power for 50 out of 70 years since Independence. "Why did the Congress not think of conferring the Bharat Ratna on Dr Ambedkar," Modi asked.
Modi also continued his attack on Congress leader Kapil Sibal. On the occasion of the 25th anniversary of Babri Mosque demolition, Modi also accused the Congress of linking the Ram Temple issue to the Lok Sabha elections. "In India, every now and then elections are there. In that case, I would say let us have elections of Lok Sabha and Vidhan Sabhas together."
"Yesterday in the Supreme Court, Congress MP Kapil Sibal was arguing (which is his right) for the Babri Masjid. He is entitled to do that, but is it right for him to say postpone hearing till 2019?" Modi said while addressing a rally in Gujarat's Dhandhuka.
"Why does he have to link a Ram Mandir (temple) with elections. Is such thinking proper?" Modi asked the crowd.  He also accused the Congress of linking the Ram Temple issue with the elections. "Now Congress links Ram Mandir with elections. They are least bothered about the nation," Modi said.
Modi's remarks came a day after Sibal while representing the Sunni Waqf Board on Tuesday urged the Supreme Court to defer hearing in the Ayodhya title suit till July 2019 after the Lok Sabha elections. Sibal requested the apex court to defer the hearing stating "the case has ramifications on polity of India." Though Sibal did not explicitly mention elections, his request was clear, to which the bench also expressed surprise.
Meanwhile, the Congress distanced itself from Sibal's comments and said that his arguments were made in his capacity as a lawyer, which did not represent the view of the party. Modi, however, latched on to the comment as he sought to corner the party on the issue
"I appeal to the future Congress president, please clear your stand on the issue," Modi said, also adding, "On the one hand, temples are being visited ahead of elections. On the other hand, they are trying to delay hearing of the Ram Janmabhoomi case. The Congress has double standards on the issue."  Modi also made an attempt to reach out to Muslim women. Modi said he will not remain silent on an issue like triple talaq which concerned the welfare of so many women.
"Everything is not about elections. This issue is for the rights of women… elections come later humanity comes first," Modi said. "When the triple talaq matter was in Supreme Court, the government had to put their affidavit. Media was commenting that Modi will remain silent because of Uttar Pradesh polls. People told me not to speak on the matter else there will be losses in elections," Modi said.
He said that his party was synonymous with development in the state, and although young people may not remember what it was like, before BJP worked in the state, most people would know what the situation was like. "There are some words that the young generation do not even know. One such word is curfew," Modi said as he claimed that the law and order situation has improved tremendously under the BJP governments. The prime minister sought to remind the people that how there used to be frequent curfews amid a communally tense environment.
"Today a child of 15-17 would not know what is a curfew, what it felt like to live under curfew.. But Gujarat has had children who knew local policemen better that their relatives... those days are now over," Modi said. ""Apart from development, BJP's biggest gift to Gujarat is sense of security," Modi said adding "You may be rich and wealthy but what is that without peace of mind and good law and order."
At Netrang, Modi continued his attack on the Opposition party Congress and said "Congress feels only one family won India freedom". The prime minister also lauded Sunni Waqf board's stand to distance themselves from Kapil Sibal's comment and called it a 'brave stand'at Netrang rally on Wednesday.
The Sunni Waqf Board must be congratulated for their brave stand on the matter and disassociating themselves from the statement of Kapil Sibal ji: PM Modi

— ANI (@ANI) December 6, 2017
;
लाइव : पीएम श्री नरेन्द्र मोदी नेतरांग, गुजरात में चुनावी जनसभा को संबोधित कर रहें है। #BJPWaveInGujarat https://t.co/HUTy7cHMSQ — BJP (@BJP4India) December 6, 2017
"Congress feels only one family won India freedom. They forget the contribution of the tribal communities in India's freedom struggle, Modi said.They call us a government of the rich. It is the blessings of the poor that make us rich. Our asset is the hard work of the poor. Our government worked for tribal welfare, ensured better education, healthcare," Modi said.
India
The Congress leader accused Central Government of misreading and mishandling the COVID-19 situation in India and alleged that all early warning signs were ignored, including from scientists
First Cricket News
Here's all you need to know about the 26th match of IPL 2021 between Punjab Kings and Delhi Capitals.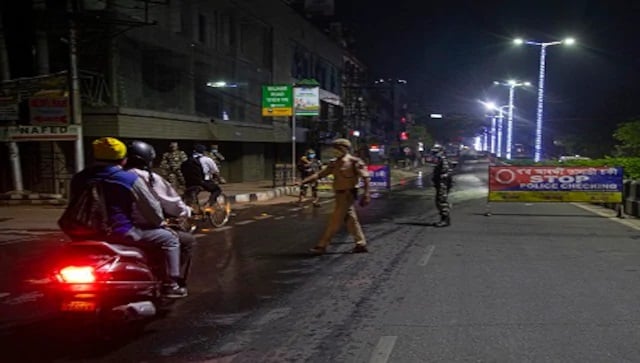 India
The curbs put in place by the state in 29 cities include the closure of restaurants, swimming pools, cinema halls and shopping complexes, till 5 May