Uttar Pradesh Election Result 2017: BJP's massive win proves Modi magic now transcends Hindutva
The message is loud and clear: The BJP juggernaut has moved into fifth gear. And what's more, there are no speed-breakers in sight, at least not till 2019, when Prime Minister Narendra Modi seeks a second term.
The message is loud and clear: The BJP juggernaut has moved into fifth gear. And what's more, there are no speed-breakers in sight, at least not till 2019, when Prime Minister Narendra Modi seeks a second term.
Another thing that the outcome of the latest round of Assembly elections has established is that a good majority of Indians refuse to see Modi as a mere Hindutva leader who whips up raw communal passions to get votes. Instead, they perceive him as a man they can trust, as a man who can bring about development, as a man who can transform their lives for the better, and as a man who can bring in change. In short, they see him as a leader who can deliver.
As of now, the number of Indians who believe Modi can shape India's destiny is large enough to ensure him victory after victory in elections. That should explain the party's good show in four of five states — Uttar Pradesh, Uttarakhand, Goa and Manipur — that saw polling. Though it lost Punjab, its victory in UP, India's fourth largest state, was nothing but a historic landslide.
The claims of Modi-baiters, essentially comprising those who suffer from a fossilised Left ideology and those who adore the dynasty that runs the Congress, that the Modi magic has been on the wane and that the 8 November demonetisation would be a first nail in his political coffin have been decisively proved wrong.
Whether demonetisation was a success or failure is debatable and many of Modi's fanciful schemes to turn India into a heaven on earth are yet to produce visible results, but they have at least convinced people that Modi is a trier and doer.
Time has come at last for the pro-Left and pro-Congress intellectuals, who pejoratively dismiss Modi's supporters as bhakts, to shed their ideological arrogance and respect democratic choices that people make. Their tireless efforts to spit venom on Modi via television screens, newspaper columns and social media have been swept away by what can only be called a Modi wave.
The makeover in Modi's image from a Hindu rabble-rouser to an economic do-gooder and reformer has by no means been an overnight phenomenon. He changed the way people think of him over time, in ways ranging from plainly rustic to sinisterly subliminal.
Modi is no spectacular orator — his nasal baritone, his third-person references to himself as Modi and his bizarre pronunciation of some English and Hindi words can irritate sophisticates — but he uses his own unique brand of communication to deliver the message effectively. He does it well enough to turn the sceptic into a supporter and persuade listeners to give him a chance to metamorphose India into a welfare state.
Modi has turned himself into a brand bigger than his own party, whether it's good or bad for democracy. Projecting himself as the epitome of morality and fighter of evils that have dogged India since Independence, he turned politics into a debate on morality — and himself. By doing all this, he built an aura of credibility around himself that no other leader in either the BJP or any other party can match. He placed himself on a pedestal so high no rival can reach in the foreseeable future.
What helped Modi sell his brand of politics to large sections of people was his personal integrity and lack of scams involving him. The splendid reputation that he enjoys as a man of moral turpitude makes it politically risky for his enemies to question his integrity.
Those like Congress scion Rahul Gandhi and AAP's Arvind Kejriwal who challenged Modi's scam-free record by making wild, unsubstantiated allegations in the past have not only cut no ice with people, but have also suffered heavily in the latest assembly elections.
But for the victory in Punjab and running neck and neck with BJP in Goa and Manipur, the results, especially the BJP's never-before-seen kind of landslide in UP, were a huge disaster for the Congress. Hours after counting of votes began on Saturday morning, Rahul's capacity to lead the Congress was being questioned by some party leaders. And there is consensus among analysts that the credit for the party's Punjab victory must go to the chief ministerial candidate Amarinder Singh and not Rahul. Some said, only half in jest, that the Congress won Punjab only because Rahul campaigned less in that state, busy as he was in UP.
As for Kejriwal, his dreams of winning Punjab and Goa collapsed like a pack of cards almost as soon as counting began, forcing his partymen to abandon all plans to celebrate. What Modi's rivals must learn from the latest election results is that they must be cautious about the way they attack his commitment and integrity. They can question his schemes but not his motives.
And a lesson that outgoing UP chief minister Akhilesh Yadav of Samajwadi Party (SP), who cobbled up an alliance with Congress, and Mayawati of Bahujan Samajwadi Party (BSP) is that elections mean a lot more than caste equations and that one plus one is not always two. Akhilesh's good governance record was negated by SP's infamous caste politics, while the Modi wave took care of the rest.
Rahul, Kejriwal, Akhilesh, Mayawati and the like may find it easy to blame BJP's Hindutva rhetoric for their poor show. But Hindutva has only been a tiny part of Modi's political strategy. Hindu revivalism of the mid-1980s, the Babri Masjid demolition and the resultant communal polarisation may have helped BJP gain ground in the past, but Modi has taken the party beyond the confines of communal politics to reformist economics. The people of India have taken good note of it. Modi-baiters must stop considering every supporter of his a Hindu zealot out to destroy minorities.
The extent of BJP's sweep in UP would not have been possible if the party was not backed by all sections of the society, including Muslims. Mayawati's claim that BJP won many Muslim-dominated constituencies in UP only by rigging the EVMs is unlikely to be taken seriously, even by her own supporters.
Modi's enemies, no doubt, will be in no great hurry to attribute his latest success to his pan-India charismatic appeal and credibility. But that is unlikely to bother the man whose eyes are firmly set on winning the 2019 elections and getting himself a second term as prime minister. And unless he goofs up deliberately and badly, he will be a winner.
Politics
The university is being established by the Uttar Pradesh government in memory and honour of Raja Mahendra Pratap Singh, a freedom fighter, educationist and social reformer
India
At an event to lay the foundation stone of the Raja Mahendra Pratap Singh State University, the PM threw his weight behind Yogi Adityanath, praising the CM for his developmental campaigns as well as vaccination efforts in the state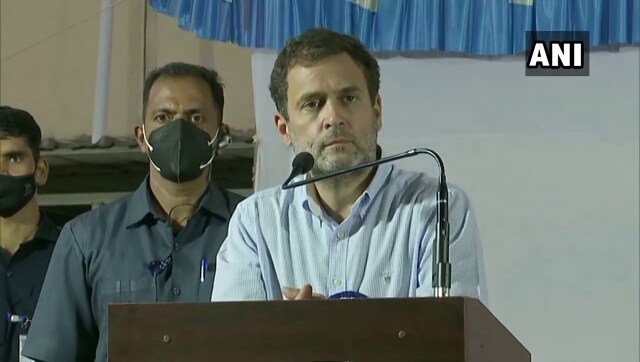 India
Earlier, taking to Twitter, Gandhi posted, "Jo nafrat kare, woh yogi kaisa! (What kind of a Yogi propagates hate)."