UP Election Results 2017: Centre's pro-women schemes worked in BJP's favour
Women have played a tremendous role in ensuring the Bharatiya Janata Party victory in both states of Uttar Pradesh and Uttarakhand.
Women have played a tremendous role in ensuring the Bharatiya Janata Party victory in both states of Uttar Pradesh and Uttarakhand. One of the key reasons for this is the slew of schemes that the Centre has launched for women in the last two years many of which have helped transform lives of women especially those belonging to the lower socio-economic groups.
When  Dalit woman Bhagwati Devi was asked in Bundelkhand which party she would vote for, she replied , "I will vote for BJP." Conventional wisdom would have expected her to vote for Mayawati and Bahujan Samaj Party. But Bhagwati Devi was willing to balk the trend and opt for the BJP because the Pradhan Mantri Ujjwala Yojana had promised to provide five crore  LGP cylinder to BPL families over the next three years at a cost of Rs 8,000 crore.  She had not received any cylinder so far but she was confident she would receive one in the coming months.
Bhagwati Devi added, "The price of firewood is exorbitant. The government is giving free gas connections and we can get gas stoves and other fittings by making monthly payments." The monthly payments Bhagwati Devi was referring to was the government  waiving aside the deposit for the gas cylinder and permitting purchasing  of the gas regulator, etc on a monthly  EMI basis."
The Stand UP India scheme to provide substantive loans of Rs 10 lakh to Rs one crore to tribal SC/ST women to start commercial enterprises has also found resonance at the ground level. Although the scheme was announced in April 2016, there is no doubt that tribal women who are often the main bread earners in their family believe they stand to benefit in a major way. This scheme has a refinance window through the Small Industries Development Bank of India with a Rs 10000 crore in its kitty.
Unlike the gas subsidy scheme, this scheme has still to take hold at the grass level but officials in the Ministry of Finance pointed out that it is expected reach out to 2,50,000 women entrepreneurs.  Mariam from Jharkhand said, "Younger tribal women are more educated and are aware of new schemes.  The government is teaching us to take loans and how to market them whether it be in the field of handicrafts, agriculture or growing of fruits.Now that a large number of us have our own bank accounts, we will be given debit cards to withdraw money.
Whether it is the Women Helpline Scheme, the Ujjwala scheme for the prevention, rescue and rehabilitation of trafficked women and children, the Swadhar Greh aimed to lift women in dire socially economic circumstances  or the maternity benefit scheme under the nomenclature of the Indira Gandhi Matritya Sahyog Yojana, the chain of Mahila Haats are all having their impact on the ground.
It is not surprising therefore that female voters have hugely outnumbered their male counterparts in the populous state of Uttar Pradesh. Election Commission results show that while 63.26 percent of women voted in UP during this seven-phase Assembly election in UP, only 59.43 percent men cast their votes. This is in contrast to a decade ago when in 2007, men had outnumbered women votes with a percentage of 49.35 percent as compared to 41.92 percent.
This is not to say that the outgoing chief minister Akhilesh Yadav had not implemented women-centric programmes such as giving school girls bicycles and laptops and increasing financial assistance in the marriages of poorer women. But the Centre's initiatives have impacted the psyche of women voters even more.
Uttarakhand also witnessed a large turn out with 69.34 percent women voters against 62.28 percent men voters as per Election Commission figures.  This despite the fact that the state had 38.87 lakh men and 35.23 lakh registered women voters. Women have been in the forefront of agitations in Uttarakhand  with the state being formed largely through the initiative of women power and even a decade ago, women voting margins remained one percent higher than their male counterparts.
The voting patterns have been the same in Punjab, Goa and Manipur. Election Commission figures show that in Punjab, 78.12 percent women cast their vote as against 76.69 percent men. Manipur witnessed a large voter turnout with the difference between women voters and men voters being a huge seven percent. Goa's high literacy rates amongst women also played a role in ensuring a higher women voter turnout.
Prime Minister Narendra Modi is only too conscious of this voter imbalance which is why he has gone out of his way to woo women voters. His high-octane campaign across UP, Uttarakhand and Manipur saw him making repeated references to his pro-women ticket schemes. His efforts have obviously paid off because after his three days spent campaigning in Varanasi saw a surge of women voters in these Assembly segments where the voting percentage of women in some segments crossed 70 percent.
Women have emerged as a strong new political constituency. EC data attributes this to higher gender parity in education especially in the states of Manipur and Goa. Nevertheless, this is not reflected in the number of women who were given tickets across political parties.
The National Alliance for the Women's Reservation Bill, a coalition of over 20 women's rights organisations, have stressed repeatedly that the present assembly polls across five states have shown that women made up less than 6 percent of candidates.
For example, in Uttar Pradesh - India's most populous state with around 20 crore people - the BJP has given 11 percent of seats to women candidates. Other parties such as the Congress, Samajwadi Party and Bahujan Samaj Party had given  5, 12 and 5 per cent respectively to women.
In Punjab, the four main parties ( Congress, BJP, Akali Dal and AAP) with 350 candidates contesting had given just 27 seats to women candidates many of whom were either wives or daughters of powerful state politicians. In Goa, women candidates were similarly short changed with less than seven percent of the candidates being women.
Ranjana Kumari, director of the Centre for Social Research, believes the time has come for Modi to show his commitment to women by introducing the Women Reservation Bill in Parliament. Kumari said, "This will ensure that one-third of the seats at the national and state legislative assemblies will be reserved for women. It is only then that this imbalance of power will be corrected."
For live updates, go here.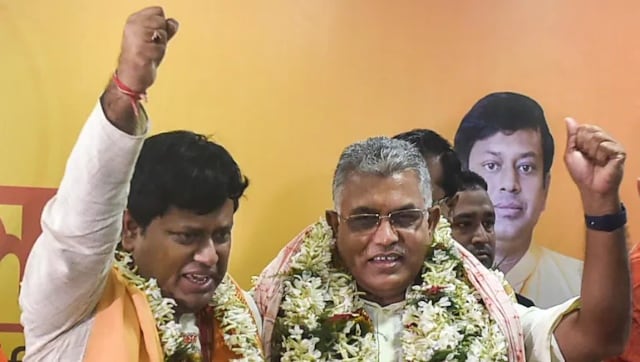 Politics
Like many BJP office bearers, Dilip Ghosh too was an RSS man. However, his relationship with the RSS deteriorated over time
Politics
Earlier on Saturday, the home ministry reduced Supriyo's security category from the 'Z' to 'Y' category
Politics
Addressing the foundation day of the All India Mahila Congress, Gandhi said that the ideology of the Congress was completely opposite of the BJP-RSS and only one of the two ideologies can rule the country.