UP Election 2017: In drought-hit Bundelkhand, a village parched by political apathy hopes for change
Residents of Gusiyari village in drought-hit Bundelkhand have for decades relied upon a single well for drinking water. Close to 10,000 people have no other source of water in the area.
Hamirpur: Residents of Gusiyari village in drought-hit Bundelkhand have for decades relied upon a single well for drinking water. Close to 10,000 people have no other source of water in the area.
But, what would happen if one day this solitary well dries up? Will the entire village be forced to evacuate? Or will the villagers be left to fend for themselves?
It seems that no one has ever given a serious thought to this question; the political class, that can actually do something about it, has been apathetic. During every election, promises are made, only to be broken. A candidate gets elected each election to represent the people of this village in the Uttar Pradesh Assembly, but never looks back at his voters and life moves on.
This Hamirpur district village, that has over 3,000 registered voters, is one of the many in the region that had faced the wrath of one of the worst droughts in the summer of 2016.
But despite drawing a lot of attention in the media and high decibel debates in the Assembly, no concrete steps have been taken till date.
The solitary well, located some three km from the village, is almost a 100 years old and has been the only safeguard for the villagers during the droughts.
Be it schoolgoing children, farmers or the elderly, everyone can be seen fetching water from the well with buckets, pots and plastic containers. It is a routine exercise for all, irrespective of age.
Change of legislators, ministers, governments and no amount of public demand has changed the destiny of this village. All of the other 40-odd wells in the village are dried up and water from the dozen hand pumps installed can't be consumed due to high salinity.
"This well has been our only source of drinking water for decades. There is only one pond here and we use it for other purposes as well. The water from hand pumps can't be consumed, neither for drinking nor for washing clothes, due to high salinity. Irrespective of caste and religion, we all consider this well as an object of worship as it's our lifeline. God forbid, but if this well dries up some day, we don't know what will happen to us. But, we know it won't," local resident Sagir Ahmed told Firstpost.
There is a folklore in Gusiyari, that long back, the villagers refused to give water to a fakir and as a result he cursed them that the groundwater would become saline and nobody would be able to consume it.
"But, after the villagers pleaded with the fakir, he blessed them that only the well outside the village would supply 'sweet water' perennially. We're still living that curse and for decades we've got accustomed to it. There is no discrimination among villagers on the basis of caste and religion, and this single water source is as pure as water from a purifier," said Rekha Gupta, owner of a small grocery shop, while offering a glass of water (of the well) to this correspondent.
Gusiyari village, which has 90 percent Muslims and 10 percent Hindu Brahmins and Dalits, symbolises the acute water crisis in the Bundelkhand region. The story is almost similar in neighbouring villages and districts. However, this village stands out as no other village has this high salinity in the groundwater, and political apathy has compelled the villagers to manage with this single source of water.
According to scientists, the salinity in the water in this Hamirpur village is due to underground rocks in a radius of six km. The water of the well is consumable as it is in proximity to River Shyam.
Today, the villagers have no hope from any political leader or party. In 2012, Congress vice-president Rahul Gandhi came to the village and assured people that their problems would be sorted.
Traditionally, Hamirpur has been a BJP bastion, with the majority of the population belonging to the SC category. At present, the sitting MLA of Hamirpur is Shivcharan Prajapati from the (BSP), who according to the villagers, has never visited them since getting elected.
However, this time, his son Manoj Kumar Prajapati is in fray, along with BJP's Ashok Chandel, an ex-BSP leader known as 'muscle-man,' and Sanjay Dixit from Congress.
"Rahul Gandhi came and assured us, but nothing happened. Our MLA never visited us in the last five years. Now his son who's contesting told us to forget what couldn't be done and vote for him, assuring of solving the crisis. But, we know who-so-ever wins, he won't do anything. We've been demanding to lay a pipeline connected to Shyam river and draw water from there, with a reservoir inside the village. Our chief minister Akhilesh Yadav has introduced several welfare measures, but our representatives in the government from this region are blind towards our water crisis," said Ghulam Farid, a local farmer.
Besides political apathy, local administration too has chosen to remain silent over the crisis. In a bid to combat the drought, the state government had ordered the construction of 2,000 ponds in the region. But, at the ground level, one can see that the so-called ponds are nothing but big pits dug on agriculture fields with no water.
"The ponds have been dug for the sake of it... they are of no use because there's no catchment area, only mere pits. Rainwater can hardly flow into it, so now they are dry and parched. We're unable to provide water for our cattle," remarked Haneef Khan, a 60-year-old farmer.
The villagers face another sociological problem due to the water crisis. Getting a bride has become difficult for eligible bachelors of the village.
"No father would like to get his daughter married in this village, knowing that the girl will have to fetch water by covering six km to and fro every day, especially under scorching heat in the summers," remarked Badruddin, an old village herdsman.
However, another sociological evil exists at Gusiyari in the form of untouchability, which reminds us of eminent Hindi literatteur Munshi Premchand's story 'Thakur ka Kuan' (Thakur's well).
About three-fourth of the families of Basora or Valmiki community (sanitation workers) live on the outskirts of this village. Though the villagers claim communal harmony and non-discrimination, the people from this community are not allowed to climb the pedestal of the well and fetch water by using a rope and bucket inside the well.
"We stand below and others pour water into our containers. We are not allowed to climb the pedestal and fetch water directly. This is an age old tradition and there is no politics in this. The problem here is of water scarcity and not tradition," a member of the Basora community added.
Right now, the only options before the Gusiyari villagers is to pray to the heavens that the well doesn't dry up in the forthcoming summer, or to rely on the new government to be formed in Uttar Pradesh.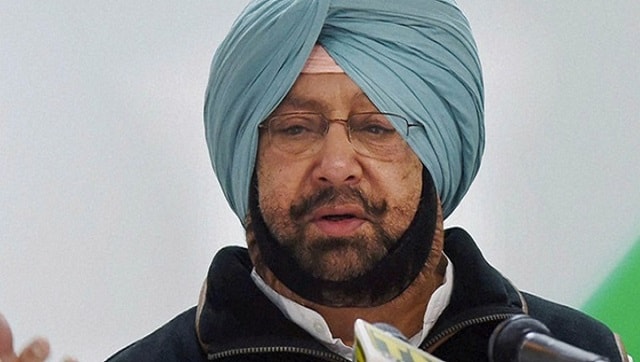 Politics
The names of former Punjab Congress chief Sunil Jakhar, current state unit president Navjot Singh Sidhu, Tript Rajinder Singh Bajwa and Sukhjinder Singh Randhawa are doing the rounds.
India
Fernandes, a former Union minister and Rajya Sabha member, died at a private hospital in Mangaluru on Monday. He was 80, family sources said.
Politics
Addressing the foundation day of the All India Mahila Congress, Gandhi said that the ideology of the Congress was completely opposite of the BJP-RSS and only one of the two ideologies can rule the country.