Triple talaq row: UP minister Mohsin Raza lashes out at AIMPLB, dubs it Maulvi Personal Board
Uttar Pradesh Minister of State for Minority Affairs Mohsin Raza on Tuesday lashed out on All India Muslim Personal Law Board (AIMPLB).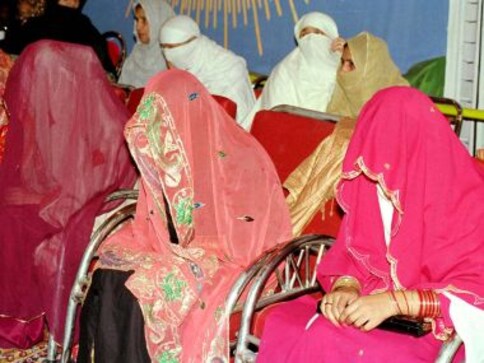 Uttar Pradesh Minister of State for Minority Affairs Mohsin Raza on Tuesday lashed out at All India Muslim Personal Law Board (AIMPLB). The minister also dubbed AIMPLB as All India Maulvi Personal Law Board and said that organisations which do not work for the public good should be banned as they are against the Constitution of India, according to ANI.
Reiterating Prime Minister Narendra Modi and Uttar Pradesh Chief Minister Yogi Adityanath's stance on the issue of triple talaq, Raza said that a law needs to be implemented which ensures that women are granted their rights. He also said that the board is not part of Shariat.
A law should come on this and women should get their rights: Uttar Pradesh Minister Mohsin Raza on #TripleTalaqpic.twitter.com/WntMFZrBiL
Adityanath on Monday said that the politicians maintaining silence on the issue of triple talaq were equally responsible as those practising it. He also linked the Muslim practice of divorce to the disrobing of Draupadi in the Mahabharata. Adityanath also called for an end to the practise of triple talaq and advocated implementation of a common civil code in the country.
His remarks had come a day after Modi made a strong pitch against the divisive issue, insisting that the exploitation of Muslim women should end and justice be done to them. Modi had, however, deprecated any attempt at creating a "conflict" within the Muslim community on the issue and suggested tackling it through social awareness.
According to The Times of India, Member of AIMPLB Maulana Khalid Rashid Firangi Mahali, reacting to Raza's comments, said that the political leaders are making political issue out of the triple talaq, while adding that Muslim Personal Law Board is a registered organisation.
"From the very first day nothing Islamic or nothing religious is being said or done as far as the issue of triple talaq is concerned. It has been completely made a political issue. Anyone can see that from the time of the election campaigning for the UP election till now. We think it will continue till 2019. Muslim Personal Law Board is a registered organization under the Society Act," Mahali told The Times of India.
The All India Muslim Personal Law Board (AIMPLB) has asserted Muslims have a "constitutional" right to follow their personal law of which triple talaq was a part.
AIMPLB general secretary Maulana Wali Rehmani had on Sunday said that the board had decided to issue a code of conduct and warned that those who give talaq without following the 'Sharia' (Islamic law) will face social boycott.
A five-judge constitution bench of the apex court will start hearing from 11 May the petitions against triple talaq, Daily News and Analysis reported. The court will hear pleas filed by several Muslim women challenging the practice under which men can divorce their wives instantly by uttering the word talaq thrice.
With inputs from agencies
India
The principal, Ram Singh Verma, was shot twice. The incident took place at Adarsh Ramswaroop Inter College in Sadarpur police station area of Biswan tehsil, according to the police
India
The bus was heading from Dhaurehra to Lucknow when the accident occurred in the Police Station range of Isanagar near Era bridge
India
Yogi Adityanath attended a programme on Thursday in which Acharya Dharmendra's son Somendra took over the reins of the peeth in the presence of saints.