Travels of a political pilgrim: Separatism and integration in the time of Uttar Pradesh elections
With Uttar Pradesh in the thick of a tumultuous election it is necessary to decode the mind of its Muslim community - its anxieties, aspirations & impulses.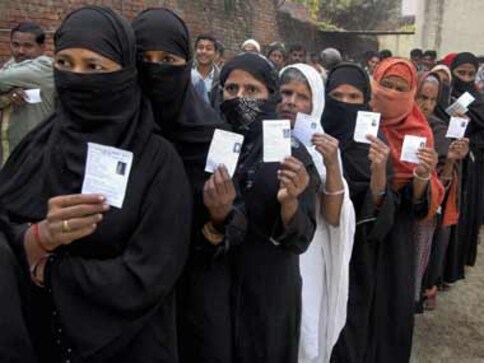 Editor's note: Uttar Pradesh is home to India's sixth largest Muslim population according to the 2011 Census, a figure whose magnitude is amplified when viewed in the context of the sheer expanse of the state and its Byzantine linkages of identities and communities. Such an examination is rendered all the more urgent considering Uttar Pradesh is now in the thick of a tumultuous election. To understand the mind of its Muslim community — its anxieties, aspirations and animating impulses - political commentator and journalist Tufail Ahmed set off on the road, sending us dispatches from its far corners. Firstpost will chronicle his travels in a multi-part series. The following is the first part of this series titled 'Travels of a political pilgrim'.
"Ignore your party, your religion, sect, language, occupation and region, and play your role in defeating the BJP by voting a candidate who has the ability and power to defeat the BJP," says an article published on 28 January in the Lucknow edition of the Urdu daily Roznama Avadhnama. Rasheed Ansari, the article's author, notes that all politics parties field a Muslim candidate in Muslim-dominated constituencies, but Muslims must choose a Muslim candidate who has the ability to defeat the BJP's candidate, even if he be a Muslim, or from a BJP ally.
"The requirement of wisdom is also that if a candidate of anti-BJP party is a non-Muslim, but is not an enemy of Muslims and has the ability to win, then you (should vote for him and) should not waste your ballot by voting a candidate or candidates from your own religion," Ansari said.
He adds: "It's possible that a single party may not win the majority and a coalition government may have to be formed. In such situations, it will be a service to the Muslims of Uttar Pradesh to make a candidate of MIM or any other Muslim party… a winner. Because, in adequate numbers, the candidates of Muslim parties can be king, and political power is necessary to remove backwardness (of Muslims)." The AIMIM, or the All India Majlis-e-Ittehadul Muslimeen, belongs to Asaduddin Owaisi.
Ideally, Muslims of Uttar Pradesh and elsewhere should be voting for all political parties. But Ansari's article seeks to mobilise Muslims for the reason that they are Muslims. Such mobilisation creates religion-based intellectual separatism. In the 1857 war, Muslims and Hindus had fought together against the British rule, but thereafter, Muslims went their separate ways, notably during the freedom struggle. So, while the separatist thinking remains a factor among Muslim intellectuals and writers, there is also a contrary strand: Integration, which requires Muslims to live in co-existence with Hindus.
During a recent informal conversation, Arif Mohammad Khan, the reformist Islamic thinker and former Union minister, said that "peer pressure" has emerged as an agent of social change among Muslims, as they are forced to send their daughters to school, something not possible a few decades ago.
The primary reason for this change is a latent and positive competition with Hindu girls, who are going to school in large numbers in Uttar Pradesh and elsewhere, especially in rural regions. However, this Muslim response to change among Hindus is slow, delayed by a few decades. It indicates that external factors can introduce change among Muslims. Elsewhere, I have argued that the cause of Islamic reformation and empowerment can be situated in non-Islamic subjects like democracy, education and sports, a key lesson conveyed by Aamir Khan's movie Dangal.
Since "peer pressure" can be a powerful agent of social change among Muslims, it is not surprising that a large number of madrassas (Islamic seminaries) now unfurl the national flag on Republic Day and Independence Day. India has come a long way since the chief judge of district courts used to be a Qazi (Islamic jurist), assisted by a Hindu Pandit.
The unfurling of the Indian flag at madrassas comes about despite the fact that the concept of "nation" among Muslims is essentially global in character – identified by words like "millat" and "Ummah", both of which mean the global Muslim nation. According to a Roznama Avadhnama report, madrassas and predominantly Muslim schools in Lucknow celebrated this year's Republic Day with full enthusiasm.
Such institutions included Darul Uloom Nadwatul Ulama, Darul Uloom Nizamia, Shoa-e-Fatima Girls College, Madrassa Aina-e-Islam, Jamia Nazmia, Nazmia Arabic College, Maaz Ibn-e-Jabal Public School, Madrassa Syed Ahmed Shaheed, Muhammadia Model School, among others. Of these, Syed Ahmed Shaheed is one name that figures frequently in the Pakistani Taliban's literature, because he had led the first jihad in India against Sikh rule in Punjab, in early 19th century.
Conveniently, the British colonial rulers had shut their eyes to the jihadi activities of Shaheed (1786–1831), who came originally from Rae Bareilly, a town in eastern Uttar Pradesh. Shaheed had declared himself Emir-ul-Momineen (the leader of the believers), a title Nawaz Sharif of Pakistan wanted to use under a proposed legislation which was shelved.
At the Republic Day celebrations, Islamic clerics recalled the contributions of Islamic religious scholars who fought against the British rule in India.
Islamic scholars had issued a fatwa for jihad (holy war) and fought in large numbers against the British in the 1857 war. Although liberals argue, correctly, that a fatwa is merely an advisory opinion which Muslims need not follow. A fatwa in reality, however, is more powerful than a court order in the lives of common Muslims, much like a father's word is more powerful in deciding a groom for his daughter, who must obey him.
At such a Republic Day event, Maulana Saeedur Rahman Al-Azmi Nadwi, principal at the Darul Uloom Nadwatul Ulama seminary of Lucknow, said that India's independence is indebted to the contributions of "thousands of Ulama (Islamic scholars) and elders of the community" but "an unpious conspiracy is being hatched to erase their names from history."
Speaking at the Maulana Azad Memorial Academy, its secretary general, Abdul Quddus Hashmi, stressed on the need for education among Muslims. He added: "In the Indian constitution, followers of every religion are given the complete authority to build and run educational institutions and places of worship" but "unfortunately, instead of justice in this democratic country, discrimination and prejudice rule due to which minorities here, especially Muslims, are facing lots of difficulties."
Many of these madrassas invited non-Muslims from different walks of life to be chief guests on the occasion. Although their message was essentially one of communal harmony, the speeches delivered at these events were laced with grievance-mongering. The Roznama Avadhnama report indicates that words like "mujahid", "mujahidon" and "mujahideen" (i.e. jihadi and jihadist) were used frequently in several speeches for the Ulama who had fought against the British.
While some will argue that a mujahid is one whose jihad is against the negativities of his own self, what is striking is that at these largely peaceful Republic Day functions, the term "mujahid" is used essentially in the context of war, which most Muslim children subconsciously come to grasp of jihad. For now, the Indian Muslim resides at the cross-section of integration and separatism.
Part Two: Secularism versus communalism at election time
Part Three: Is rise of religiosity on AMU campus a precursor to another 'Partition'?
Part Four: Should taxpayers be funding AMU's imams, muezzins, theology department?
Part Five: How bridging religious, worldly knowledge gap can reform Muslim education
Part Six: Be it Kairana, Muzaffarnagar or Aligarh, India is headed towards multiple 'Partitions'
Part Seven: Tracing the rise of Barelvi Islam in Indian politics
Part Eight: Farangi Mahal, once a bastion of Islamic education, looks to regain lost glory
Part Nine: Understanding the Shia-Sunni Muslim divide in the country
Part Ten: Government must address 'minority' syndrome which causes social conflict
Part Eleven: Mubarakpur sits at the junction of Islamic doctrinal sects divided by Taqleed
Part Twelve: Madrassas play key role in inducing orthodoxy among Azamgarh's Muslims
The author, a former BBC journalist, is a contributing editor at Firstpost and executive director of the Open Source Institute, New Delhi. He tweets @tufailelif
also read
India
The demand for a Scheduled Tribe status by the dominant Meitei community led to clashes with the tribal Kukis. Violence has gripped the state since 3 May with no end in sight. Now Home Minister Amit Shah is visiting the state and there's hope that he could bring the two warring sides together
Opinion
Besides James Fraser, many foreign travellers have mentioned about the Bhyram temple in their writings. Even the famous British photographer Samuel Bourne took a photograph near the confluence and made a striking note about the temple in his 1870 published article
India
The Centre promulgated an ordinance last week to create a National Capital Civil Service Authority for the transfer of and disciplinary proceedings against Group-A officers from the DANICS cadre.