Three years of Narendra Modi govt: Role of BJP, rise of Amit Shah and the battles ahead
Undoubtedly, Narendra Modi is the presiding deity in this BJP and Amit Shah is the proverbial Hanuman to Lord Ram.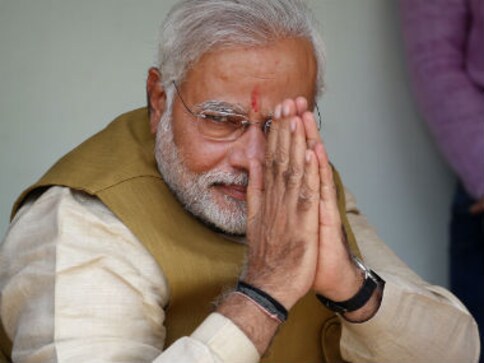 Anniversaries are occasions for assessing the good, bad and ugly. When it comes to leaders who evoke extreme responses, appraisals resemble lavish eulogies or end up as outright condemnation. Assessments of Prime Minister Narendra Modi's performance in the past three years have contrasted from #TeenSaalBemisaal to #TeenSaalGolmaal. It would be prudent to step aside and instead of merely focussing on government functioning, also evaluate the performance of another element vital for his current political invincibility — the party.
In the wake of the Bharatiya Janata Party's electoral sweep of Uttar Pradesh and Uttarakhand, a smart headline writer termed it as Bharatiya Juggernaut Party. If he was in the party where creating alliterations is a favoured mental exercise, the wordsmith would have received a fair share of kudos. After all, the switched word means something that is "a massive inexorable force that seems to crush everything in its way". In the context in which it was made, the alteration couldn't have been apter.
If in the past three years, we have witnessed the emergence of a new BJP, a party that shed its tradition of closed-door meetings appearing like a goshthi or conventions that resemble a jamboree, then India has also seen the emergence of Amit Shah as president, who combines ruthlessness, unprecedented administrative acumen and political cunning. He is a man more awed than admired. He too spawned several notable headlines, 'The Shah of Permanent War' being just one.
Elections for him and the party are actually, nothing less than war. If he enters into a combat, the objective is always resounding victory. In the run-up to Uttar Pradesh polls, he reportedly told party colleagues unsure of the terrain and its outcome, "Chunav spashtata se lada jata hai, chunav ka lakshya jeet hota hai." (Elections are fought with clarity of mind with the single objective of victory)".
It is ironical that the man without who no discussion on the BJP begins or ends was not a certain to be elevated as president when the results were declared in May 2014. He was even weighed as a potential junior minister in the Prime Minister's Office. Initially, speculation revolved over Rajnath Singh's ambition to continue as party chief and stay out of government.
That arrangement, however, was unsuitable for Modi because it would have resulted in the dual power centre. Modi wouldn't have allowed the party and government to be at cross purposes. Eventually, Modi inducted Singh into his cabinet and appointed Shah as party president. The reasons behind this can be understood by juxtaposing Shah's fundamental trait with that of the other contender — JP Nadda.
Though a Modi loyalist for long, Nadda remains a genial person and quintessential satrap. Modi needed a merciless workhorse, completely focussed on the task in hand and someone not averse to blunt-speak regardless of who was before him.
When Shah assumed the reins of Uttar Pradesh for the 2014 parliamentary poll, the party was in shambles. Local leaders squabbled among each other and its fabled organisational network had withered away. Affiliates of the Sangh Parivar were not motivated as party leaders did little to encourage a sense of participation in them. The party continued contesting elections on old strategies, unable to harness technological capacities that had been done in Gujarat. Consequently, Shah made several changes and results were phenomenal.
When he became party president, the national picture was no different and Shah initiated similar alterations. Besides modernising the structure of the party, introducing new ideas like technology-based mass membership drive, and irrigating the organisation at the lowest rungs, Shah brought in corporate-style system of vertical heads heading programmes in contrast to the horizontal nature of the party under presidents prior to him. Tasks were allocated and targets set.
In the aftermath of the loss in Bihar, four senior leaders — LK Advani, Murli Manohar Joshi, Arun Shourie and Shanta Kumar accused Shah of centralising the party's decision-making process. To an extent this was true, but it has to be contextualised in the backdrop of the existence of contrasting theories of leadership and principles of functioning within the Sangh Parivar.
The RSS was established by KB Hedgewar on the principle of Ek Chalak Anuvartitva (follow one leader) and the same principle was practised by MS Golwalkar. But Balasaheb Deoras introduced the notion of Sah Chalak Anuvartitva (follow many leaders) and Sarva Samaveshak or inclusive leadership. Evidently, the Modi-Shah duo is more attuned to the Hedgewar-Golwalkar theory of intra-organisational functioning. This marks a decisive shift from the collegiate style of functioning BJP after it was remoulded from the Janata Party's debris.
Undoubtedly, Modi is the presiding deity in this BJP and Shah is the proverbial Hanuman to Lord Ram. The government has its priorities sorted out and the party is expected to trumpet these periodically. Whenever party leaders appear to be falling short, Shah spurs them on. Recall when he asked MPs and other leaders to campaign in their constituencies on positives of demonetisation.
Centralisation of the decision-making process, firmness while tackling aspirations within the party (remember Yogi Adityanath's limited role in ticket distribution) and no-nonsense work style has proved infectious down the ranks. The biggest achievement of the Modi-Shah duo is to develop a sense of participation in the wider Parivar and ensure that each key person at the lowest level develops a stake in ensuring BJP's uninterrupted run.
Currently, the BJP on its own or with allies controls 17 states and this adds up to nearly two-third of the Indian population. For a party in disarray till late 2012, this is no mean achievement. Inner-party democracy may be a casualty but that is the price most are willing to pay. Ideological dominance and share of the political pie cannot but come at a cost and if this means maintaining strategic silence, so be it. Shah has to just ensure that cronyism is kept out of the party, spoils are fairly distributed and hard work is rewarded.
Before the next parliamentary polls, assembly elections are due in ten states of which Gujarat, Himachal Pradesh, Madhya Pradesh, Rajasthan, and Chhattisgarh will witness a direct contest with the Congress. While in Karnataka, the party is most likely faced with a triangular battlefield, of the four northeastern states of Meghalaya, Mizoram and Tripura, the BJP is making a concerted bid for power at least in Arunachal Pradesh and Tripura, a Left bastion for long. There will be thus little reason to change tack.
Issues remain for the party in states where regional parties are strong, especially because aggressive attempts of Shah to emerge as a dominant party may cause unease among regional allies. The task will not be uniformly easy as recent results of local polls in West Bengal established.
Whenever Modi is mentioned, conversation invariably shifts to his reasonable chances of re-election in 2019 ensuring continuance in office till 2024. What gets ignored is that Shah's first of the two full presidential tenures he is entitled to ends only in January 2019, months before the next Lok Sabha is due.
There are little chances of a change of guard close to polls and if the verdict is positive, there is a likelihood for Shah to remain at the helm till 2022 or later. By then, the BJP would have acquired a firmer grip on Indian politics.
Shah has a clear agenda - work for a new phase of single-party dominance in the country. He aims to preside over the party when it will truly be "another Congress", but of yore when electoral sweeps by the Jawaharlal Nehru was the routine.
Opinion
Rahul Gandhi, an improbable prime minister-in-waiting, will be 52 on the 19 June 2022. It has been eight years since the Congress lost power, reduced to a little over 40 seats in Parliament. He is even challenged to lead the Opposition
India
The Cabinet meeting chaired by PM Modi was attended by Amit Shah, Rajnath Singh, S Jaishankar, Nitin Gadkari, Nirmala Sitharaman, Kiren Rijiju, Anurag Thakur, and Smriti Irani among others
Politics
Arvind Kejriwal understands that forming an alliance with the Opposition will stymie the spread of his governance philosophy