VK Sasikala bundled 130 AIADMK MLAs into 3 buses, deposited them safely 120 km away from Chennai at a resort in Marakkanam and then took a favorite few to New Delhi; she needs the support of 117 MLAs to prove her majority during a floor test in the Assembly and just counting the white veshtis on board, she has more than enough. Where will O Panneerselvam get these numbers from? Unless 14 Sasikala stooges ditch her or OPS has a silent majority that will rise up for him, the math is not adding up for the latest rebel from Periyakulam. OPS has support in single digits - 4 or 5 at the max and yet insists that he will win the floor test.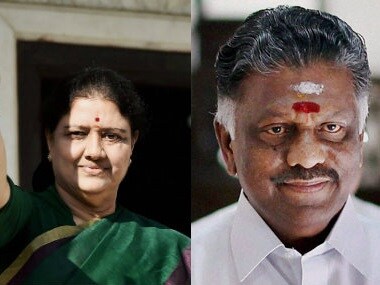 On Tuesday night, when OPS broke his silence and accused Sasikala of pressurising him to resign, he could have stopped right there and walked away - he would have won all the applause and have nothing to lose. Instead he ventured into a street fight - he claimed he has the numbers, he said he'll face off against Sasikala and win. There's no dialling back now. He has public sympathy, his outburst against the Mannargudi mafia has provoked an outpouring of anti-Sasikala rants from across society but how many MLAs can possibly cross over when 130 are already locked up by Sasikala in all expenses paid luxe resorts?
Renowned music director Gangai Amaran says OPS' revolt gave him the strength to speak out against Sasikala's goondas. "How they grab real estate is something I know very well. I am a victim and they just force your and blackmail you into giving it away to them. It's a curse to have her as Chief Minister," he said. In 1994, Amaran says he was forced to sell his 22-acre farmhouse at Payyanur on Old Mahabalipuram Road to Sasikala.
Yet, despite the popular uprising against her, Sasikala has the numbers, that's where her confidence comes from - "We will win. He (OPS) is a traitor, somebody has asked him to speak like this,' she said of OPS before whisking her MLAs away.
Governor Vidyasagar Rao will be reaching Chennai Thursday afternoon. Both parties are bracing for a floor test but Rao can choose when that should be. If the Governor waits it out and the Supreme Court verdict finds Sasikala guilty in the disproportionate assets case, it's end of the road for Sasikala.
Jayalalithaa's thumping win in the 2016 Assembly elections gives an AIADMK government four more years to regroup for the next election. It's not even a year since Jaya's parting gift to the party and barely two months since she died, the AIADMK is today everything it never was under MGR or Jaya.
If you seek to look for a pattern in Tamil Nadu in the last few weeks, the Jallikattu protests have set the stage for the commoner as hero. OPS, for all practical purposes is no different. Down to earth, rarely appearing eager, he has remained a foot soldier for years. In slamming Sasikala fresh after resigning from the CM's post, he is echoing the common man's voice in Tamil Nadu. Nothing that OPS said about Sasikala is new; that OPS finally spoke up is.
Battle hardened MLAs in the OPS camp are now raising their voices against Sasikala's legitimacy for public office even if she arm twisted her way to becoming AIADMK chief. Who are the people who define a political party? Those battle hardened by even a lone victory in an election or those who own large tracts of real estate, control cable networks and then threaten both the powerful and the weak because of proximity to Jayalalithaa for many years. That question is finally being asked. The chaos after Jayalalithaa's death has certainly had one happy fallout - democracy has come back to the streets - everywhere except for the eerily silent road leading up to Veda Nilayam, Jayalalithaa's residence now occupied by Sasikala and her many sycophants.
Rewind to this one visual after Jayalalithaa's death. A line of Tamil Nadu's top police officers prostrating flat out in front of VK Sasikala who continues to live in Jayalalithaa's house. That's what worries OPS supporters and common folk in Tamil Nadu. "Sasikala has a strong hold on the police and she can do terrible things if she wants to..." they say.
Follow all the live updates here
Firstpost is now on WhatsApp. For the latest analysis, commentary and news updates, sign up for our WhatsApp services. Just go to Firstpost.com/Whatsapp and hit the Subscribe button.
Updated Date: Feb 09, 2017 11:36:26 IST