Sarbananda Sonowal govt completes a year: Dhoti-kurta dress code to two-child norm, 10 decisions that rocked Assam
Firstpost takes a look at 10 major decisions that rocked the state of Assam during the first year of the Sarbananda Sonowal government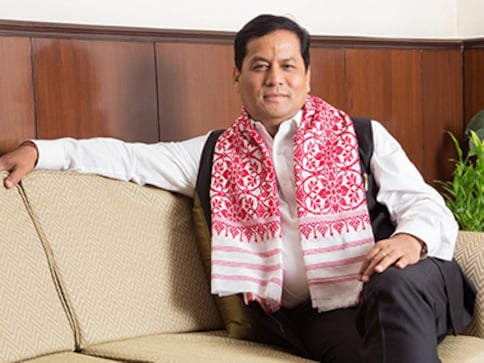 Chief Minister Sarbananda Sonowal-led BJP government in Assam has been constantly in the buzz for few of its interesting decisions. Some created controversy while the remaining were welcomed by people. Formed after a historic victory in the Assembly election held last year, the BJP government in Assam completed its first year in office on 24 May. Firstpost takes a look at some of the major decisions that the Sonowal government took in its first year, and which created a buzz in the media.
I. Major crackdown on corruption
During the last one year, Sarbananda Sonowal has created an image for himself as a leader with the resolve of steel to eradicate corruption. During this period, his government led a series of crackdowns against corruption, which shot to headlines. The two major initiatives were the arrest of Assam Public Service Commission chairman Rakesh Pal for taking money on the job, and the arrest of Kuzendra Doley, secretary to the Irrigation Department of Assam, in allegations of asking for bribes from contractors. The stringent moves against corruption seem to have an effect in the state as Assam figured in the list of states which have registered a declining trend in corruption in a study conducted by Centre for Media Studies. As per this study, only 18 households in a sample of 150 experienced corruption in the year 2017 against 49 in 2005.
II. Eviction drive in Kaziranga and Vaishanvite satras
Going by its poll promise the BJP government in Assam evicted more than 200 families settled in Kaziranga National Park and Vaishnavite satras. Despite the fact that two persons were killed in police firing in the face of protests amidst eviction was seen as a bold move as the earlier government sat on a high court order to evict encroachers on Kaziranga for several months. The Kaziranga National Park and Vaishnavite satras in Assam are seen as one of the manifestations of Assamese pride and encroachment in these areas had been an election issue for more than a decade.
III. Free higher education
The Sarbananda Sonowal government boasts of being the first to introduce free higher education. Last year, the education department of Assam made education free for students in higher secondary, three years degree and diploma courses. Any student, whose family income is less than Rs 1 lakh a year can avail this benefit if he or she plants a sapling at his home, neighbourhood, roadside or college premises. This move silenced the movements led by students' organisations including the Left wing ones, demanding a cut in college fees.
IV. Protection of land rights to indigenous people
The Sarbananda Sonowal-led BJP government in Assam has set on to protect the land rights of the indigenous people of Assam. A committee headed by Harishankar Brahma, former chief election commissioner of India has been formed to come up with suggestions in this regard, as land rights is one of the most contentious issues in the state and also the cause of many social unrests. While speaking to Firstpost, Harishankar Brahma said that the committee has already surveyed 16 districts among 33, and is likely to come up with its report by June. Earlier, he told the media that 90 percent of Assam's indigenous population do not have land documents.
V. Two-child norm for population control
To check the unabated population growth in Assam, the Sonowal government has proposed a new population policy with a two-child norm. As per these norms, parents having more than two children will not be ineligible for government jobs or contest in panchayat and civic body polls. The policy will be tabled in the Assam assembly in August 2017. However, the population policy exempts families having more than two children because of twin and triplet births.The draft population policy for Assam has faced severe criticism from feminist groups and public policy experts for being "anti-women". They fear that implementation of this policy may result in skewed sex ratio and more physical and emotional violence against women to produce a male child. State education minister Himanta Biswa Sarma also recently announced that the Assam government would request the centre to disqualify Members of Parliament and Members of Legislative Assembly having more than two children. The government has also renamed the draft policy as "Population and Women Empowerment Policy of Assam" and released it to the public for suggestions.
VI. Free education for girls
Soon after the new population policy faced severe criticism from feminist groups and public policy experts, the Government of Assam came up with few changes in it. One of those changes were providing free education for girls up to university level. While declaring this policy, Sarma said, "We want to make all facilities — fees, transportation, books and mess dues in hostels free. These steps will also encourage girls to complete their education." The proposed policy also increases the legal age of marriage for both boys and girls, as well as 50 percent reservation for women in government jobs and elections. Interestingly, the policy aims at providing skill development training and pension to Muslim women who are victims of triple talaq.
"The skill development training will be imparted to all women divorcees so that they acquire gainful employment. But for Muslim women divorcees, we have proposed special support by providing pension during the training period. This is because unlike other women divorcees, their Muslim counterparts do not get any alimony or support from the former husband," Himanta Biswa Sarma said.
VII.  Holiday on Sundays in madrasas
The Assam government's decision to keep all schools open on Fridays was one of the major decisions that created controversy among people as it was seen as an infringement on the rights of the madrasas to remain open on Fridays. Islamic leaders in Assam decided to defy the order. Ramesh Chandra Jain, secretary to the Department of Education of Assam said to Firstpost, "We have ordered the madrasa teachers that it will be difficult for them if they do not follow the order. So, they have to fall in line."
VIII. Making Sanskrit mandatory in schools
Assam government's decision to make Sanskrit mandatory in schools till Class VIII drew flak in the media as the indigenous literary bodies saw the move as a conspiracy to wipe out local languages. The tribal bodies also threatened to launch a statewide agitation if the state government does not roll back its decision. But a week after the decision to make Sanskrit compulsory in schools, Sarma, the education minister of the state said that the state did not have enough number of teachers to make Sanskrit compulsory and hence the decision could not be implemented immediately.
IX. Dress code in government offices
The government of Assam has made a move to introduce a dress code for government staffs on a voluntary basis. Pawan Kumar Borthakur, the Principal Secretary to the Personnel Department wrote a letter to his counterpart in General Administrations Department about this move, saying that the government desired that employees come to their offices dressed in traditional attires — dhoti-kurta for men and mekhela chador for women — on first and third Saturdays of every month, but on voluntary basis. Apart from amusing the legacy media, the decision evoked memes in social media among users in Assam.
X. Care for old parents
The BJP government's decision to link geriatric care with government employee's pay was one of the major decisions in the last budget that was in the headlines. Sarma, who also handles the finance minister portfolio in the state, announced that every government employee must take care of his or her parents. If they don't, the government will deduct a part of the employee's salary and give it to the neglected parents for their sustenance. During the budget session for the year 2017-18, he also said in the Assembly, "Care for elderly parents is the responsibility of every ward. If a government employee son cannot do it for his parents, it becomes the duty of the government to do so from his salary," he said.
Find latest and upcoming tech gadgets online on Tech2 Gadgets. Get technology news, gadgets reviews & ratings. Popular gadgets including laptop, tablet and mobile specifications, features, prices, comparison.
World
Charged with bribery and influence peddling, Sarkozy risks a prison sentence of up to 10 years and a fine of one million euros ($1.2 million)
Health
Vegans and vegetarians need to focus on maintaining a healthy BMI and including proper calcium and protein supplements in their diets to prevent fracture risks
World
Wedged between the once oppressive Taliban regime of the 1990s and the growth of the internet and social media in the 21st Century, Afghanistan's government has long walked a thin line