Rajinikanth, Kamal Haasan's plunge into politics: Tamil superstars may be good friends, but their political ideology is poles apart
The concomitant entries of Rajinikanth, Kamal have added spice to political punditry. Obvious comparisons on their style, form and content are unavoidable.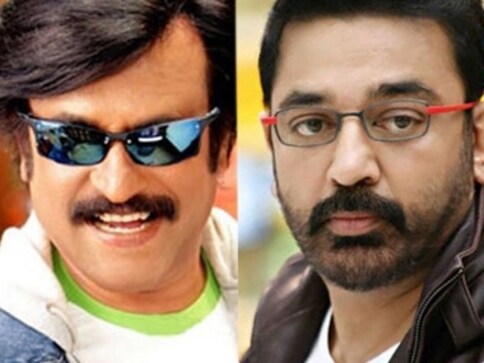 Close on the heels of Rajinikanth's formal announcement of his entry into politics, Kamal Haasan has decided to move a step ahead of his friend and go to straight into the action, with the launch of his political party. While Rajini seems to be waiting for the next Assembly elections to politically bloom, Kamal has been more forthright with his plunge into the political cauldron.
The concomitant entry of two leading stars of Tamil cinema has added spice to political punditry. Obvious comparisons on the style, form and content of these two new brands in politics, thus, cannot be avoided:
- Rajinikanth has a much wider fan base. In fact, his fan clubs operate across the state of Tamil Nadu, providing him with a much more formidable grassroots infrastructure. Kamal, on the other hand, cannot in anyway equal the charisma and the fan support which Rajini enjoys, though his own popularity cannot be underestimated.
- Contrary to the Dravidian school of politics, Rajinikanth invokes religious appeals as he embraces spiritual politics. Whereas Kamal seems to be forged in the fiery furnace of Dravidian social and cultural ethos.
- Rajinikanth's self-proclaimed 'spiritual politics' is unclear. No political dictionary has ever defined what exactly is the meaning of spiritual politics though myriad interpretations can be given even as its proponent remains pretty silent. Rajini has clearly demarcated himself from the Dravidian school of politics.
It is a psephologists' nightmare to speculate on whether the people of Tamil Nadu will relish or reject such a remarkable departure from Dravidian politics, which has been dominating state political discourse for over decades.
On the contrary, Kamal Haasan is an atheist and rejects any politico-religious overtones. He espouses the Dravidian cause. He was almost the spokesperson of Tamil assertion in the form of Jallikattu movement.
- One inescapable interpretation of spiritual politics could be Rajini's proximity with the BJP. The repeated claims of Tamil Nadu state BJP leadership have added credence to such a possible bonhomie between Rajini's political outfit and the saffron brigade. On the contrary, Kamal chooses to be completely at the other end of the political spectrum. He has already made it clear that his colour is certainly not saffron and publicly announced his reverence for Left leaders. If this comparison holds true, Rajini and Kamal will certainly be on the diametrically opposite sides of the political class.
- Rajinikanth is unlikely to settle for anything less than the chief minister's seat. His stature and style cannot allow him to negotiate anything less than the status of a superstar in politics as well. Thus, Rajini is impatient and not prepared for the long innings. But, Kamal seems to be more inclined to fight a five-day Test match, even as his friend wants to play a limited overs one.
Rajini's political postulations are not only ambiguous but centred around putting him in the seat of power. But, Kamal is preparing to set the agenda for Tamil politics and society.
- Rajinikanth was always shying away from politics and controversies. Barring an occasion wherein he indirectly extended support to DMK, Rajini was always equivocal. But, Kamal is certainly more decisive and planned. While Rajini kept a distance from social, political controversies, Kamal is known for his active indulgence with the issues that rock the state and society.
- Despite his unparalleled charisma, the fact remains that Rajinikanth is an outsider. This may not matter so much in a state which adored MG Ramachandran and Jayalalithaa. But, the Tamil outfits have already created a storm over his non-Tamil identity. These irritants would only irritate him further as he enters politics. Whereas Kamal is a Tamil native.
- Kamal is an intellectual and known for his vast understanding of issues. He is a powerful orator in Tamil. Rajinikanth has not displayed any such capabilities. But, his style and popularity have no match, not just in Tamil Nadu but elsewhere as well.
- Given his massive fan base, Rajinikanth can afford to go on his own though there is speculation that he may have a post-poll tie-up with BJP. But, Kamal, perhaps, has to join forces with like-minded parties to make an impact on the ground, given the experience of Vijayakanth who could poll eight to nine percent of votes and has gradually fizzled out.
India
Congress President Sonia Gandhi,COVID-19 positive,Tamil Nadu Chief Minister M K Stalin,Jairam Ramesh
India
MK Stalin said the free bus travel for women has found a place in the hearts of people
India
The US Navy had awarded a contract to the L&T Shipyard for undertaking maintenance of the ship. The event signifies the capabilities of the country's shipyards in the global ship repairing market