Presidential Election 2017: Post polls, Narendra Modi government eyes Cabinet reshuffle
The Narendra Modi government is likely planning a cabinet reshuffle after the presidential election on 25 July.
The Narendra Modi government is likely planning a Cabinet reshuffle after the presidential election on 25 July, according to media reports.
According to the Business Standard, the top leaders of the Bharatiya Janata Party (BJP) thinks the reshuffle and expansion are necessary to prepare the Cabinet for the 2019 Lok Sabha polls.
The rejig is also important in the light of vacancies in certain posts like that of the ministry of environment, forests and climate change after the death of Anil Madhav Dave.
The Business Standard report also says the reshuffle will not just fill vacancies but is also expected to promote performing ministers who currently have independent charges of their portfolios and to find a successor to Kalraj Mishra, who turns 76 in July and heads the Ministry of Micro, Small & Medium Enterprises.
In keeping with the tradition of the Narendra Modi government, ministers holding portfolios are usually below the age of 76. However, the reshuffle will probably not see any chief ministers gaining a central portfolio.
The BJP's decision comes a day after the CPI on Sunday said the Delhi meeting of Opposition parties to discuss a joint presidential candidate could well be the beginning of a joint front against the Modi government.
"The time has come to move with a united programme against the Bharatiya Janata Party. We see meeting in Delhi when leaders of these parties discussed a consensus presidential candidate as the beginning," said CPI general secretary S Sudhakar Reddy, on a visit to Kerala capital to participate in party meetings.
Recently, Bihar Chief Minister Nitish Kumar also said, "Opposition is united on the issue of presidential election," after meeting the prime minister.
With inputs from IANS
Find latest and upcoming tech gadgets online on Tech2 Gadgets. Get technology news, gadgets reviews & ratings. Popular gadgets including laptop, tablet and mobile specifications, features, prices, comparison.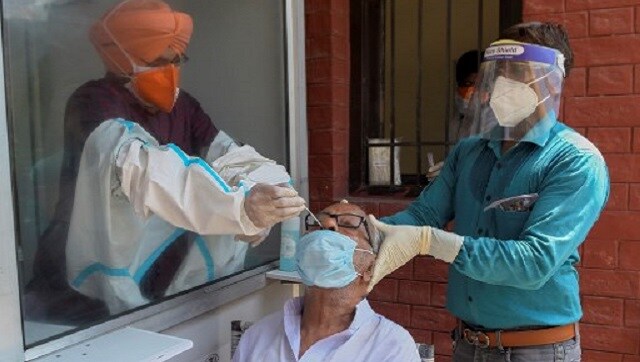 India
The recovery rate among COVID-19 patients also climbed to 85.25 percent as 58,27,704 persons have recuperated from the infection so far, the Union health ministry said.
India
This will be the prime minister's seventh address to the nation since he announced a country-wide lockdown in March to curtail the spread of COVID-19
Entertainment
PM Narendra Modi producer Sandip Ssingh says the controversies at the time of the film's initial release in May 2019 had impacted its box-office performance.