Padmavati controversy: Shivraj Singh Chouhan bans film in Madhya Pradesh; Siddaramaiah and Mamata say attack on freedom of speech
Since Rajput organisation Karni Sena's first protests against the release of Sanjay Leela Bhansali's movie Padmavati in January, several political leaders have voiced their objections to the film and its depiction of historical facts.
Since Rajput organisation Karni Sena's first protests against the release of Sanjay Leela Bhansali's movie Padmavati in January, several political leaders have voiced their objections to the film and its depiction of historical facts. Mainstream political parties have either pandered to the violent fringe or stayed steadfastly silent.
In several states including Maharashtra, Madhya Pradesh, Rajasthan, Uttar Pradesh, Gujarat, Haryana and Jharkhand, right-wing fringe groups have been stepping up the rhetoric — and in some cases violence — without any censure from party leaders or administrators.
On Monday, Madhya Pradesh chief minister Shivraj Singh Chouhan made it clear that the movie will not be released in his state. "If historical facts are distorted, and if anything is shown or said in the movie against the respect of the country's mother Padmavatiji, then that movie cannot be allowed to release in the land of Madhya Pradesh," Chouhan said, eliciting a rousing applause from the audience. "And I am saying this because people of the country and Madhya Pradesh cannot accept disrespect of their pride," the BJP leader added.
"The insult will not be tolerated," Chouhan said.
#WATCH:Madhya Pradesh CM Shivraj Singh Chouhan says the film which has distorted facts against #Padmavati, will not be released in the state pic.twitter.com/NOBXj6WF3P

— ANI (@ANI) November 20, 2017
West Bengal chief minister Mamata Banerjee on Monday charged that the controversy over Padmavati was a "calculated plan" of a political party to destroy freedom of expression. She urged film industry members to come out in support of Bhansali and his film. "The Padmavati controversy is not only unfortunate but also a calculated plan of a political party to destroy the freedom to express ourselves," the chief minister said.
The #Padmavati controversy is not only unfortunate but also a calculated plan of a political party to destroy the freedom to express ourselves. We condemn this super emergency. All in the film industry must come together and protest in one voice — Mamata Banerjee (@MamataOfficial) November 20, 2017
Punjab chief minister Amarinder Singh also voiced his objection to the distortion of historical facts.
In Jammu and Kashmir, senior National Conference (NC) leader and MLA Devender Rana urged Chief Minister Mehbooba Mufti to ban the release of "Padmavati" in the state. In a letter addressed to Mehbooba Mufti, Rana said: "The release of Sanjay Leela Bhansali's 'Padmavati' is likely to hurt the sentiments of a particular community/religion and thus holds the potential to disrupt peace in Jammu region."
Meanwhile, Karnataka chief minister Siddaramaiah on Monday asked his Haryana counterpart Manohar Lal Khattar to take "stringent action" against those threatening actress Deepika Padukone who is being targeted by fringe groups for her lead role in "Padmavati".
Nobody will accept distortion of history and those who are protesting are rightly doing so: Capt Amarinder Singh,Punjab CM #Padmavati pic.twitter.com/rkk7udI5Kf

— ANI (@ANI) November 20, 2017
Coming out in support of the actress, the state government said security would be provided to the actress whenever she is in Bengaluru and her family, who hail from Karnataka, in the wake of threats issued to her by several outfits which allege the period film distorted history and hurt sentiments of their community.
On Sunday, as the row gathered steam, Haryana BJP's chief media coordinator SP Amu on Sunday said he will quit the party if needed and asked Prime Minister Narendra Modi to exercise his powers to strike down film. Amu also mentioned the upcoming Gujarat Assembly elections 2017 and said the people in the state will decide whom to vote based on the Centre's action against the film.
The Shri Rajput Karni Sena on Sunday said that it wanted a ban on Sanjay Leela Bhansali's "Padmavati" and claimed underworld don Dawood Ibrahim's money was invested in the film. "We have heard the movie's release date (1 December) has been postponed. We will be on the streets as soon as a new release date is announced. All we want is a complete ban on the film," Sena's patron-founder Lokendra Singh Kalvi told IANS.
On Sunday, Uttar Pradesh deputy chief minister Keshav Prasad Maurya, had said the film would not be allowed to release in the state unless its "controversial portions were removed".
The controversy had also triggered a battle on social media between Congress leader Shashi Tharoor and Union minister Smriti Irani. Last week, Tharoor had reportedly said the "so-called valourous maharajas" had scurried to accommodate themselves when the British "trampled" over their honour and were now after a filmmaker, claiming that prestige was at stake.
Reacting to Tharoor's remarks, Irani tweeted, "Did all the Maharajas (kings) kneel in front of the British? What will Jyotiraditya Scindia, Diggi Raja (Digvijaya Singh) and Amarinder Singh say on Shashi Tharoor's comments?"
However, amidst all this Congress vice-president Rahul Gandhi, who leaves no opportunity these days to prick Modi, is staying curiously quiet. The Congress has managed to somehow blame the BJP for allowing the film to go through.
"I have not watched the movie as yet, but definitely the Central Board of Film Certification formulated and formed by the Bharatiya Janata Party-led government has seen it and passed it without cuts… But any movie that hurts the sentiments of any community... a film is not made to hurt any community," Congress spokesperson RPN Singh had said.
On 27 January, 2017, activists of a Rajput organisation, Shree Rajput Karni Sena, had claimed the director is "distorting" historical facts in the film, with the organisation's patron and founder Lokendra Singh Kalvi saying, "In no book is it written that Alauddin Khilji fell in love with Padmavati or he was her lover." They protested and misbehaved with the film's crew during a shoot in Jaigarh Fort.
Months later, on 2 November, BJP wrote to the Election Commission seeking a ban on the release of Padmavati till after the Gujarat Assembly elections on 9 and 14 December claiming claimed the movie would hurt the sentiments of Kshatriya and Rajput communities for its "wrong depiction of history". However, the EC refused to stall the release of Bhansali's period drama. Later on 6 November, Brahmin organisation, Sarv Brahmin Mahasabha, opposed the film's release noting they will not tolerate "distortion" of historical facts at any cost.
On 6 November, Rajasthan home minister Gulab Chand Kataria said appropriate action would be taken if anyone tried to disturb law-and-order in the state during the release of Padmavati, which has courted controversy.
A week later, Karni Sena activists vandalised a theatre in Kota, Rajasthan after reports that it was showing a trailer of Padmavati. The protestors pelted stones and broke windowpanes, gates and the ticket counter and also damage some office furniture. Karni Sena leader Lokendra Singh Kalvi later threatened to cut actress Deepika Padukone's nose amid a call for "Bharat Bandh".
Two days later, Thakur Abhishek Som of Sardhana Chaubisi, who claims affiliation to the Samajwadi Party, announced a bounty of Rs 5 crore on the heads of Bhansali and Padukone for "wrongfully portraying" queen Padmini. Union minister Uma Bharti hit out at Bhansali for not taking care of sentiments of the Rajput community while Nitin Gadkari blamed the filmmakers for not respecting cultural sensitivities and distorting history. He sermonised that freedom of speech is not absolute and pointed out that people have the right to get offended.
Mahipal Singh Makrana of Shri Rajput Karni Sena said the outfit would not hesitate in chopping off Padukone's nose just like Shurpanakha.
The same day, the Uttar Pradesh government apprised the Centre that the release of the Bollywood film on 1 December will pose a law and order problem for the state, PTI reported.
In a letter written to the Ministry of Information and Broadcasting, UP Principal Secretary (Home), Arvind Kumar said the Censor board should be apprised about the public resentment over the alleged distortion of facts in the movie.
"The Censor Board members should take a decision after taking into account people's views. They should be apprised about it. It has come to the notice through intelligence reports that the film's producers have presented the movie for Censor Board clearance. After the release of the trailer of the movie on 9 October, various social and other organisations opposed the film," the letter said.
The letter further stated that "in view of the civic polls, polling for which is scheduled on 22 November, 26 November and 29 November and the counting on 1 December, and also the 'Barawafat' procession by Muslims on 2 December, the film's release can pose serious security issues".
On 18 November, Rajasthan chief minister Vasundhara Raje has written to Union Information and Broadcasting Minister Smriti Irani, urging her to ensure that Padmavati is not released without necessary changes to the film. Raje also said that the censor board should consider all possible results before certifying the film, a day after the board sent the film back to its makers because the application for the certification was "incomplete".
A delegation from Mewar region, comprising the state's Urban Development Minister Shrichand Kriplani, MLA Chittorgarh Chandrabhan, and others, met Raje at her residence and expressed gratitude for writing the letter to Irani.

With inputs from agencies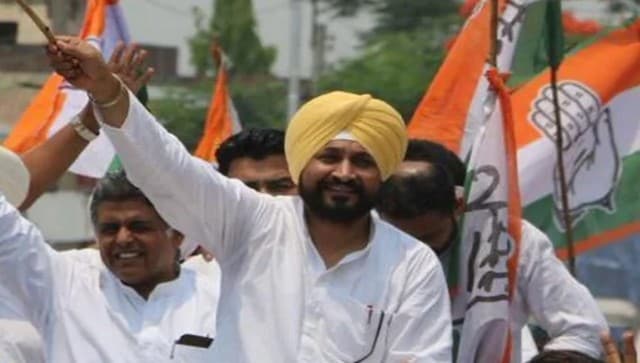 Politics
The development comes after much speculation with the names of Sunil Jakhar, Navjot Singh Sidhu, Tript Rajinder Singh Bajwa and Sukhjinder Singh Randhawa doing the rounds for the top post
Photos
The list also included US president Joe Biden, co-founder of the Taliban Mullah Abdul Ghani Baradar and Duke and Duchess of Sussex Prince Harry and Meghan
World
Sources said the Taliban have no option but to wait till an inclusive government is formed though it seems unlikely in the near future