MCD Election 2017: AAP MLA Ved Prakash joins BJP; party claims Delhi state govt being destabilised
The Aam Aadmi Party accused the BJP of destabilising the Arvind Kejriwal government in the state after its MLA Ved Prakash joined the saffron party
New Delhi: The Aam Aadmi Party accused the BJP of destabilising the Arvind Kejriwal government in the state after its MLA Ved Prakash joined the saffron party.
Senior AAP leader Sanjay Singh said the BJP is "rattled" with its "imminent defeat" in the civic body elections — where polling is scheduled for 23 April — after Kejriwal's decision to do away with residential house tax. Talking to reporters outside the CM's residence, Singh alleged the BJP had resorted to horse-trading before the 2015 Assembly polls as well.
The BJP had then taken AAP MLAs Vinod Kumar Binny, Ashok Chauhan, Rajesh Garg and Maninder Singh Dhir into the party fold.
"The people, however, gave a befitting reply and AAP won 67 out of 70 seats. The MCD election will also see similar results. The BJP does not believe in democracy and its action in Arunachal Pradesh and Uttarkhand to destablise the (Congress) governments is well known. It is now trying to destablise the Arvind Kejriwal government," he said.
AAP's Bawana legislator's decision to quit the party, and the MLA post, came as a surprise to its top brass. The party's Delhi unit convenor Dilip Pandey was to address the media on the residential house tax issue, but cancelled it as the top brass gathered for an emergency meeting at Kejriwal's residence.
AAP MLA Jarnail Singh had earlier resigned to contest the Punjab Assembly poll. Ved Parkash's resignation has brought down AAP's tally to 65 (from 67) in the 70-member Delhi Legislative Assembly. There are also four rebel MLAs — Devinder Sehrawat,
Pankaj Pushkar and former ministers Sandeep Kumar and Asim Ahmed Khan.
Singh also rubbished reports of more AAP MLAs quitting the party. "We are in touch with all our MLAs and no one is quitting
the party," he said.
The party also paraded Madanlal, its MLA from Kasturba Nagar, after buzz that he too was planning to quit it. Madanlal, who was formerly a parliamentary secretary with the Delhi government, dismissed the claims of his quitting and said he will approach the Press Council of India against those who ran such reports.
Politics
The tussle for the state in 2022 will see a quadrangular contest between the Congress, the Shiromani Akali Dal, the BJP and the AAP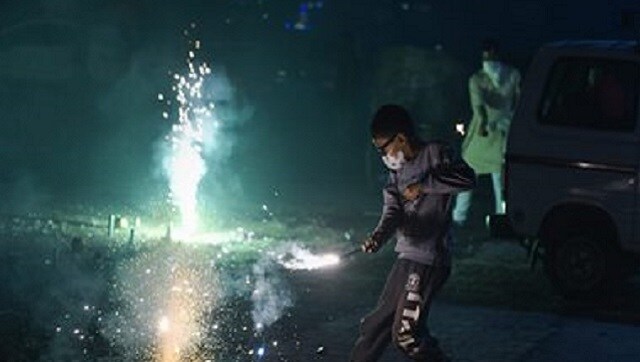 India
Arvind Kejriwal said the ban is in place seeing the severe pollution levels during Diwali for the last three years and appealed traders to not store crackers, unlike the previous year.
India
Vivekananda's speech, which dwelt at length on Hinduism and Indian culture, had drawn all-round praise and remains resonant