The latest counting trends reveal a close race in Manipur, with Congress and BJP locked at 14 seats each. The state is split in two distinct parts – the hills and the valley – and the key constituencies will play a crucial role in helping any party win.
The Nagas reside in the hills, the Meiteis in the valley. Between the hills and the valley, there are total 16 districts, seven of which were recently created by the Chief Minister Okram Ibobi Singh's government (for political gains).
Manipur has two parliamentary constituencies; Inner Manipur and Outer Manipur. The outer Manipur constituency is reserved for Scheduled tribe candidate. The Congress has consistently won the reserved constituency but the BJP has won the inner Manipur constituency from 1995 to 1999.
The Inner Manipur parliamentary constituency has 32 legislative assembly seats. The Outer Manipur has 28 legislative assembly seats.
Some of the legislative Assembly constituencies in Outer Manipur are Heirok, Kakching, Khangabo, Jiribam, Thanlon, Tengnoupal, Tamenglong, and Singhat. Some of the constituencies in Inner Manipur are Khundrakpam, Andro, Wangkhei, Lamlai, Sagolband, Lamsang, Wangoi, Nambol, Mayang Imphal, Kumbi, and Thoubal.
The hill districts of Senapati and Tamenglong which have a greater population of the Naga community share their boundary with Nagaland. Tamenglong also shares its boundaries with Assam. Churachandpur is the only district which has proximity to Mizoram whereas Ukhrul and Chandel are the gateway to Myanmar.
Manipur has a population of around 2.3 million, majority of which are Meiteis living in the valley. The rest of the population is divided into Nagas, Kukis, Komrem and Meitei Pangal (Muslims).
Major political parties are trying to maintain a balancing act wooing the Nagas and the Meiteis.
Here are the constituency-wise results in the state:
| | | | | | | |
| --- | --- | --- | --- | --- | --- | --- |
| Constituency | Const. No. | Leading Candidate | Leading Party | Trailing Candidate | Trailing Party | Margin |
| Kakching | 37 | Yengkhom Surchandra Singh | Indian National Congress | M. Rameshwar Singh (Ramay) | Bharatiya Janata Party | 630 |
| Kangpokpi (Gen) | 50 | Nemcha Kipgen | Bharatiya Janata Party | Kharga Tamang | Independent | 2297 |
| Karong (St) | 47 | D.D. Thaisii | Indian National Congress | R. Yuh Jonathan Tao | Bharatiya Janata Party | 4293 |
| Keirao | 6 | Lourembam Rameshwor Meetei | Bharatiya Janata Party | Md. Nasiruddin Khan | Independent | 538 |
| Keishamthong | 12 | Langpoklakpam Jayantakumar Singh | National People's Party | Laisom Ibomcha Singh | Indian National Congress | 3261 |
| Khangabok | 35 | Surjakumar Okram | Indian National Congress | Thokchom Jadumani Singh | Bharatiya Janata Party | 9452 |
| Khundrakpam (Gen) | 1 | Thokchom Lokeshwar Singh | Indian National Congress | Thangjam Mohendro Singh | Bharatiya Janata Party | 3059 |
| Khurai (Gen) | 3 | Leishangthem Susindro Meitei | Bharatiya Janata Party | Dr. Ngairangbam Bijoy Singh | Indian National Congress | 1944 |
| Konthoujam | 18 | Dr. Sapam Ranjan Singh | Bharatiya Janata Party | Konthoujam Sharat Singh | Indian National Congress | 2772 |
| Kshetrigao | 4 | Nahakpam Indrajit Singh | Bharatiya Janata Party | Md. Amin Shah | Indian National Congress | 380 |
| Kumbi | 29 | Sanasam Bira Singh | Indian National Congress | Ningthoujam Mangi | Bharatiya Janata Party | 1311 |
| Lamlai | 8 | Ksh. Biren Singh | Indian National Congress | Khongbantabam Ibomcha | Bharatiya Janata Party | 852 |
| Lamsang | 17 | Sorokhaibam Rajen Singh | Bharatiya Janata Party | Wangkheimayum Brajabidhu Singh | Indian National Congress | 1280 |
| Langthabal | 20 | Karam Shyam | Lok Jan Shakti Party | O. Joy Singh | Bharatiya Janata Party | 2331 |
| Lilong | 30 | Muhammad Abdul Nasir | Indian National Congress | Y. Antas Khan | Independent | 1268 |
| Mao (St) | 48 | Losii Dikho | Naga Peoples Front | Woba Joram | Bharatiya Janata Party | 15414 |
| Mayang Imphal | 23 | Kongkham Robindro Singh | Bharatiya Janata Party | Dr. Khumujam Ratankumar Singh | Indian National Congress | 3094 |
| Moirang | 27 | Pukhrem Sharatchandra Singh | Bharatiya Janata Party | Mairembam Prithviraj Singh | Indian National Congress | 375 |
| Nambol | 24 | Nameirakpam Loken Singh | Indian National Congress | Thounaojam Chaoba | Bharatiya Janata Party | 280 |
| Naoriya Pakhanglakpa | 21 | Soibam Subhaschandra Singh | Bharatiya Janata Party | R.K. Anand | Indian National Congress | 1615 |
| Nungba (St) | 54 | Gaikhangam | Indian National Congress | Adim Pamei | Bharatiya Janata Party | 5147 |
| Oinam | 25 | Laishram Radhakishore Singh | Bharatiya Janata Party | Dr. Irengbam Ibohalbi Singh | Indian National Congress | 843 |
| Patsoi | 19 | Km. Ak. Mirabai Devi | Indian National Congress | Sapam Kunjakeswor (Keba) Singh | North East India Development Party | 114 |
| Phungyar (St) | 43 | K. Leishiyo | Naga Peoples Front | Somi Awungshi | Bharatiya Janata Party | 4778 |
| Sagolband | 11 | Rajkumar Imo Singh | Indian National Congress | Dr. Khwairakpam Loken Singh | Bharatiya Janata Party | 19 |
| Saikot (St) | 59 | T. N. Haokip | Indian National Congress | Paokholal Haokip | Bharatiya Janata Party | 5101 |
| Saikul (St) | 46 | Yamthong Haokip | Indian National Congress | Chungkhokai Doungel | Nationalist Congress Party | 3261 |
| Saitu (St) | 51 | Ngamthang Haokip | Indian National Congress | Haokholet Kipgen | Bharatiya Janata Party | 3817 |
| Sekmai | 16 | Heikham Dingo Singh | Bharatiya Janata Party | Khwairakpam Devendro Singh | Indian National Congress | 2532 |
| Singhat (St) | 60 | Ginsuanhau | Indian National Congress | Chinlunthang | Bharatiya Janata Party | 1162 |
| Singjamei | 13 | Yumnam Khemchand Singh | Bharatiya Janata Party | Irengbam Hemochandra Singh | Indian National Congress | 1834 |
| Sugnu | 39 | Kangujam Ranjit Singh | Indian National Congress | Yumnam Jiban Singh | Bharatiya Janata Party | 3133 |
| Tadubi (St) | 49 | N. Kayisii | National People's Party | M. Francis Ngajokpa | Bharatiya Janata Party | 1299 |
| Tamei (St) | 52 | Awangbow Newmai | Naga Peoples Front | Z. Kikhonbou Newmai | Bharatiya Janata Party | 747 |
| Tamenglong (St) | 53 | Samuel Jendai Kamei | Bharatiya Janata Party | Janghemlung Panmei | Naga Peoples Front | 2004 |
| Tengnoupal (St) | 42 | D. Korungthang | Indian National Congress | Yangkholet Haokip | Bharatiya Janata Party | 4656 |
| Thanga | 28 | Tongbram Robindro Singh | All India Trinamool Congress | Moirangthem Asnikumar Singh | Bharatiya Janata Party | 1005 |
| Thangmeiband | 9 | Khumukcham Joykisan Singh | Indian National Congress | Jyotin Waikhom | Bharatiya Janata Party | 157 |
| Thanlon (St) | 56 | Vungzagin Valte | Bharatiya Janata Party | Chinkholal Thangsing | Indian National Congress | 7169 |
| Thongju | 5 | Thongam Biswajit Singh | Bharatiya Janata Party | Thokchom Ajit Singh | Indian National Congress | 7301 |
| Thoubal | 31 | Okram Ibobi Singh | Indian National Congress | Leitanthem Basanta Singh | Bharatiya Janata Party | 10470 |
| Tipaimukh (St) | 55 | Dr. Chaltonlien Amo | Indian National Congress | Dr. Lallukhum Fimate | Bharatiya Janata Party | 626 |
| Ukhrul (St) | 44 | Alfred Kanngam Arthur | Indian National Congress | Somatai Shaiza | Bharatiya Janata Party | 296 |
| Uripok | 10 | Yumnam Joykumar Singh | National People's Party | Laishram Nandakumar Singh | Indian National Congress | 345 |
| Wabgai | 36 | Md. Fajur Rahim | Indian National Congress | Dr. Usham Deben Singh | Bharatiya Janata Party | 4761 |
| Wangjing Tentha | 34 | Paonam Brojen Singh | Indian National Congress | Moirangthem Hemanta | Bharatiya Janata Party | 1863 |
| Wangkhei | 15 | Okram Henry Singh | Indian National Congress | Yumkham Erabot Singh | Bharatiya Janata Party | 4336 |
| Wangkhem | 32 | Keisham Meghachandra Singh | Indian National Congress | Yumnam Nabachandra Singh | North East India Development Party | 2880 |
| Wangoi | 22 | Oinam Lukhoi Singh | Indian National Congress | Khuraijam Loken Singh | National People's Party | 36 |
| Yaiskul | 14 | Thokchom Satyabrata Singh | Bharatiya Janata Party | Elangbam Chand Singh | Indian National Congress | 570 |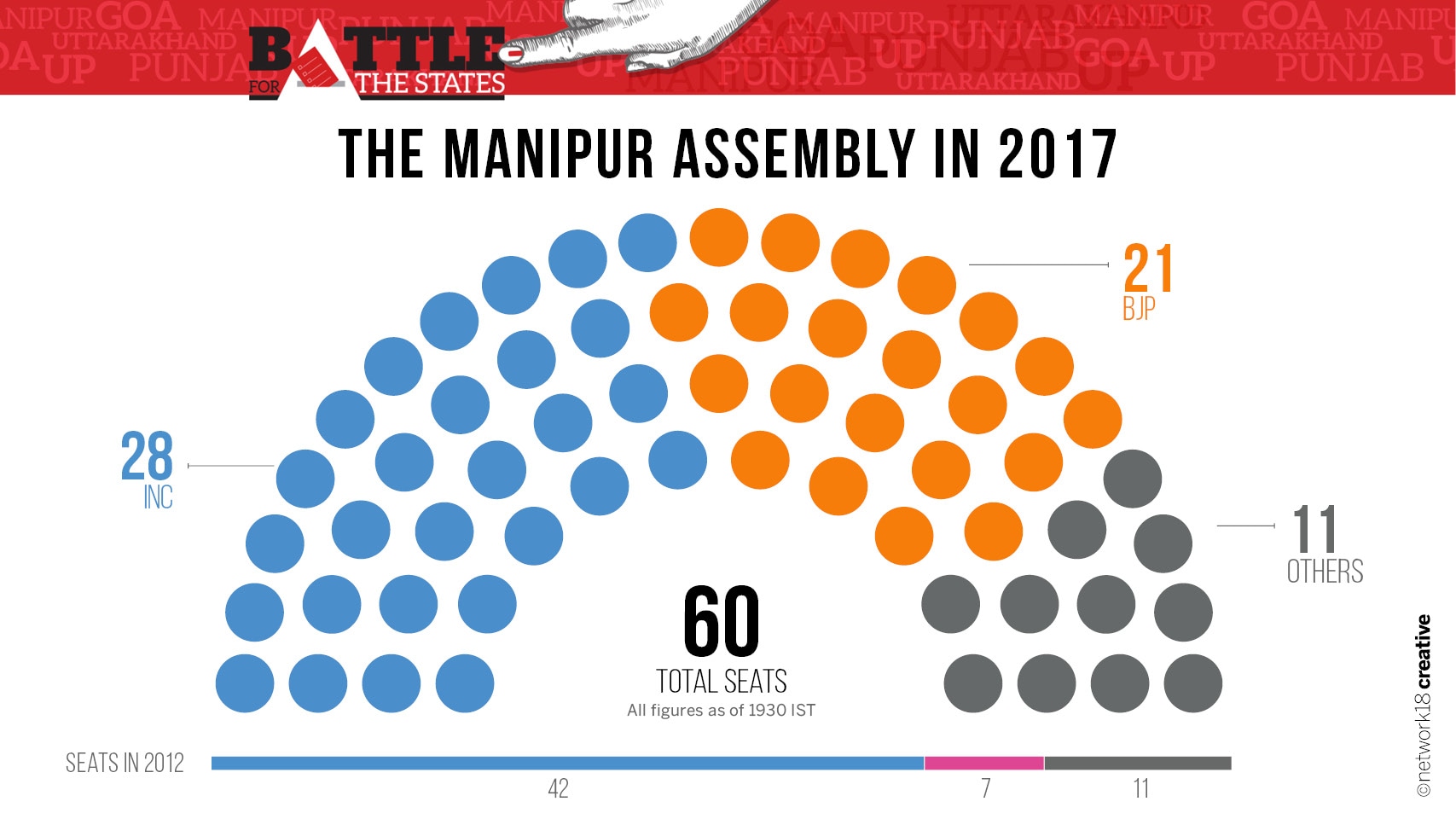 Updated Date: Mar 11, 2017 21:23 PM