Karnataka trans people struggle to get mainstreamed in politics, secure voter IDs as parties remain oblivious to their plight
Transgenders are often asked to distribute pamphlets, put up banners, sloganeer and even dance to draw the attention of voters. A major grouse is that they are forgotten soon after the elections are over.
As Karnataka gears up to vote in the high-stakes Assembly election on 12 May, a majority of the transgender community in the state watches from the sidelines as it struggles to secure its right to vote. Not a single transgender person will be contesting the elections this year retrogressing from the 2013 polls which saw at least two transgender candidates.
Several community members pointed out that their immediate concern is voter enrollment and not contesting the elections as they wish to exercise their basic rights.
Nisha Golur, Swaraj India's vice president for Bengaluru Urban, said that she declined her party's offer to contest in the upcoming polls from Bengaluru's Hebbal constituency. "I need to familiarise with the voters of Hebbal by fighting for their rights to have basic amenities such as drinking water, better roads, schools and public toilets before I take an electoral plunge," she said.
Though voter registration for the community doubled from 2,100 in 2013 to 4,552 this year, many among the state's approximately 23,000-strong transgender population are still left out.
"Many of us are still struggling to get our voter IDs because of documentation issues. The absence of proper address proofs, rental agreements and electricity bills in some cases obstructs the process of getting voter ID cards," said Uma, a trans-activist, and founder of Jeeva, an NGO dedicated to gender minorities.
Pointing out that many of the transgender people are still forced to beg due to lack of job opportunities, Uma also pulled up the previous governments and stressed upon the need for a socially-inclusive plan to integrate the community.
While other political parties have failed to make any substantial promises to the transgender persons, Congress has assured them five percent (of the 33 percent reservation for women) in police force. The party also promised efforts to create public awareness so that transgender people receive acceptance, respect and secure environment in their families, neighborhood, schools and society at large.
Role of transgenders in elections
Though it is an encouraging trend that the transgender community is gradually being mainstreamed, their presence is unlikely to influence the outcome of any elections — a fact which often causes a majority of political parties to ignore their plight. None of the three major parties — Congress, BJP and JD(S) — fielded any transgender candidates.
Golur, who is also associated with an NGO working for the welfare of sexual minorities, said she is grateful towards Swaraj India for "encouraging" her to enter active politics. "Many politicians attend meetings organised by sexual minorities to discuss issues but it's only lip service. They want us to work for them during the elections but none of them are ready to encourage and support us by involving us in their organisational matters," she said.
Members of the community also allege that they are exploited by political parties during the election season. Transgender people are often asked to distribute pamphlets, put up banners, sloganeer and even dance to draw the attention of voters. A major grouse is that they are forgotten soon after the elections are over.
Perhaps, angered by the negligence of mainstream parties, two trans people did step up to contest the 2013 Assembly elections — one of them being Sowmya Raj, who contested the elections on a BSP ticket from the Gandhinagar constituency in Bengaluru.
"It was very tough for me since major political parties fielded candidates with deep pockets," said Raj, who received only 441 votes (0.4 percent) out of the 1,10,828 votes polled. "I could only afford to provide food for my supporters during the campaign," she told Firstpost.
Can transgender people win elections?
"The main reason for the defeat is lack of popularity of the candidate," an activist Elavarthy Manohar pointed out. "They have to work hard in the constituency to get votes," she said.
Manohar — who is also the founder of Sangama, an organisation which empowers sexual minorities and educates them on political participation — added: "Generally, a transgender people, who depends on begging and sex work for survival, cannot afford to mingle with voters in the constituency. I am not even sure if Sowmya even visited Gandhinagar after 2013 elections."
However, in the 2013 municipal elections Parveen, a transgender candidate, created history by winning the election to Ballari Municipal Corporation on a Congress ticket.
"There were 16 candidates in the fray. I got 3,100 votes in the election," she recalled adding that she had been working hard for the welfare of sexual minorities in the area. "Around 200 transgender people from the district were given Rs 20,000 each to start small businesses. I have taken up a lot of developmental works in my ward without taking a single rupee as bribe as I am happy with the honorarium of Rs 5,000," said Parveen, who also aspires to be a mayor and is likely to contest the next election.
Meanwhile, Karnataka State Sexual Minorities Forum wants all political parties to support their long-pending demands of a separate Commission (a statutory body), separate budget, community-friendly initiatives and an annual report evaluating the programmes and schemes meant for them.
"Transgender people are one of the most marginalised among sexual and gender minorities who are seeking acceptance and dignity from the society. Though things have changed for the better in the last decade — with the government recognizing them as foot soldiers spearheading the HIV prevention programme — a lot needs to be done to provide them basic rights on par with other citizens," said Rose, project manager at Payana TGTI (Transgender Targeted Intervention).
(With inputs, photos and video from Mahesh Bacham, a Bangalore-based multimedia reporter. Contributors are members of 101Reporters.com, a pan-India network of grassroots reporters)

Politics
Amit Shah during this trip is likely to meet senior party leaders including Bommai and BS Yediyurappa, and assess the BJP's preparations for the elections
India
The BJP leaders have termed the MVA government in the state as brutal for booking Lok Sabha MP Navneet Rana and her MLA husband Ravi Rana in a sedition case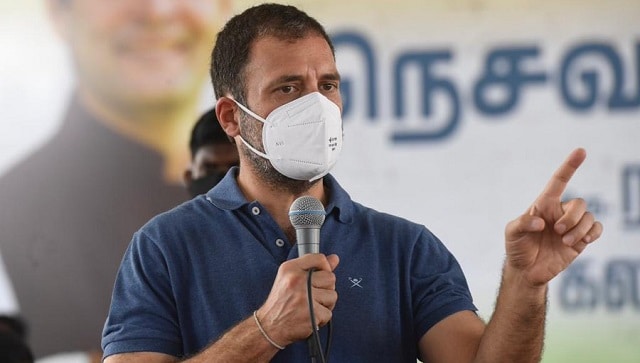 India
Congress leader Rahul Gandhi said there is a fight between two ideologies in the country