Kamal Haasan, Rajinikanth face tricky task of surviving in treacherous track of Tamil Nadu politics
Both Rajinikanth and Kamal Haasan are in a sense borrowing the MGR template, as the actor too acted in over 20 movies after he formed the AIADMK in 1972, till he became chief minister in 1977.
A few weeks ago, I was watching a 2017 interview of Mani Ratnam done by Gautam Menon, two directors I deeply admire for their body of work and quality of craft. After Mani Ratnam had shared his thoughts about how the iconic Nayakan with Kamal Haasan happened, Menon said with the adulatory look of a fan. "I hope for further collaboration between you and Kamal Sir because lakhs of people want that."
Ratnam's reply was practical. "He has done so much that unless you have really solid meat to give him, there is no point. I should have something to offer and then it is his choice. We should feel that we can take him to something else that he has not done before which is very difficult to find."
Now with Kamal Haasan's foray into politics and his decision to bid goodbye to films after his two releases in 2018, it means Mani Ratnam, Gautam Menon who directed the edgy Vettaiyaadu Vilaiyaadu (Hunt and Play) with Haasan in 2006, or any other writer or director even if they have another brilliant script, would not be able to tempt the abhineta in Haasan transformed into a neta.
I feel an obstacle for Kamal Haasan in his political innings will be Kamal Haasan, the actor. On Wednesday, when Haasan unveiled the name and logo of his political party Makkal Needhi Maiam in Madurai, one of his fans, Sundaresan pointed out that some of his ardent fans may not vote for him.
"Some fans while they wish him well, want him to continue acting and entertain us with his craft. For a selfish reason, people with that kind of a mindset may say let others rule in politics, let Kamal rule in films," said Sundaresan.
Rajinikanth, in contrast, is not letting his fans down. While his Kaala and 2.0 will release this year, he has signed up Sun Pictures next production, with young director Karthik Subbaraj, all of four films old in Kollywood, to wield the megaphone. Not just that, Sun Pictures that is owned by DMK leader M Karunanidhi's grand nephew Kalanidhi Maran, says it will be a "mammoth" and "colossal production". The announcement took everyone by surprise because it means Rajini won't be the 24x7 politician he is expected to be.
The news enthused the Rajinikanth fans no end. But the film runs the risk of suffering from want of adequate attention from Rajinikanth especially if the government in Tamil Nadu falls this year and Assembly elections are announced by 2019. Would Kalanidhi Maran, who is bankrolling the project, have gone into the project without an assurance from the superstar that the movie will have his 100 percent commitment?
If that is the case, it means that Rajini plans to have a call sheet attitude to his political avatar. It also means his decision to enter politics will be interpreted as a reluctant one, arising out of extraneous considerations. This approach of straddling two boats is highly unlikely to work in a state whose politics is in flux and the people of Tamil Nadu for a change, have a problem of plenty. Will the voters invest their trust in a man whose heart seems to be more in the reel than in the real?
The calculation of Team Rajini possibly is that the superstar's best case scenario is to woo the people through the big screen. Imagine a larger-than-life Rajinikanth, mouthing politically loaded punchlines, with a cinema theatre becoming an alternative to a public meeting venue. More so if the movie releases just ahead of the polls. After Tamil Nadu has seen MGR winning elections even when he was in the hospital and a Jayalalithaa who was largely deemed inaccessible.
While Haasan's Vishwaroopam 2 is more or less complete, Sabash Naidu, which is more of a comedy, is only 60 percent complete. The only reason why Haasan may still want to have an Indian 2 directed by Shankar releasing ahead of elections would be that it will showcase him in the role of an anti-corruption vigilante, that will be in sync with his political rhetoric. But does he have the time to don the greasepaint after having raised expectations in Madurai?
Haasan however, has a Plan B. He is likely to host the second season of Bigg Boss in Tamil, that was a huge hit in 2017. The show on the small screen will give him the opportunity to reach the living rooms in Tamil Nadu every weekend and he is more than likely to use it as a quasi-campaign platform. He has already seen the reach and impact of his Thursday column in popular Tamil magazine Vikatan where he pulls no punches.
Both Rajini and Haasan are in a sense borrowing the MGR template, as the actor too acted in over 20 movies after he formed the AIADMK in 1972, till he became chief minister in 1977. If the brush with celluloid did not make people doubt MGR's sincerity in politics, the argument goes the same should apply to the two stars.
India
Raja, the DMK deputy general secretary had recently stoked controversy over his Shudra remark and drew the BJP's ire with the saffron party accusing him of spewing hatred against a community to appease others
India
In the video, a Railway Protection Force personnel can be seen helping a specially-abled child to get on board a train. The incident came to light after a video, which is buzzing over the internet, was shared by IAS Officer Supriya Sahu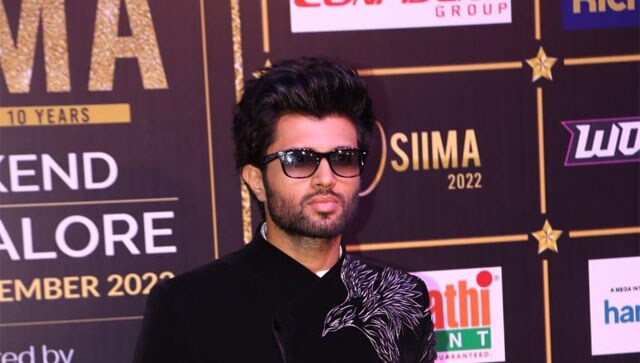 Entertainment
The actor was clicked at the South Indian International Movie Awards 2022 in Bangalore. This was his first appearance post the release and failure of his film Liger. He was clicked at the event in a black suit.